White House says John Kelly was just tired from 'trying to keep up' with Trump in UN photo
It is not the first time the President's Chief of Staff has appeared less than pleased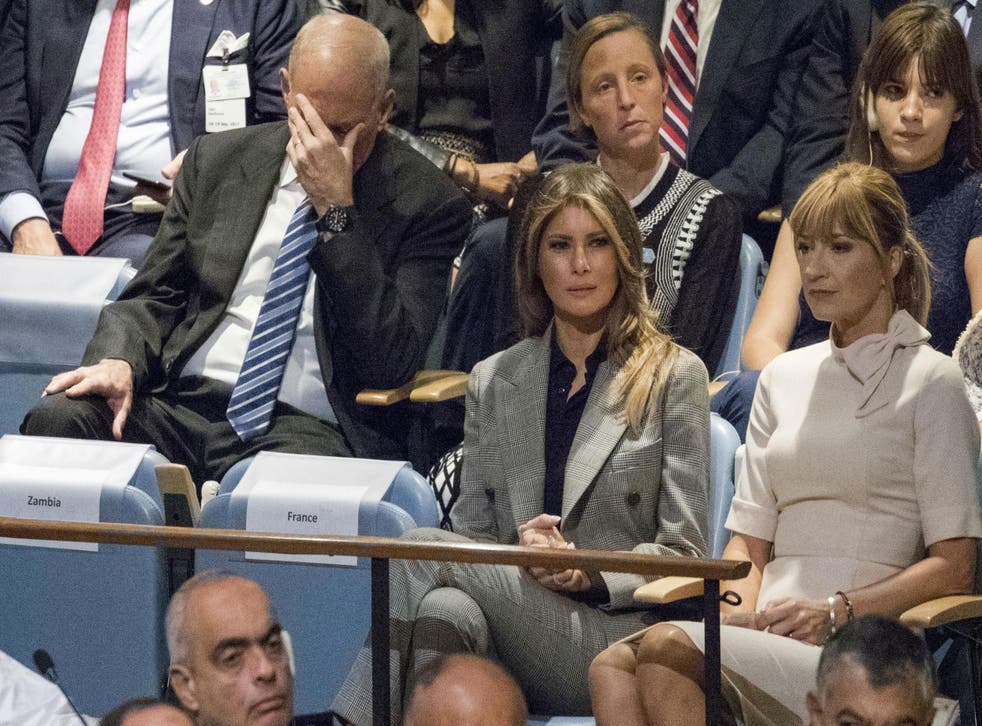 The White House has claimed there is "nothing to read into" viral images that showed Donald Trump's chief of staff appearing to looked look tense and even exasperated as listened to the President deliver his bellicose speech to the United Nations.
Earlier this week, Mr Trump gave a pugilistic 41-minute address to the UN General Assembly in which he vowed to always put American interests first and said he would have not choice but to "totally destroy North Korea" if it did not halt its nuclear weapons programme.
Mr Trump's speech, which raised many eyebrows, was watched by people around the world and by diplomats packed into the main hall of the assembly. Also present in person were the First Lady, Melania Trump, and the President's Chief of Staff, John Kelly, who in a series of photographs looked tired, tense, anxious, or all three. At one point, he had his face covered with his palm.
After the images were watched by countless thousands, the White House sought to claim there was nothing unusual about the former general's demeanour as he listened to his boss speak
"I would certainly not read anything into that picture, any more than probably just like the rest of us, we're tired trying to keep up with this president who's working hard every day to help America," White House press secretary Sarah Huckabee Sanders told Fox news.
Hillary Clinton says Trump UN speech 'dark and dangerous'
This is not the first time Mr Kelly has been seen appearing to look exasperated during an appearance by the President.
Earlier this summer, Mr Kelly was seen with his head down and arms crossed in a stern fashion as Mr Trump delivered off the cuff remarks at a press conference in Trump Tower in New York in which she "both sides" were responsible for the neo-Nazi-led violence in Charlottesville, Virginia, that left a young woman dead.,
It was reported that after Mr Kelly accepted the job of Chief of Staff, replacing Reince Priebus, he received a dressing down from Mr Trump of such ferocity that he considered quitting.
Donald Trump's international Presidential trips

Show all 22
Yet Ms Sanders insisted that the pair enjoyed "a great chemistry", and that Mr Kelly was most likely just tired from the pressures of his job.
"The president has an abundance of energy, I don't know where it comes from, all of us on the staff are tired trying to keep up with him," is said. "I wouldn't be surprised if that's part of it."
She was asked: "It doesn't mean he's upset by the speech?"
Ms Sanders replied that Mr Kelly had been "part of the speech-writing process and very engaged".
Register for free to continue reading
Registration is a free and easy way to support our truly independent journalism
By registering, you will also enjoy limited access to Premium articles, exclusive newsletters, commenting, and virtual events with our leading journalists
Already have an account? sign in
Register for free to continue reading
Registration is a free and easy way to support our truly independent journalism
By registering, you will also enjoy limited access to Premium articles, exclusive newsletters, commenting, and virtual events with our leading journalists
Already have an account? sign in
Join our new commenting forum
Join thought-provoking conversations, follow other Independent readers and see their replies