Donald Trump pushes to reform UN in speech full of criticism but also praise
The President is scheduled to address the full UN for the first time, causing worry among world leaders
Mythili Sampathkumar
New York
Tuesday 19 September 2017 13:18 Comments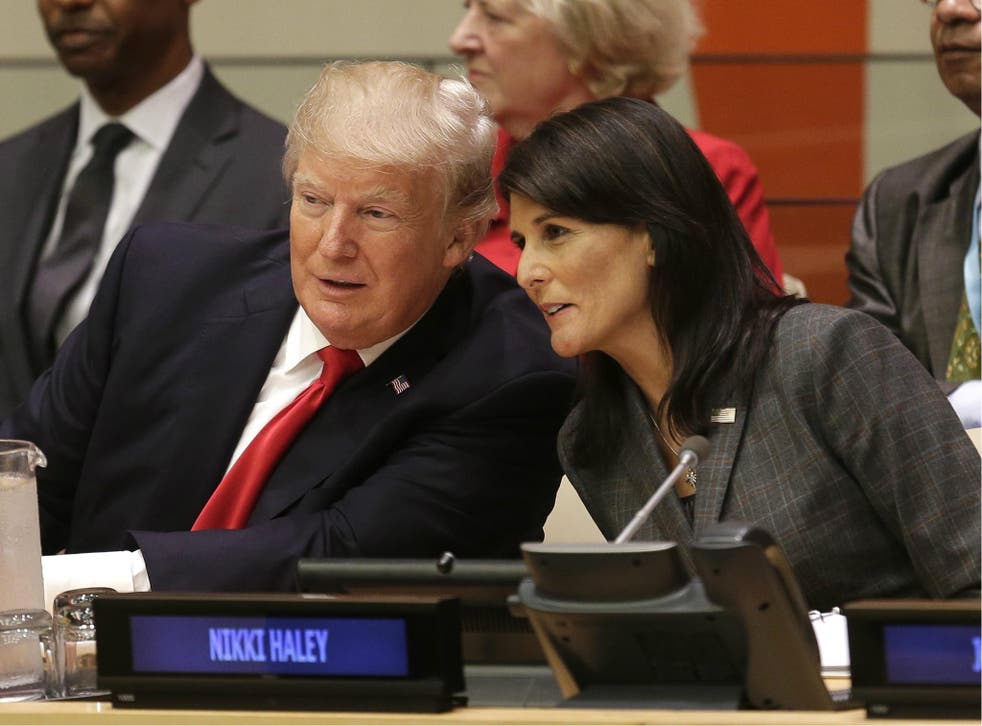 Speaking at the United Nations for the first time as US President, Donald Trump decried its "mismanagement" and "bureaucracy", but was full of praise for the global body's mission as he began a busy week of diplomacy.
With North Korea, the Rohingya refugee crisis in Burma, an increasingly confident Russia and climate change among a host of looming global issues, Mr Trump pushed for reform of the UN during his first meeting.
Expected to admonish foes - and perhaps even praise enemies like calling Kim Jong-un "rocket man" - during his major speech on Tuesday, his usual fiery rhetoric and riffing giving way to friendly greetings with UK Foreign Minister Boris Johnson and Secretary-General Antonio Guterres and sticking to reading prepared remarks may see some world leaders relax just a bit.
"In recent years the United Nations has not reached its full potential because of bureaucracy and mismanagement, while the United Nations on a regular budget has increased by 140 per cent and its staff has more than doubled since 2000," Mr Trump said.
"I am confident that if we work together and champion truly bold reforms the United Nations will emerge as a stronger, more effective, more just and greater force for peace and harmony in the world," Mr Trump added.
US Ambassador to the UN Nikki Haley, one of the few members of the administration that has received high praise for her leadership, appears to have had some influence over the President speaking in New York.
In the past, Mr Trump repeatedly called the UN "just a club for people to get together, talk and have a good time".
He also threatened to cut off US funding for the UN, which currently covers approximately 22 per cent of the overall UN budget and 28 per cent of the peacekeeping budget.
In the context of the reform discussion, however Mr Trump only mentioned the US "burden" of funding once and heaped praise on Mr Guterres' efforts to change "business as usual".
However, Mr Trump first plugged his Trump Organisation-owned residential building across the street from the UN campus, saying he first saw potential in the neighbourhood of Turtle Bay there but that without the UN's presence, the project would not have been a success for him.
He then said the UN was founded on "truly noble goals", a far cry from his vitriol on the campaign trail which was being discussed in the hallways ahead of his appearance.
Mr Trump also called for setting specific "metrics" for "success" for UN Peacekeeping forces, but did not elaborate what that means in terms of ever-changing violent conflicts around the world.
He harkened back to his business world experience, saying that the UN's staff has nearly doubled in the last two decades but the world has not seen "the results" for the "investment". What he and Ms Haley deem are "results" is still to be determined.
Some 128 countries were invited to attend Monday's reform meeting after signing on to a US-drafted 10-point political declaration backing efforts by Mr Guterres "to initiate effective, meaningful reform." UN Security Council veto powers Russia and China did not sign the declaration.
In April Mr Trump hosted the UN Security Council in an unusual White House luncheon.
At the meeting, Mr Trump made clear his dislike of the fact that the US shoulders much of the burden for funding the UN, but noted that he would be less concerned about this if the UN did a "good job".
The President has used the word "unfair" to describe American taxpayer contributions to both Nato and the UN before. He echoed the statement during his first UN meeting.
Mr Guterres, using a phrase of former UK Prime Minister Margaret Thatcher, also said the world should get "value for money" and the organisation should keep in mind the "hardworking taxpayers who underwrite" its work, language not used by a Secretary-General in recent memory.
His speech began a busy week of diplomacy for Mr Trump, who is scheduled to meet separately with more than a dozen world leaders along the sidelines of the UN. In his first bilateral meeting, with Israeli Prime Minister Benjamin Netanyahu, Mr Trump declared that they "are giving it an absolute go" on Middle East peace talks. Mr Trump is to meet with the head of the Palestinian Authority later in the week, but the White House has played down prospects for a breakthrough.
Stephen Colbert: If Donald Trump had won an Emmy he might not have run for president
US National Security adviser HR McMaster said "Iran's destabilising behaviour" would be a major focus of those discussions. While seated next to Mr Netanyahu, a vociferous critic of the Iran nuclear deal, Mr Trump declared "you'll see very soon" when asked if the US would stay in the agreement. Mr Netanyahu labelled it "a terrible nuclear deal."
Mr Trump also spoke with French President Emmanuel Macron, touching on the issue of the nuclear deal with Iran and climate change. Mr Trump also said that he had enjoyed a military parade while in Paris on Bastille Day, and suggested he might look to do something similar on the Fourth of July.
A slew of events are taking place in the coming week centered around addressing climate change and discussions have taken on a particular urgency given the recent withdrawal of the US from the Paris Agreement.
The accord, signed in December 2015 by nearly 200 countries and formally joined through an executive order by former President Barack Obama, aims to reduce carbon emissions and tackle global warming.
Mr Trump has said that the deal was "unfair" to American workers, particularly in the coal and steel industries.
His announcement was met with strong language from nearly every world leader and expert who lamented that the world second largest polluter would not work towards the goals laid out in the agreement.
A recent report by the Wall Street Journal suggested that there was some possibility of the US staying in the deal, but the White House quickly put the kibbosh on it.
Director of the National Economic Council Gary Cohn held a breakfast with energy ministers from several G20 countries on Monday, but suggested that the White House position had not changed and they were looking to withdraw without major changes to the agreement.
Trump Compares United Nations to 'Country Club'
The White House has said that participants discussed "promoting energy security, driving economic growth, and reducing emissions at home and globally."
It suggests that perhaps Mr Trump will say something regarding energy security in his speech tomorrow, but whether that is to push for "clean coal" rather than a more sustainable, climate-friendly mix remains to be seen.
French Foreign Minister Jean-Yves Le Drian said that says dissention and conflict are at their highest level since the Cold War, while cooperation among nations has become more difficult.
He said there "a worrying degradation of the international environment," what sounded like a thinly-veiled jab at Mr Trump's simplistic "America First" doctrine.
He was likely also talkign about the threat from north Korea's nuclear ambitions - with an escalating war of words between the US and the North Korean regime having been a central feature of the last few weeks.
The UN has passed the most stringent sanctions ever, with the vote coming just after Ms Haley claimed that Pyongyang and its mercurial leader Kim Jong-un were "begging for war". She noted that though the US did not want to use its military, its patience is running thin.
It was no small feat to get a unanimous vote given that Russia and China both have trade relations with the isolated nation.
What may still be a concern for world leaders about Mr Trump's speech tomorrow is his response to the sanctions that banned all textile exports and put a cap on fuel supplies.
For their part, both China and Russia have jointly called for a mutual freeze of activities with North Korea ceasing their nuclear programme if the US halts military drills with ally South Korea, which Pyongyang sees as "a provocation". The US has repeatedly rejected the proposal.
Mr Trump noted that the sanctions, regardless of how limiting they are on Pyongyang's economy, are "nothing compared to what ultimately will have to happen".
To some, it showed Mr Trump's fatalistic view towards using military action against Pyongyang.
TJ Pempel, a political science professor at the University of California - Berkeley, previously told The Independent that the crux of the North Korea comments was that Mr Trump "devotes zero time to understanding the complexities of any foreign policy issue".
That could also be a cause of the anxiety over Mr Trump's speech tomorrow - which most of the nations in the General Assembly will be watching with interest.
Register for free to continue reading
Registration is a free and easy way to support our truly independent journalism
By registering, you will also enjoy limited access to Premium articles, exclusive newsletters, commenting, and virtual events with our leading journalists
Already have an account? sign in
Join our new commenting forum
Join thought-provoking conversations, follow other Independent readers and see their replies