Momentum towards US-North Korea summit builds as Mike Pompeo to meet with top Korean official
The White House says North Korea has been 'engaging' after Donald Trump called off planned summit with Kim Jong-un
Jeremy B. White
San Francisco
Tuesday 29 May 2018 22:40 Comments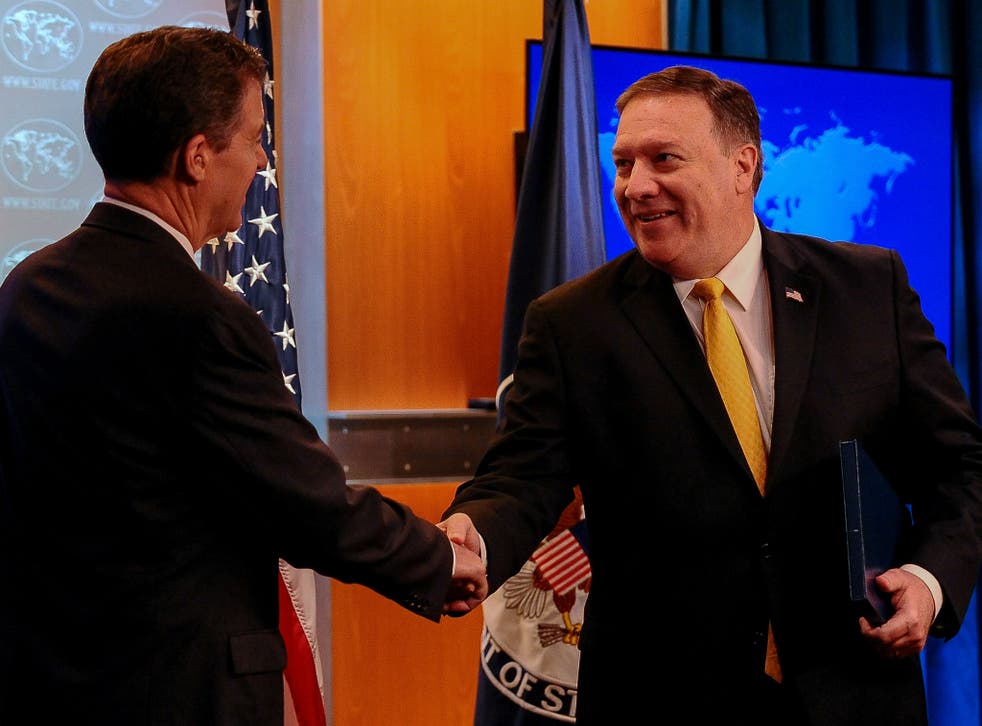 Secretary of State Mike Pompeo is poised to meet with a top North Korean official amid a flurry of diplomatic activity seeking to revive a planned US-Korea summit.
Last week Donald Trump, after weeks of mounting expectation, abruptly announced he was calling off a meeting with North Korean leader Kim Jong-un, blaming the "tremendous anger and open hostility" in Pyongyang's most recent statement.
But Mr Trump has since said he hopes to salvage the meeting, which had been set for 12 June and could provide an unprecedented opportunity to push to dismantle North Korea's nuclear weapons programme. The North Korean regime has also projected willingness to re-engage, saying in a statement after Mr Trump pulled out that officials would be willing to gather "at any time".
Since Mr Trump sent his letter nixing the summit "the North Koreans have been engaging", White House press secretary Sarah Huckabee Sanders said in a statement.
"The United States continues to actively prepare for President Trump's expected summit with leader Kim Jong-un in Singapore," she said.
After diplomatic officials spent Memorial Day weekend scrambling to move forward, the White House confirmed that Mr Pompeo, America's top diplomatic official, was planning to meet in New York with Kim Yong-chol, the vice chairman of North Korea's Central Committee.
The North Korean envoy was scheduled to fly to the US on Wednesday after speaking to Chinese officials in Beijing, the Yonhap news agency said. Kim Yong-chol will be the most senior North Korean official to meet top officials for talks in the United States since Jo Myong-rok, a marshal, met then President Bill Clinton at the White House in 2000.
North Korea – South Korea relations: in pictures

Show all 21
"We have put a great team together for our talks with North Korea. Meetings are currently taking place concerning Summit, and more," Mr Trump said in a tweet, mentioning Kim Yong-chol and praising North Korea's "solid response to my letter".
The news of Kim Yong-chol's movements came as the the Trump administration issued a fresh warning about malicious North Korean cyber activity. The technical alert from the FBI and the Department of Homeland Security highlighted two pieces of malware said to have been used to target US infrastructure and aerospace, as well as financial and media companies, to steal information and remotely manipulate networks over the past nine years .
In recent times, the United States has accused North Korea of launching a slew of cyberattacks. Kim Yong-chol is suspected by US intelligence to have been involved in a cyber attack on Sony Pictures in 2014, over the film The Interview, a satire about a plot to assassinate the North Korean leader. North Korea has denied involvement.
It is not clear if there was any significance to the timing of the latest cyber warning.
The expected meeting between Mike Pompeo and Kim Yong-chol comes after the US secretary of state travelled to Pyongyang to meet secretly with North Korean leader Mr Kim, and was accompanied by an array of diplomatic moves intended to harness momentum towards talks.
As the North Korean official was preparing to travel to the United States, a US delegation headed to the Korean Peninsula to meet with North Korean counterparts in the demilitarised zone spanning the border. A White House deputy chief of staff went to Singapore to continue laying logistical groundwork.
Beyond the issue of denuclearisation, a summit would allow the US to raise a number of longstanding issues. Human rights abuses in North Korea, including violations of religious freedom, are a "matter of discussion" ahead of the planned summit, Sam Brownback, US ambassador-at-large for international religious freedom, told reporters on Tuesday.
"You've got a gulag system operating in North Korea, and it's been a terrible situation for many years," said Mr Brownback, adding that North Korea had long been designated as a "country of particular concern" in the US State Department's international religious freedom report.
Donald Trump says North Korea summit 'could still happen'
As talks continue, Trump administration officials have been keeping in close contact with Asian allies, with the White House saying national security adviser John Bolton had been speaking frequently with South Korean and Japanese officials.
The White House also announced that Mr Trump would host Japanese prime minister Shinzo Abe at the White House on 7 June, days before the scheduled date for the summit. Mr Abe has become a close ally of Mr Trump and is a key figure in the drive to blunt the North Korean threat, which over the last year saw Pyongyang fire multiple ballistic missiles over Japan and threaten to annihilate the archipelago.
Those missile tests and hostile statements, in addition to North Korea's test of a powerful hydrogen bomb, spurred the world to impose ever-harsher sanctions in what Trump administration officials call a "maximum pressure" campaign to bring Pyongyang to heel.
After Mr Trump and North Korea spent months trading threats and insults, the tone shifted at the beginning of this year as North Korea initiated meetings with South Korean officials and then conveyed to Mr Trump an invitation to meet with Mr Kim.
Register for free to continue reading
Registration is a free and easy way to support our truly independent journalism
By registering, you will also enjoy limited access to Premium articles, exclusive newsletters, commenting, and virtual events with our leading journalists
Already have an account? sign in
Join our new commenting forum
Join thought-provoking conversations, follow other Independent readers and see their replies