'I literally do not know what he's talking about': Trump's story about my apology to him never happened, CNN host says
Van Jones suggests president may have confused him with John Legend
Trump attacks CNN's Van Jones for 'not mentioning' his work on criminal justice reform
CNN host Van Jones has denied an elaborate story by Donald Trump in which the president claimed the presenter apologised for not giving him credit for criminal justice reform.
In a rambling speech on Friday, Mr Trump claimed the CNN host praised a long list of people, including the Reverend Al Sharpton, on his television show for the First Step Act reform bill but failed to mention him.
However, Jones said he never made such an apology and has not praised Mr Sharpton on his CNN show.
"I literally do not know what he's talking about," Jones said.
"I have not apologised for not mentioning Trump because I've never not mentioned Trump. Why would I apologise for not doing something that I did?"
Most shocking remarks made by Trump at campaign rallies

Show all 7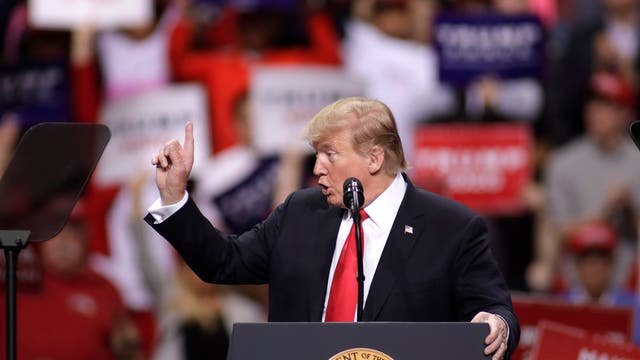 Jones, who is black, pointed out he had given Mr Trump credit for the act as recently as three weeks ago, when he said on CNN that the president had "gotten too little credit" for his work on criminal justice reform.
He added that he believed Mr Trump may have confused him with John Legend, a singer and activist who is a vocal critic of the president and is also black.
In September, Legend appeared on a MSNBC show on criminal justice in which Mr Trump's role in signing the First Step Act was reportedly not explicitly mentioned.
After the show aired, the president lashed out at Legend and mentioned Jones, who did not appear on the show, in an angry series of tweets.
"Guys like boring musician John Legend, and his filthy mouthed wife, are talking now about how great it [the act] is – but I didn't see them around when we needed help getting it passed," the president wrote.
On Friday, Mr Trump recounted a bizarre story in which he suggested Jones did not mention his work on the issue.
"I kept waiting for my name. I said 'Darling, come over here. I'm going to have a great little name mention,'" he said, referring to Melania Trump, the first lady.
"And I kept waiting and I kept waiting, and then he named a lot of people and that was the end.
"I said 'I was a little embarrassed in front of my wife.'"
Mr Trump added that he called Jared Kushner, his son-in-law and senior adviser, to complain about the alleged omission and claimed he later received an apology from Jones.
"He spoke to Jared and he apologised, didn't he?" Mr Trump said.
"He apologised - but I don't accept those apologies."
Despite Mr Trump's accusation, the CNN host's support for the president on criminal justice reform has been reported by conservative media outlets.
In May, the Dailer Caller, a conservative website co-founded by Fox News' Tucker Carlson, quoted Jones' support in an article titled "Van Jones Praises Trump Over Criminal Justice Reform".
Join our new commenting forum
Join thought-provoking conversations, follow other Independent readers and see their replies