Trump vetoes attempt to block $8bn arms sales to Saudi Arabia and UAE
US president's decision to override both chambers of Congress sparked uproar among members who called move 'shameful'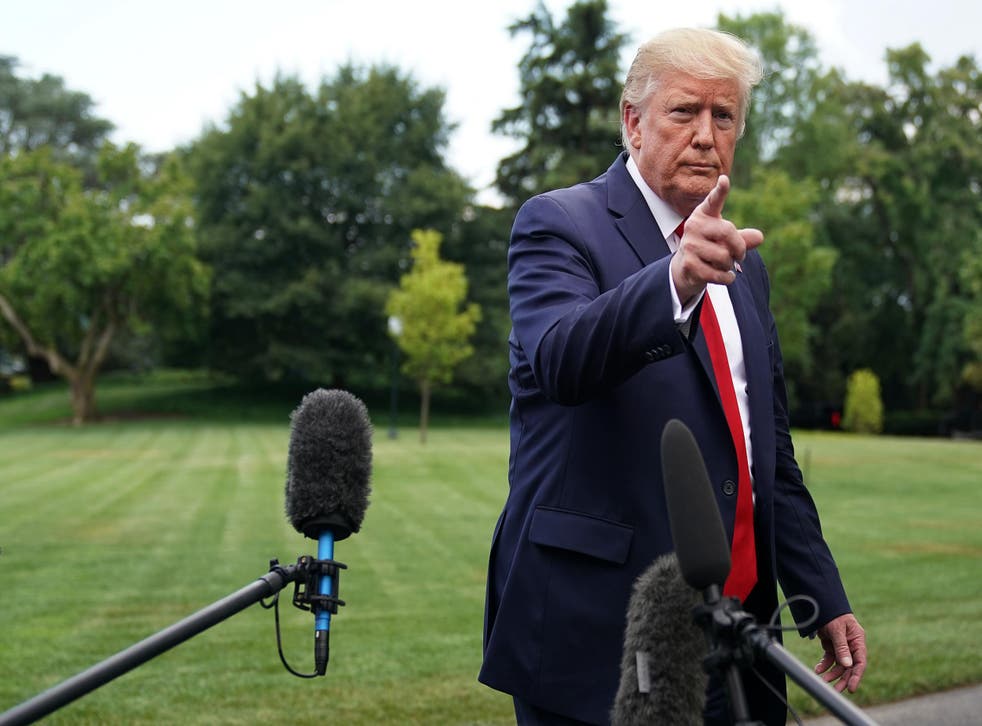 Donald Trump has vetoed three congressional resolutions to block the billion-dollar sales of weapons to key allies Saudi Arabia and the United Arab Emirates.
In a strong rebuke to Mr Trump, both chambers of Congress had voted to prevent the arms deals earlier this month, shortly after the leader had taken the extraordinary step of bypassing Congress to approve them in May.
Members had cited concerns about the human rights record of Saudi Arabia, after the murder of Saudi journalist Jamal Khashoggi within the country's consulate in Istanbul last year.
They also expressed fears the weapons may be used against civilians in Yemen, where the US's Gulf partners are spearheading a five-year bombing campaign against the Iran-backed Houthi rebels.
On Wednesday Mr Trump once again moved to force through the deals by vetoing the resolutions.
Trump berates reporters for asking him about being indicted
He said the resolutions "would weaken America's global competitiveness and damage the important relationships we share with our allies and partner."
House Speaker Nancy Pelosi called the president's move "shameful".
"The president's shameful veto tramples over the will of the bipartisan, bicameral Congress and perpetuates his administration's involvement in the horrific conflict in Yemen, which is a stain on the conscience of the world," she said in a statement.
Eliot Engel, chairman of the House Foreign Affairs Committee said it was a "slap in the face" to Congress and accused the Trump administration of using threats from Iran as a "convenient excuse" to push through the sale.
"The president's veto sends a grim message that America's foreign policy is no longer rooted in our core values – namely a respect for human rights – and that he views Congress not as a coequal branch of government, but an irritant to be avoided or ignored," he added.
It did not appear that the lawmakers opposed to the sale had enough votes to override Trump's veto.
The White House argues that stopping the $8.1 billion arms sales would send a signal that the United States does not stand by its allies, at a time when threats against them are increasing.
Tensions have reached breaking point between Tehran and Washington, after the US pulled out of the 2015 nuclear deal and piled more sanctions on the country.
Secretary of State Mike Pompeo had said the sales were the administration responding to an emergency caused by Iran, both the US's and Saudi Arabia's arch foe.
The arms package are set to include thousands of precision-guided munitions, other bombs and ammunition and aircraft maintenance support.
The initial May decision to bypass congressional review sparked fury among lawmakers and saw Democrats and Republicans band together in a rare joint move against the administration.
It marked one of the few times the Republican-led Senate has opposed Mr Trump's foreign policy.
News agencies contributed to this report
Join our new commenting forum
Join thought-provoking conversations, follow other Independent readers and see their replies