Trump will only pass $740bn defence bill in exchange for Section 230 repeal to cripple social media firms
Mr Trump alleges tech companies are biased against conservative views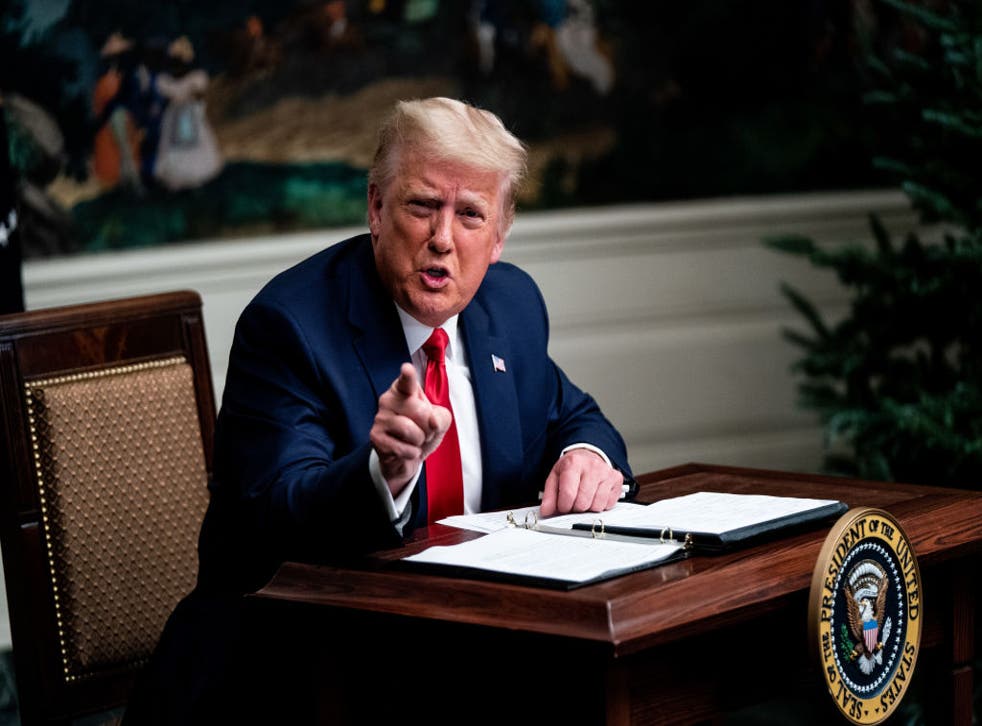 President Donald Trump is ramping up his war on social media companies by calling on lawmakers to remove legal protections from a defence bill which guard tech giants against being held accountable for the content shared on their platforms.
Mr Trump on Tuesday night threatened to veto the critical $740 billion National Defense Authorization Act unless Section 230 is repealed, claiming that it is "a serious threat to our National Security & Election Integrity."
"Therefore, if the very dangerous & unfair Section 230 is not completely terminated as part of the National Defense Authorization Act (NDAA), I will be forced to unequivocally VETO the Bill when sent to the very beautiful Resolute desk," he added.
Section 230 protects companies that can host trillions of messages from being sued by anyone who feels wronged by something someone else has posted — whether their complaint is legitimate or not.
Mr Trump has been embroiled in spats with several tech giants in recent weeks, claiming that they are inherently biased against conservative views.
He and members of his team have hit out at how some social media companies, such as Twitter, have presented the 2020 election results.
Despite losing to president-elect Joe Biden, the defeated incumbent continues to spew out unsubstantiated allegations about election voter fraud to his page, which Twitter has been flagging as disputed.
In October he signed an executive order directing executive branch agencies to ask independent rule-making agencies, including the Federal Communications Commission and the Federal Trade Commission, to study whether they can place new regulations on the companies.
Despite the outgoing president's Tuesday night intervention, one White House staffer said the move to repeal Section 230 would not be successful with Democrats and therefore a "total non-starter".
"It's a f***ing joke," the unnamed source told Politico. "This is a complex debate that has no business as an eleventh-hour airdrop."
Tuesday's veto threat is another potential roadblock for the passage of the annual defence policy measure, which is already being held up in Congress by a spat over military bases named for Confederate officers.
The measure, which has passed for 59 years in a row on a bipartisan basis, guides Pentagon policy and cements decisions about troop levels, new weapons systems and military readiness, military personnel policy and other military goals.
Associated Press contributed to this report.
Join our new commenting forum
Join thought-provoking conversations, follow other Independent readers and see their replies