Investigators seize financial records from former daughter-in-law of Trump company chief
Jennifer Weisselberg spotted loading cartful of boxes as Manhattan District Attorney launches probe into former president and associates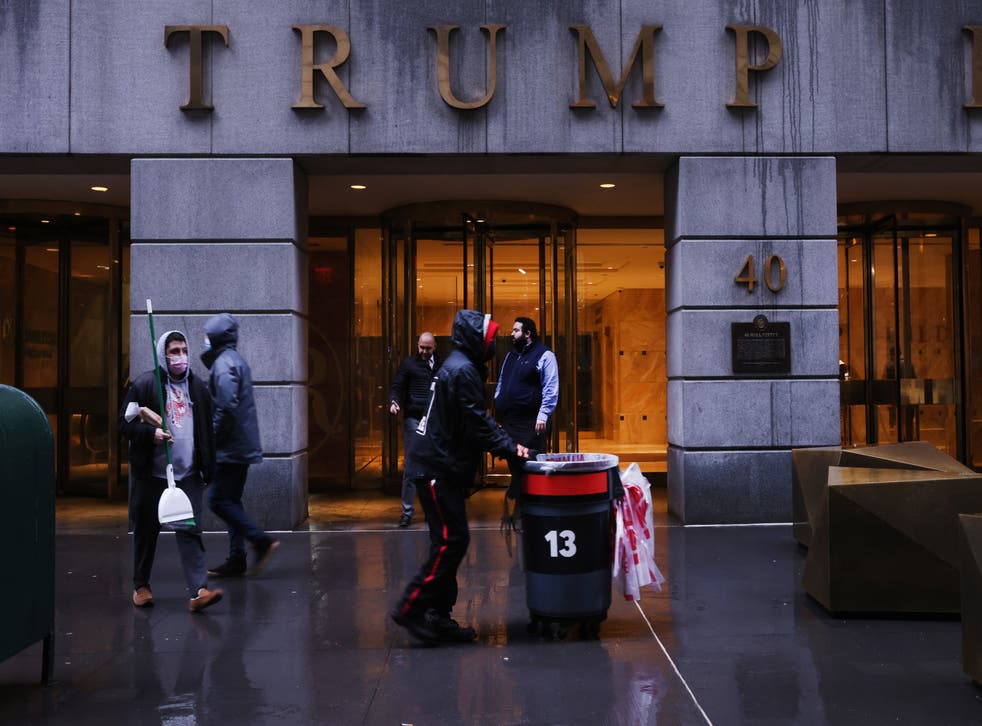 Leer en Español
Investigators from the Manhattan District Attorney's office probing Donald Trump's financial affairs have seized several boxes of records from a former daughter-in-law of the Trump Organization's chief financial officer.
Jennifer Weisselberg – was was previously married to the son of Trump CFO Allen Weisselberg – was spotted loading several boxes and a computer from her building into a car on Thursday, according to The Washington Post.
Her attorney said this week that she had in her possession "several boxes of materials" that were not in the hands of prosecutors.
A subpoena obtained by the newspaper ordered Ms Weisselberg to produce all of the records she possesses for ex-husband Barry Weisselberg's "bank accounts and credit cards plus his statements of net worth and tax filings".
District Attorney Cyrus Vance and New York Attorney General Letitia James are running parallel investigations into the former president, his company and associates following fraud allegations, including whether Mr Trump and his company have manipulated property values for favourable tax advantages, loans and insurance rates.
Read more:
Mr Vance's office has also subpoenaed personal banking records for the the company's long-time CFO, and he has reportedly sought other critical documents from the company, including bank records and property ledgers that contain receipts, notes on revenue and other details that prosecutors can reference against other sources, including tax and property records, among others, according to The New York Times.
The latest round of subpoenas follows prosecutors' legal victory to obtain Mr Trump's tax records, following a protracted legal battle and a US Supreme Court ruling in February after the former president's last-ditch attempt to conceal his true financial history.
Mr Trump and his legal team have argued that he retained an executive "immunity" from complying with subpoenas, and the former president has dismissed investigations as a "fishing expedition" or part of a partisan "witch hunt".
Following February's Supreme Court decision, the former president issued a statement calling the probe "a continuation of the greatest political witch hunt in the history of our country".
Mr Vance's office has not publicly revealed the scope of mounting allegations, but court filings in 2020 reveal that reported allegations of tax and insurance fraud justify a grand jury probe into the former president and his company.
In documents filed in the US Circuit Court of Appeals, prosecutors argued that "mountainous" allegations against the former president – including misstatements about his business properties to insurers, potential lenders and the government – "could establish crimes" including tax and insurance fraud and falsification of business records, among others.
"Thus, even if the grand jury were testing the truth of public allegations alone, such reports, taken together, fully justify the scope of the grand jury subpoena at issue in this case," prosecutors argued.
Mr Vance's investigation is one of several criminal probes into Mr Trump following his departure from the White House.
The Fulton County District Attorney in Atlanta, Georgia is looking into his efforts to manipulate election results in the state, and the DC Attorney General is probing the former president's incitement of a riot among his supporters at the US Capitol in an attempt to disrupt Congress as lawmakers convened to certify results of the 2020 presidential election.
Join our new commenting forum
Join thought-provoking conversations, follow other Independent readers and see their replies