Trump-Ukraine scandal: Top Republican demands protection for whistleblower amid president's call to identify him
Eighty-six-year-old is third in presidential line of succession
Andrew Buncombe
Seattle
Tuesday 01 October 2019 12:58 Comments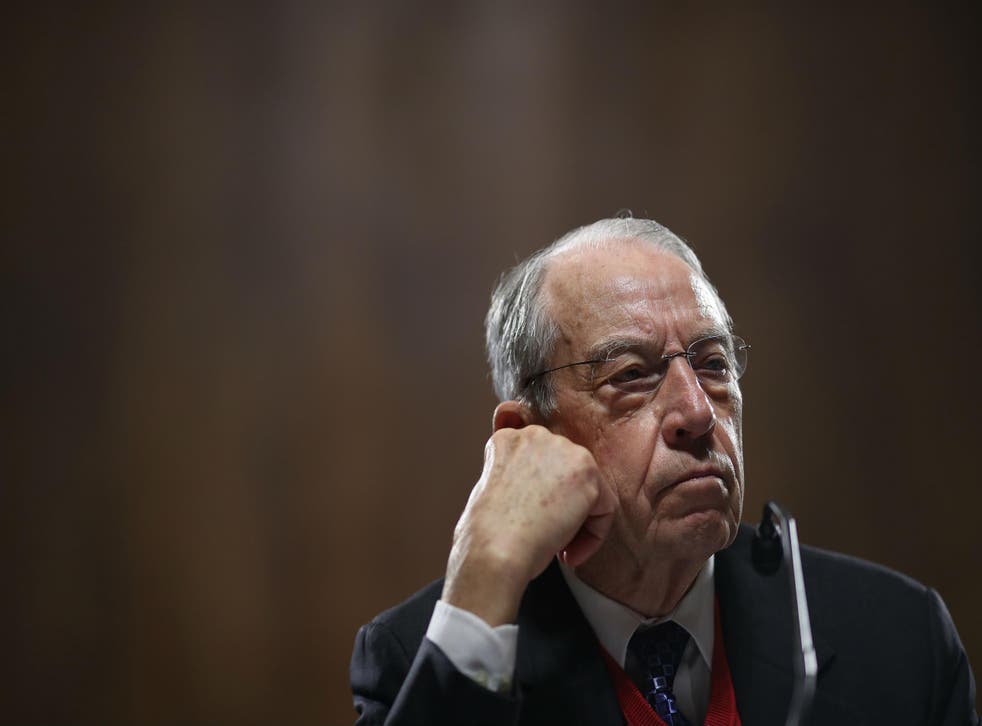 A top Republican politician has demanded protections for the CIA whistleblower, amid efforts by Donald Trump to identify them.
On Monday, the president told reporters he was trying to learn the identity of the whistleblower who made a formal complaint to Congress, alleging Mr Trump had sought to pressure Ukraine's president to dig up dirt on Joe Biden.
"We're trying to find out about a whistleblower," he said in the Oval Office, where he swore in his new labour secretary, Eugene Scalia.
He said he had the right to meet his accuser "face to face", remarks that led lawyers for the whistleblower to raise concerns for their client's safety.
On Tuesday, Republican senator Chuck Grassley, chair of the Senate judiciary committee, called for the whistleblower to be properly protected.
Everyone Trump has fired or forced out

Show all 13
"This person appears to have followed the whistleblower protection laws and ought to be heard out and protected. We should always work to respect whistleblowers' requests for confidentiality," said Mr Grassley, who represents Iowa.
"No one should be making judgments or pronouncements without hearing from the whistleblower first and carefully following up on the facts."
The comments from Mr Grassley, 86, are significant, given his seniority in the party. While few Republicans have spoken out openly either in support of the efforts by Democrats to push ahead with an impeachment probe, or to condemn Mr Trump's often aggressive rhetoric, many have indicated they are unhappy about the allegation he sought to interfere in the 2020 election.
Donald Trump 2020 campaign 'Keep America Great'
As the most senior Republican in the senate in terms of service, Mr Grassley was this year named president pro tempore of the Senate for the 116th session of Congress, a move that puts him third in the presidential line of succession, behind the vice president and the speaker of the House.
His comment is also significant given that he previously appeared to question whether the member of the US intelligence community who had filed the formal complaint, was truly a whistleblower.
"When it comes to whether someone qualifies as a whistleblower, the distinctions being drawn between first- and second-hand knowledge aren't legal ones," he said in his statement. "It's just not part of whistleblower protection law or any agency policy. Complaints based on second-hand information should not be rejected out of hand, but they do require additional leg work to get at the facts and evaluate the claim's credibility."
Other Republicans who have voiced concerned about the accusations include senators Mitt Romney and Ben Sasse. Mr Sasse, who had a chance to examine the complaint as a member of the Senate intelligence committee, said "there's obviously lots that's very troubling here".
Mr Trump's public comments that he wants to meet the whistleblower and is trying to unmask them, led the intelligence officer's lawyers to express "serious concerns", in a letter they sent to acting director of national intelligence, Joseph Maguire.
Lawyer Andrew Bakaj said "the events of the past week have heightened our concerns that our client's identity will be disclosed publicly and that, as a result, our client will be put in harm's way". He also claimed "certain individuals have issued a $50,000 bounty for any information relating to our client's identity".
Additional reporting by Reuters
Register for free to continue reading
Registration is a free and easy way to support our truly independent journalism
By registering, you will also enjoy limited access to Premium articles, exclusive newsletters, commenting, and virtual events with our leading journalists
Already have an account? sign in
Join our new commenting forum
Join thought-provoking conversations, follow other Independent readers and see their replies