LeBron James, Kevin Durant and Steph Curry say whichever team wins NBA Finals will boycott Trump White House visit
'No one wants the invite anyway,' basketball superstar says 
Tim Bontemps
Wednesday 06 June 2018 13:01 Comments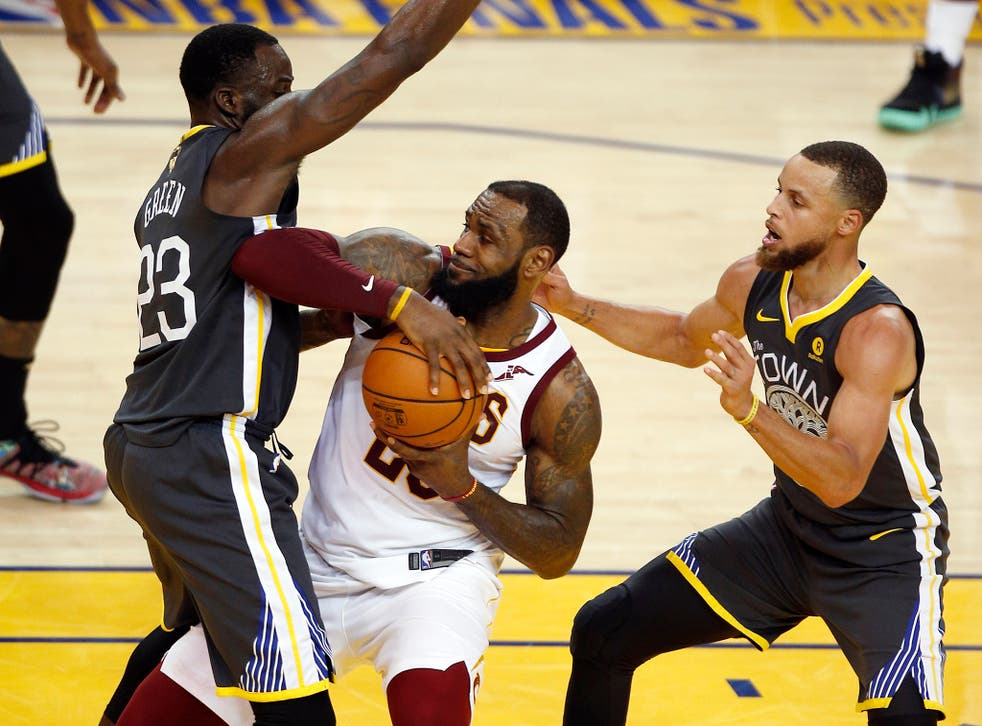 LeBron James has again publicly criticised President Donald Trump, saying Tuesday that neither team in the NBA Finals "wants the invite" to the White House for what was once a customary celebration after a sports title.
The Cleveland Cavaliers superstar was responding to the president's decision to revoke the Super Bowl champion Philadelphia Eagles' invitation, which Trump said was because the players "disagree with their president because he insists that they proudly stand for the national anthem." No Philadelphia player declined to stand for the anthem last season.
"I'm not surprised. It's typical of [Trump]," James said ahead of Wednesday's Game 3 against the Golden State Warriors, adding that he had just found out about the president's declaration. "I mean, I know no matter who wins this series, no one wants the invite anyway. So it won't be Golden State or Cleveland going."
Warriors stars Kevin Durant and Stephen Curry agreed that neither Golden State nor Cleveland would be willing to make a White House visit while Trump remains in office.
Both James and the Warriors are familiar with life in Trump's cross-hairs. In September, Trump rescinded Golden State's White House invitation after Curry said that, if it were up to him, the Warriors would skip the ceremony.
Trump blasted Curry by name, as well as the Warriors, leading James to author a tweet of his own calling Trump a "bum."
When asked Tuesday if he was surprised that things remain in the same place, James said matters won't change as long as Trump is president.
"I think as long as he's in office, then the communication and things like that are going to continue to happen," James said. "It's a lot of things that we believe in as Americans that we don't feel that he's for. There are a lot of people that believe that he's not for the people or doing things that's right by the people."
Donald Trump's first 100 days: in cartoons

Show all 33
James said this situation shouldn't diminish the Eagles' success.
"I think more importantly, as Americans and especially people in Philadelphia, we shouldn't let that news take away from what that unbelievable team did and accomplished, what all those players did to sacrifice throughout each and every Sunday, going out and playing the style of football that they played and winning a Super Bowl the way they won it," he said. "Let's not let that accomplishment of things that you will have for the rest of your life, and people will always call you a champion for the rest of your life, let's not let someone uninviting you to their house take away from that moment.
"Because I think the championship - winning a Super Bowl or winning a Stanley Cup or winning a World Series or winning an NBA championship or national championship - is way bigger than getting invited to the White House. Especially with [Trump] in there, in my opinion."
James isn't alone in that opinion. Warriors coach Steve Kerr - another vocal Trump critic - ended his own long statement about the decision to disinvite the Eagles by saying, "It will be nice when we can just get back to normal in three years."
Durant added, "What else do you expect Trump to do? When somebody says they don't want to come to the White House, he disinvites them so the photo op don't look bad. We get it at this point."
Last year's WNBA champions, the Minnesota Lynx, never received a White House invitation at all. The team's coach and general manager, Cheryl Reeve, said in an interview last month with The Washington Post that the snub reflects how this White House views women.
"It's hard not to think that gender is playing a role here because of the consistency with which men's teams are being invited and celebrated," Reeve said. "I think it reflects the priorities of this particular administration."
The White House did not immediately respond to a request for comment about the Lynx.
"I think it's laughable at this point," James said when asked about the Lynx not being invited. "You always hear the saying: You just laugh to stop you from crying."
The Lynx, who play the Mystics at Capital One Arena on Thursday - the game was moved up to 4 p.m. to accommodate the watch party for Game 5 of the Stanley Cup Final in Las Vegas - said in a statement Tuesday that they will spend Wednesday commemorating their championship by doing community service, including a visit to Payne Elementary School in Southeast Washington, before holding a celebration with members of Minnesota's congressional delegation. The Warriors went a similar route in February after their nixed White House invitation, instead taking children from Maryland's Seat Pleasant Activity Centre - where Durant played as a child - on a tour of the National Museum of African American History and Culture.
In response to Trump bringing up the national anthem issue as part of his Eagles decision, Kerr was asked Tuesday if he would support one of his Warriors players if they elected not to stand for the anthem. The NBA has a rule, which dates back to the early 1980s, stating that players must do so.
"Yeah, of course, because you have to understand that what players have protested is not the military," Kerr said. "They're protesting police brutality and racial inequality. So if any American wants to protest that anytime, that's their right as Americans. That's what the military fights for, is free speech.
"So I would be perfectly fine with any of our players doing so."
Washington Post
Register for free to continue reading
Registration is a free and easy way to support our truly independent journalism
By registering, you will also enjoy limited access to Premium articles, exclusive newsletters, commenting, and virtual events with our leading journalists
Already have an account? sign in
Join our new commenting forum
Join thought-provoking conversations, follow other Independent readers and see their replies