White supremacy still casts a shadow over the Trump presidency after a year of controversy
One year ago, Mr Trump gave an inaugural speech his campaign rival described as a 'cry from the white nationalist gut' and the issue has never really gone away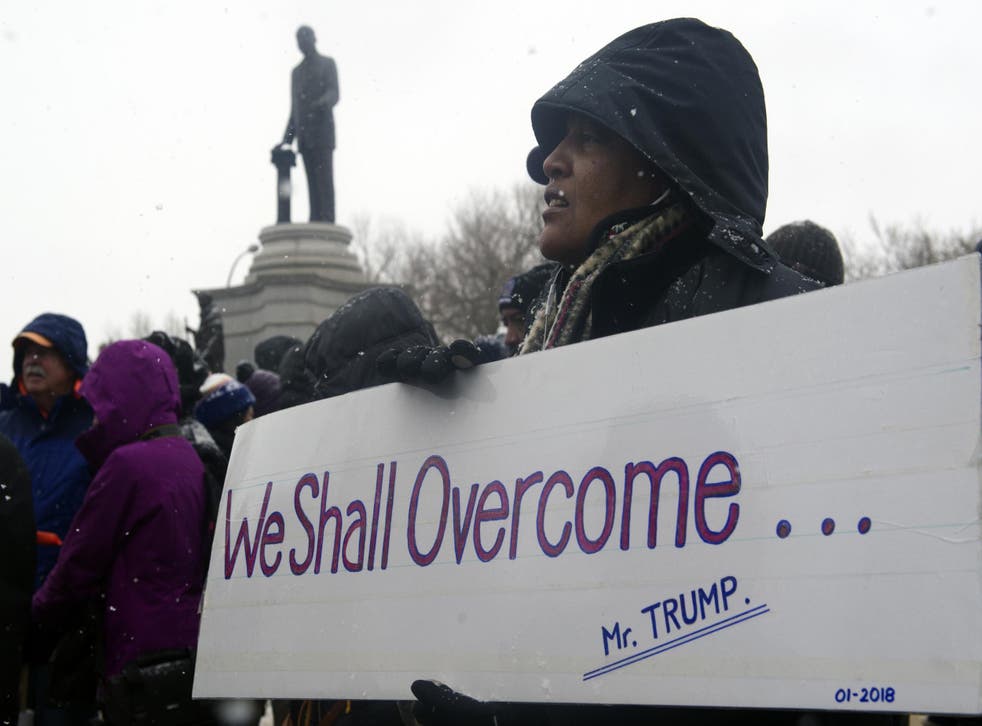 Through tax-break highs and Russia-investigation lows, Donald Trump's first year in office has been plagued by a seemingly unshakeable problem: White supremacy and the issue of race.
The 45th President started his campaign by calling Mexican immigrants "rapists," and sailed into office on promises of a "total and complete shutdown of Muslims entering the United States". He will finish his first year in office under threat of a government shutdown, as Congress debates what to do with the undocumented, childhood immigrants he has repeatedly threatened. On top of that, at least five nations have summoned their US ambassadors to explain why the President called them "s***hole countries".
Over the last 12 months, Mr Trump has doubled down on some of his controversial campaign promises – Mexico is still going to pay for the border wall, he told reporters last week – and blamed violence at a white supremacist rally in Charlottesville on "both sides".
But he has also abandoned other promises: He did not, for example, immediately deport millions of immigrants. Following outcry over his response to Charlottesville, he made several statements condemning white supremacist groups.
One year ago, Mr Trump gave an inaugural speech his campaign rival, Hillary Clinton, described as a "cry from the white nationalist gut". Would he do the same now?
Donald Trump: I am the least racist person you've ever interviewed
The easiest place to start is with Mr Trump's "s***hole" comments, which he reportedly made in an immigration policy meeting with bipartisan legislators and members of his administration. Senator Dick Durbin, who attended the meeting, called the President's comments "vile and racist". Even Republicans have called the outburst "repulsive".
Mr Trump has denied making the comments, and recently told a reporter he was the "least racist person you have ever interviewed". Nevertheless, white supremacists were thrilled that the question of whether African nations were, in fact, s***holes, was up for public discussion. Andrew Anglin, creator of white supremacist website the Daily Stormer, called the discussion "encouraging and refreshing" because it indicated that "Trump is more or less on the same page as us with regards to race and immigration".
Clive Webb, a professor of modern American history at the University of Sussex, said this is the the most meaningful thing Mr Trump's first year in office has done for white supremacy, whether intentional or not: It has taken the discourse out of the margins and into the mainstream.
"Historically, the way that a lot of politicians have played to racism in the United States is to employ coded language," Mr Webb explained. "What they've done is they've used dog whistle concepts, such as 'law and order', as a way of talking about race without talking about race."
Mr Webb added: "Now the veil has been removed and Trump is speaking in a blunt, plain way that does appeal to his base, and to the far right specifically. What he's doing, in effect, is giving them legitimacy."
Violence on the streets of Charlottesville

Show all 9
This effect was obvious after Mr Trump's response to a white supremacist rally in Charlottesville, Virginia. After days of silence on the rally, in which dozens of people were injured and one counter-protester was killed, Mr Trump condemned the actions of both the participants and those who protested them – "violence on both sides". White supremacists celebrated. Mr Trump later issued a statement condemning Nazi and white supremacist groups, before again returning to the rhetoric that blamed both sides.
Chris Barker, an Imperial Wizard of the Ku Klux Klan, said he had never seen applications for his chapter grow at the rate they did that summer.
"Now that Trump is President, it seems like it's getting even better, because more whites are starting to be more proud," he told The Independent at the time.
The surge of applications was coupled with a surge in violence: Right-wing extremists murdered 20 people in 2017, according to the Anti-Defamation League – more than double the year before. The numbers made 2017 the fifth-deadliest year for extremist violence on record.
White House: ESPN should fire host who called Donald Trump a 'white supremacist'
But last year also saw the dismissal of Steve Bannon, the White House chief strategist who former KKK leader David Duke once praised as "excellent". Just last month, Mr Trump further distanced himself from Mr Bannon, claiming his former top adviser had "lost his mind" after he had been fired. Sebastian Gorka, the former counterterrorism adviser who was linked to nationalist groups in Hungary, also left the White House in 2017.
These departures could have angered the white supremacists who trusted Mr Trump. Instead, they appear to have rallied even further under his wing, leaving Mr Gorka and Mr Bannon to fend for themselves.
"If you're going to have to make a choice, you're going to support the President, because he has the capacity to influence things in a way [people like Mr Bannon] never did," Mr Webb said, "Trump is their man."
Donald Trump's first year: in pictures

Show all 29
Attorney General Jeff Sessions – a man who once joked that he liked the KKK until he learned they smoked pot – is in charge at the Justice Department. As policy analyst Sean McElwee pointed out, Mr Sessions has pursued policies that are almost certain to increase the number of people of colour behind bars. He has re-invigorated the war on drugs, which scholars say disproportionately increased the number of black people behind bars, and cracked down on "sanctuary cities" that protect undocumented immigrants. Under Mr Sessions, the FBI has classified some civil rights activists as "black identity extremists".
These policies do not end with the Department of Justice. The Department of Homeland Security recently announced it would rescind the Temporary Protected Status of 263,000 immigrants from El Salvador, 45,000 Haitians, and 2,500 Nicaraguans who sought refuge in the United States. The immigrants were given approximately two years to leave the country, or be deported. In doing so, Amnesty International claimed, the US "could be sending people to their deaths".
And Mr Trump himself, by rescinding the Deferred Action for Childhood Arrivals (DACA), could wind up sending nearly 700,000 young immigrants back to countries they have not resided in for years. The President claimed he wanted a "bill of love" for the so-called Dreamers, but has refused to pass one unless it includes funding for the border wall. In the meantime, Dreamers are scrambling to renew their work permits while they still can.
In the end, this may be the best way to assess the the issue of white supremacy, which has dogged the Trump White House: Not through the politics of the advisers who surround him, or through the number of racists who support him, but by the number of people from "s***hole countries" his policies will hurt.
Join our new commenting forum
Join thought-provoking conversations, follow other Independent readers and see their replies