Donald Trump: Resistance to US President is beginning as Democrats unseat Republicans in Illinois
Organisers say local elections signal the beginning of a Democratic resurgence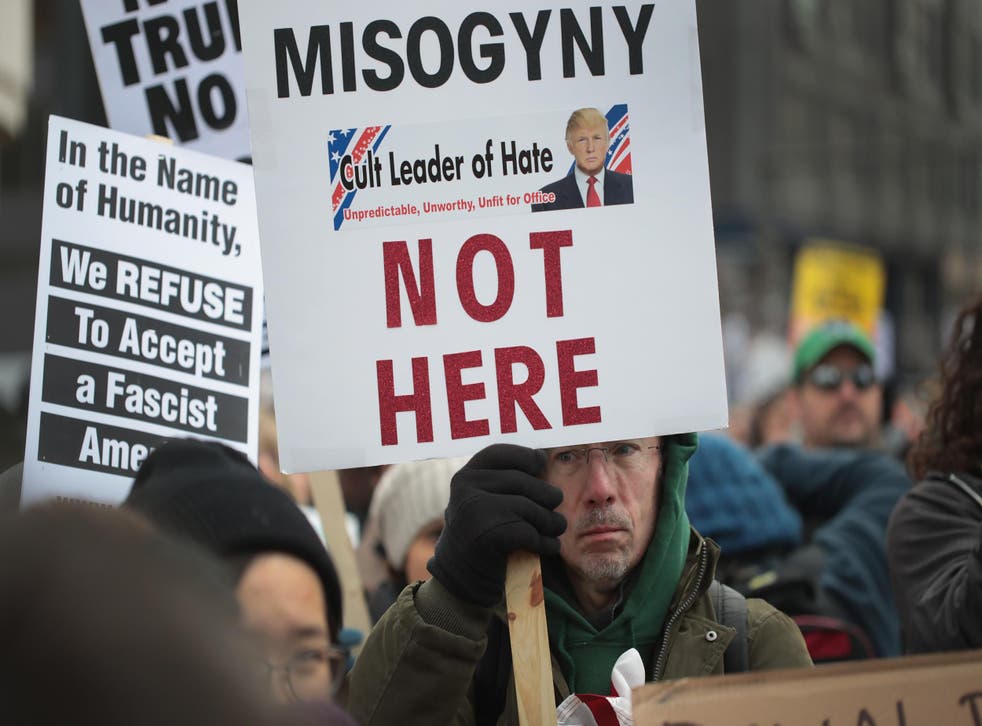 Democrats in Illinois have surprised themselves.
In the last week, voters in Normal Township elected a Democrat to their board for the first time in 100 years. The townships of Elgin and West Deerfield both elected entirely Democratic boards. And in the city of Kankakee, voters elected their first African American, Democratic mayor ever.
Many of these wins have been credited to Build the Bench, an organisation that coaches Democratic candidates on how to campaign. But others say it is thanks to a larger Democratic backlash happening all over the country.
"Lots of people are coming out who aren't rabid political animals, but they're appalled at many of the things that have been going on with the [Trump] administration," Ken Hall of Cobb Progressives told The Atlantic.
Mr Cobb was speaking specifically about Democrat John Ossoff, who is campaigning for Georgia's 6th congressional district. The race has attracted national media attention - and a record $8.3 million in donations.
Republican Tom Price, whose seat Mr Ossoff is fighting to take, won reelection by a double-digit margin in November. But so far, Mr Ossoff has raised 17 times more money than his closest Republican competitor. Even Debbie Dooley, the Atlanta Tea Party chairwoman, told The Atlantic she was surprised by the Democratic turnout for what she called a "very safe Republican seat."
Four states over, in Kansas, Republicans were similarly surprised by Democrat James Thomson's strong campaign for Republican Mike Pompeo's senate seat. Pompeo won his seat by a hefty 31 percentage points back in November. His Republican successor, Ron Estes, won by seven.
"This should be a wakeup call to the Administration and the Republican Congress," one Republican House member told CNN. "The Democratic base is fully mobilised and unlikely to be defused."
Nowhere was that more clear than in Delaware, where volunteers poured in from as far away as New York to campaign to help Democratic candidate Stephanie Hansen defeat Republican John Marino for a state senate seat. Marino lost by just two percentage points when he last ran in 2014. This year, he lost by 16.
"[This is] more volunteers than I've had in nine elections," Democratic state Senator Dave Sokola told The Huffington Post.
The elections, some say, show a widespread awakening of Democratic voters. Since the presidential election, at least eight Democrats in local elections have defeated their Republican challengers by a larger margin than Hillary Clinton defeated Donald Trump. In Iowa, for example, Ms Clinton beat Mr Trump by 16 percentage points in November. The next month, Democratic candidate Jim Lykam beat Republican challenger Mike Gonzales by almost 50 percentage points in a special state senate race.
Even Facebook is taking part in the Democratic resurgence. A new report from social analytics company News Whip shows left-leaning, anti-Trump Facebook pages were more popular than their conservative counterparts in the month after Mr Trump took office. In fact, the liberal pages even attracted more attention than some of the most-trafficked news pages.
But some experts say it's still too soon to declare a Democratic revolution. The party holding the White House frequently faces a backlash - and some lost seats in midterm elections - says political analyst Nathan Gonzales.
"The president's party has lost House seats in 18 of the last 20 midterm elections going back to 1938," he writes in a piece for Roll Call. "The number of vulnerable Republican seats could balloon (as it did for Democrats from 2009 to 2010), but the concept that all or most of the 241 GOP-held seats are vulnerable is closer to fiction than reality."
Back in Chicago, however, voters are confident they can keep the momentum going.
"We have events planned all the way through August," Build The Bench attendee Jodie Slothower told The Huffington Post. "We're going to keep up the pressure on the congressman. We're figuring out how to take what we've learned here and bring it to other communities. We have a lot of work to do."
Register for free to continue reading
Registration is a free and easy way to support our truly independent journalism
By registering, you will also enjoy limited access to Premium articles, exclusive newsletters, commenting, and virtual events with our leading journalists
Already have an account? sign in
Register for free to continue reading
Registration is a free and easy way to support our truly independent journalism
By registering, you will also enjoy limited access to Premium articles, exclusive newsletters, commenting, and virtual events with our leading journalists
Already have an account? sign in
Join our new commenting forum
Join thought-provoking conversations, follow other Independent readers and see their replies