Turkey pardon: White House announces names of birds to be spared by Trump for Thanksgiving
Last year the president spared the lives of Peas and Carrots
Lucy Anna Gray
New York
Monday 25 November 2019 20:38 Comments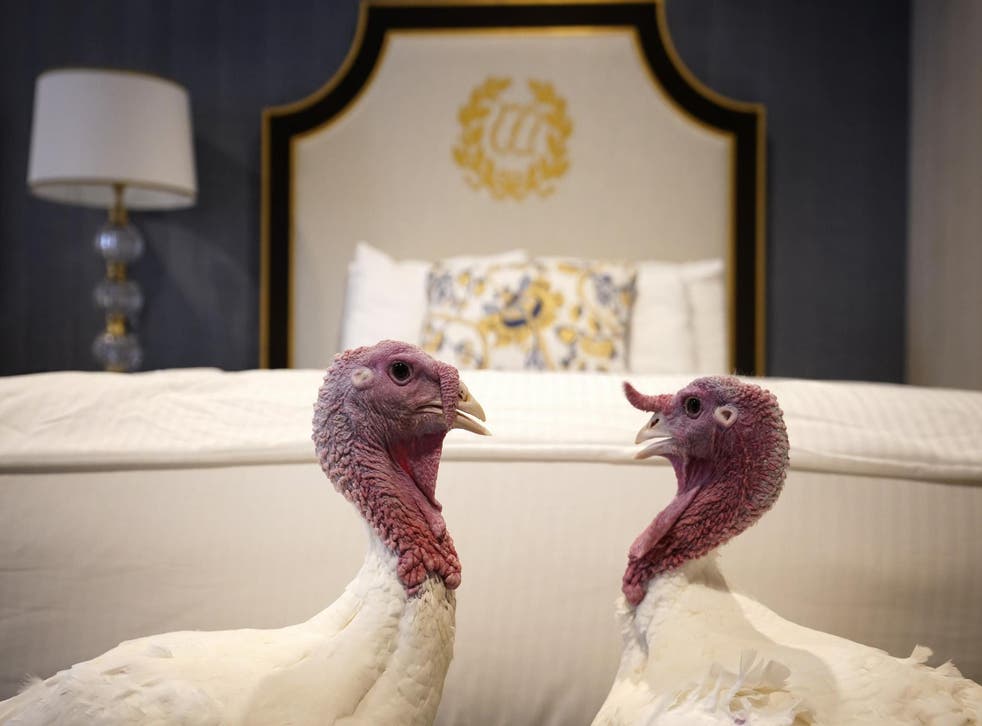 The White House has announced which two turkeys will be pardoned by Donald Trump.
In a time-honoured tradition, the birds will compete for the title of National Thanksgiving Turkey, with the 2019 ceremony falling on 26 November.
Last year, President Trump pardoned Peas and Carrots, and Drumstick and Wishbone the year before. This year's lucky contenders are Bread and Butter from North Carolina.
"The Presidential Turkeys have arrived in DC! The two birds are settled in at The Willard Hotel after their trek from North Carolina and are resting up for the big ceremony on Tuesday," the White House said Sunday.​
The feathery friends will stay in the luxury hotel until it's time for them to be pardoned at the White House.
The general public can vote on which bird they want to be named the National Thanksgiving Turkey, but both will be pardoned and sent to live at Virginia Tech's "Gobblers Rest" exhibit in Virginia.
The presidential pardoning of a turkey became a formal event in 1989 when George H W Bush told animal rights activists outside the White House that a turkey would be granted a "Presidential pardon as of right now". He said the bird would then be sent to "live out his days on a children's farm."
You can vote on the White House Facebook page for which turkey will be this year's victor.
Register for free to continue reading
Registration is a free and easy way to support our truly independent journalism
By registering, you will also enjoy limited access to Premium articles, exclusive newsletters, commenting, and virtual events with our leading journalists
Already have an account? sign in
Join our new commenting forum
Join thought-provoking conversations, follow other Independent readers and see their replies