US ambassador contradicts Donald Trump on two-state solution to Israeli-Palestinian conflict
Senior figures involved in the Middle East peace process continue to voice concerns at the American President's policy U-turn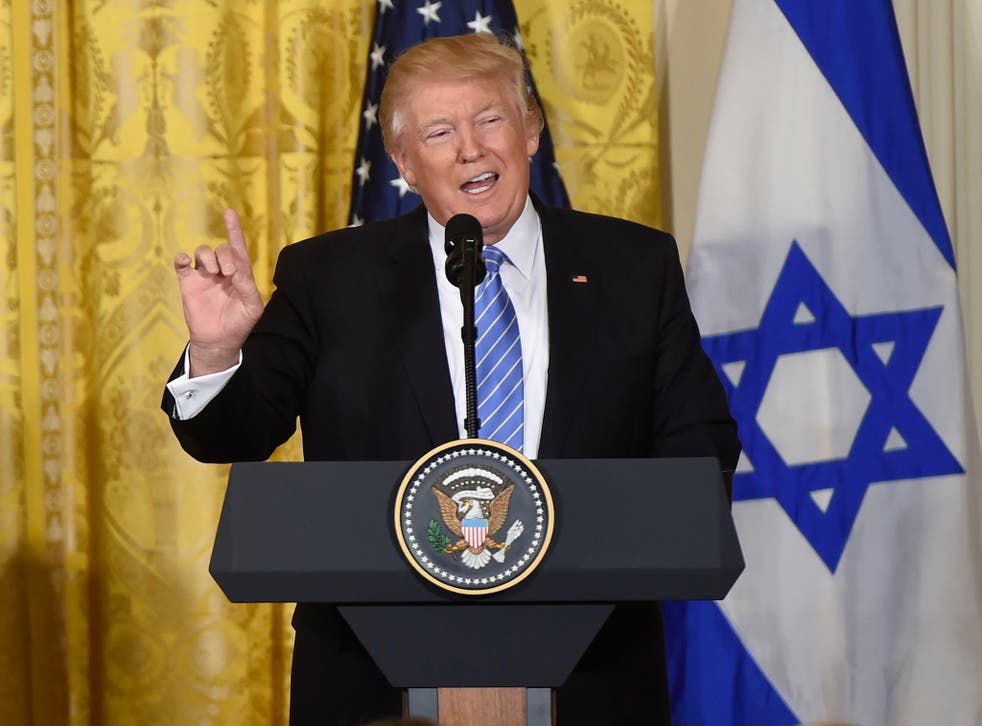 America's ambassador to the United Nations has said the US "absolutely" supports a two-state solution to the Israeli-Palestinian conflict, directly contradicting comments made by Donald Trump just a day ago.
The US President told reporters after a meeting with the Israeli Prime Minister Bejamin Netanyahu that his administration was no longer wedded to the creation of a Palestinian state.
The remarks signalled a departure from America's decades-old approach to Middle East foreign policy.
But Nikki Haley, Mr Trump's appointment for ambassador to the UN, said the US remained committed to a two-state solution.
She said anyone who believed the US was abandoning the policy did so in "error".
The UN envoy said: "We are thinking out of the box as well, which is: What does it take to bring these two sides to the table? What do we need to have them agree on?
"We absolutely support a two-state solution."
The development came as senior figures involved in the Middle East peace process voiced their concern at Mr Trump's apparent U-turn.
Saeb Erekat, chief negotiator and Secretary-General of the Palestinian Liberation Organisation (PLO), warned that Mr Trump's vision was akin to "apartheid".
Palestine's chief negotiator warns Trump against one-state solution
He said the only alternative to a two-state solution in the Israeli-Palestinian conflict would be "one single secular and democratic state with equal rights for everyone, Christians, Muslims and Jews, in all of historic Palestine".
He called for "concrete measures in order to save the two-state solution".
Mr Trump's media conference with Mr Netanyahu on Wednesday continues to send shock waves throughout the region and the wider Muslim world.
The two leaders mainly talked about the threat of Iran and the "cherished" relationship between their respective countries.
However, when asked by reporters whether the US will continue its policy of support for the creation of a Palestinian state alongside Israel – as was suggested by an anonymous White House official a day earlier – Mr Trump was equivocal in his answer.
"I'm looking at two-state and at one-state, and I like the one that both parties like... I can live with either one," he said, in what would be a momentous break from what has been a cornerstone of US policy in the Middle East peace process since Bill Clinton's administration.
Trump: I'm looking at two-state and at one-state, and I like the one that both parties like
"I thought the two-state [solution] looked easier for a while," he added, before reaffirming he would let Israeli and Palestinian negotiators take the lead on the issue.
Mr Netanyahu also dismissed what he said were just "labels" such as "one-state and two-state", saying he would rather focus on a peace deal with the Palestinians of "substance".
Israel: From independence to intifada

Show all 7
The UN and the Arab League have since issued a joint statement reiterating their support for the creation of a Palestinian state, exposing a widening rift with Mr Trump's stance.
UN Secretary-General Antonio Guterres and Arab League Chief Ahmed Aboul-Gheit told reporters in Cairo on Thursday that a two-state solution is "the only way to achieve comprehensive and just settlement to the Palestinian cause".
The international community generally supports a two-state solution in order to preserve the Palestinian identity and Israel's unique status as a Jewish-majority state. However, increasing Israeli expansion in the West Bank – which shows no sign of slowing under President Trump – and the rise to power of Hamas in Gaza has led the two-state peace process to stumble in the last decade.
The Israeli political landscape has also swung to the right in recent years. Many prominent hardline politicians in Mr Netanyahu's coalition government are against any form of Palestinian statehood.
A new EU-funded poll released on Thursday found that the number of Israelis and Palestinians who support the establishment of an independent Palestinian state has dropped recently – but more people continue to prefer a two-state solution overall.
55 per cent of Israelis and 44 per cent of Palestinians currently support a two-state arrangement, but just 24 per cent of Israelis and one-third of Palestinians prefer a single binational state, the poll jointly conducted by Tel Aviv University and the Palestinian Centre for Policy and Survey Research found.
Register for free to continue reading
Registration is a free and easy way to support our truly independent journalism
By registering, you will also enjoy limited access to Premium articles, exclusive newsletters, commenting, and virtual events with our leading journalists
Already have an account? sign in