America has record-low patriotism under Trump, survey reveals
The majority of Americans are no longer 'extremely proud' of their nationality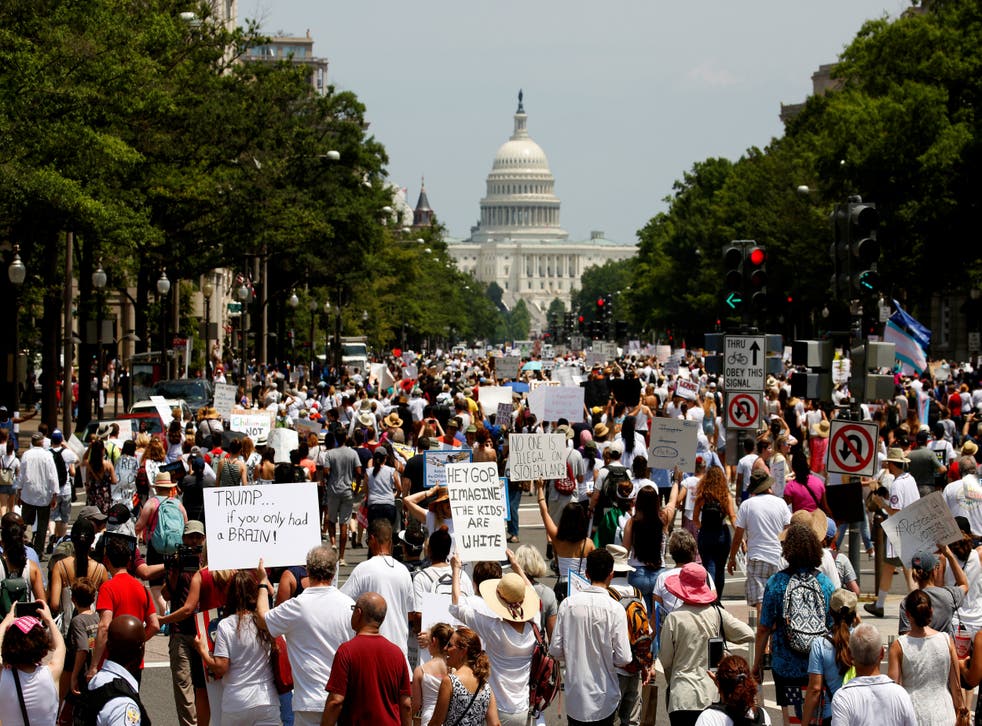 A majority of US adults are for the first time not "extremely proud" to be Americans, according to a survey that has tracked sentiments on patriotism within the country for nearly two decades.
Just 47 per cent of those surveyed said they were "extremely proud" to be Americans, according to Gallup. The 2018 survey marks the first time the majority of adults in the US did not indicate being "extremely proud" of their nationality since the research-based organisation began asking the question 18 years ago.
That figure is an average across political ideologies, with steep differences on either side of the aisle: while 74 per cent of self-identified Republicans consider themselves "extremely proud" to be American, just 32 per cent of Democrats identify themselves that way. The overall percentage is down from 51 per cent last year, with the steepest decline appearing among liberal respondents.
Extreme pride in the country ballooned after the 9/11 terror attacks, surging to 70 per cent near 2003 before falling throughout the rest of former President George W. Bush's tenure in the White House.
The number of respondents claiming to be "extremely proud" of their nationality held steady throughout most of former President Barack Obama's administration at 58 per cent, before slipping to 52 per cent in 2016.
By the time Donald Trump took office, the majority of Americans began identifying in categories beneath "extremely proud," with 25 percent saying they're "very proud" and 16 percent claiming to be "moderately proud."
'Families belong together' protests over Trump immigration policy

Show all 8
Meanwhile, nearly one in ten respondents are "only a little" proud to be American, with just three percent saying they are "not at all" proud of their nationality.
Not all demographics of Americans appear to be on a downward spiral in patriotism, however: the 74 per cent of Republicans claiming they're "extremely proud" to be American marks the highest percentage among the political party in the last five years.
Gallup conducted its survey from June 1 to June 13, using a random sample of over 1,500 US adults throughout the entire country.
Register for free to continue reading
Registration is a free and easy way to support our truly independent journalism
By registering, you will also enjoy limited access to Premium articles, exclusive newsletters, commenting, and virtual events with our leading journalists
Already have an account? sign in
Register for free to continue reading
Registration is a free and easy way to support our truly independent journalism
By registering, you will also enjoy limited access to Premium articles, exclusive newsletters, commenting, and virtual events with our leading journalists
Already have an account? sign in
Join our new commenting forum
Join thought-provoking conversations, follow other Independent readers and see their replies