US Army will begin discharging Covid-19 vaccine refusers 'effective immediately'
Directive requires commanders to 'initiate involuntary administrative separation proceedings for Soldiers who have refused the lawful order to be vaccinated against COVID-19 and who do not have a pending or approved exemption request'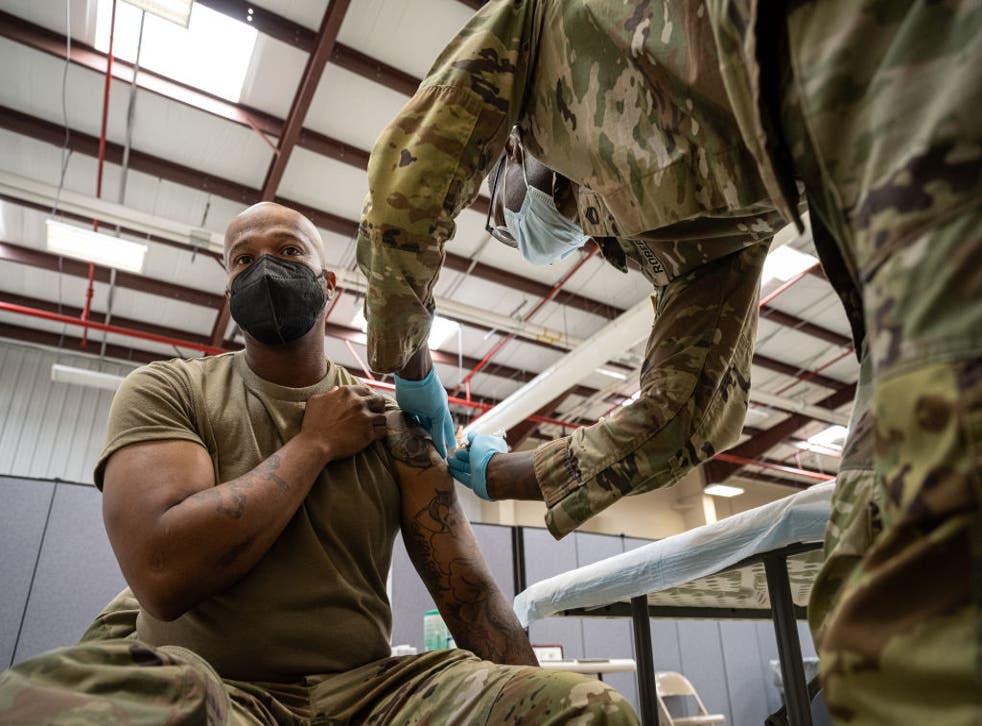 Leer en Español
The United States Army will "immediately" begin taking steps to discharge soldiers who've refused orders to be vaccinated against Covid-19 and lack a valid or pending exemption.
A 2 February directive from Army Secretary Christine Wormuth now requires commanding officers to begin the process of separating vaccine refusers from the service "effective immediately," and further requires that the separation process be completed "as expeditiously as possible".
Defense Secretary Lloyd Austin ordered all US service members to be vaccinated against Covid-19 in a 25 August memorandum directing the Army, Navy and Air Force secretaries "to immediately begin full vaccination of all members of the Armed Forces under DoD authority on active duty or in the Ready Reserve, including the National Guard".
In a statement, Ms Wormuth said the US Army's readiness "depends on Soldiers who are prepared to train, deploy, fight and win our nation's wars".
"Unvaccinated Soldiers present risk to the force and jeopardize readiness. We will begin involuntary separation proceedings for Soldiers who refuse the vaccine order and are not pending a final decision on an exemption," she added.
The secretary's directive states that any soldier discharged under the mandatory vaccination policy will be granted an honourable discharge or a general discharge under honourable conditions.
It applies to regular active-duty soldiers, reservists serving on active duty for more than 30 days, cadets at the US Military Academy or the academy's preparatory school, and undergraduate students who are part of the Senior Reserve Officers Training Corps programme who've received "a lawful order to be fully vaccinated against Covid-19," have had "a reasonable opportunity" to be vaccinated, have "made a final declination of immunization" and does not have "an approved or pending medical or administrative exemption," a category which includes religious exemptions.
The Army is the last of the five US armed services to begin discharging unvaccinated soldiers. The US Air Force, Space Force, Navy and Marine Corps began discharging airmen, guardians, sailors, marines who had refused orders to be vaccinated.
At the time, Defense Department spokesperson John Kirby said the overall impact of the discharges on the armed services was not yet quantifiable.
Register for free to continue reading
Registration is a free and easy way to support our truly independent journalism
By registering, you will also enjoy limited access to Premium articles, exclusive newsletters, commenting, and virtual events with our leading journalists
Already have an account? sign in
Register for free to continue reading
Registration is a free and easy way to support our truly independent journalism
By registering, you will also enjoy limited access to Premium articles, exclusive newsletters, commenting, and virtual events with our leading journalists
Already have an account? sign in
Join our new commenting forum
Join thought-provoking conversations, follow other Independent readers and see their replies