US says China is among worst offenders of human trafficking in new report
The decision comes amid rising tensions over North Korea 
Mythili Sampathkumar
New York
Tuesday 27 June 2017 23:41 Comments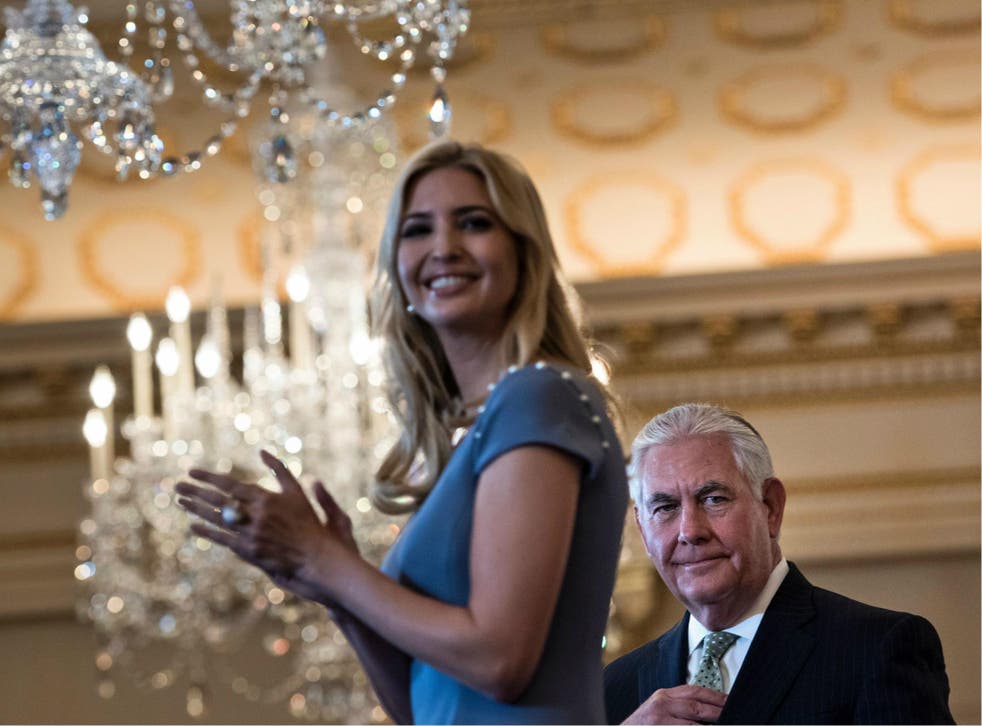 The US has named China as one of the worst offenders for human trafficking in an annual Report which could aggravate tensions between the nations as they try to work out how to deal with North Korea.
The report lists countries in "tiers," with Tier 1 countries defined as meeting the minimum standards of the US in terms of combating human trafficking and forced labour.
China has been listed as a Tier 3 country in this year's report, which means the US feels the country is not only meeting minimum standards but not making an effort to do so either.
"China was downgraded to Tier 3 status in this year's report in part because it has not taken serious steps to end its own complicity in trafficking, including forced labourers from North Korea that are located in China," Secretary of State Rex Tillerson said as he presented the report with White House aide Ivanka Trump.
Ms Trump held an event at the White House in May with Senators Amy Klobuchar, Heidi Heitkamp, Bob Corker, and experts to discuss anti-trafficking issues. She said at the report presentation that as a mother "ending human trafficking is more than a policy priority, it's a clarion call to defend the vulnerable and exploited."
It was in line with the President's February executive order on enforcing federal law to stop trafficking. However, Ms Trump's comment to Fox News that she "tries to stay out of politics" appears to be in contradiction with the decisions made in this report.
For the previous three years, China was on the Tier 2 Watch List. It was last in Tier 3, the lowest ranking, in 2013.
At the time of an April meeting with Chinese President Xi Jinping, Donald Trump appeared to be positive about working together - particularly on containing the nuclear threat North Korea poses.
On 20 June he took to Twitter to write that he "greatly appreciate[d]" China's efforts in the region, "it has not worked out. At least I know China tried!"
However, he has also grown increasingly frustrated over bilateral trade issues and is now considering possible trade actions against Beijing, three senior administration officials told Reuters.
The report said China convicted fewer sex and labour traffickers in the 12 months ending 31 March than in the previous year, forcibly repatriated North Koreans without screening them for indicators of trafficking, and handled most forced labour cases as administrative issues rather than criminal prosecutions.
Beijing also confirmed this month it had detained labour rights activists who scrutinised conditions at a Chinese company making shoes for Ms Trump's namesake apparel line. The State Department has urged China to release the activists immediately.
Mary Katherine Burke, a Washington DC-based human rights lawyer who advocates for victims of human trafficking, told The Independent that "tiers are always political tools to encourage countries to continue to improve their position on trafficking. It does not necessarily reflect the reality on the ground."
Even if the extensive research done by US State Department staff does show a lack of combatting human trafficking, there are several countries in which laws have are in place but there is little to no enforcement.
"So essentially, the US State Department is patting another country's legislature on the back for having laws on the books, even if human trafficking is in no way actually deterred," said Ms Burke.
She said that tier designation is not the most accurate indication of a country's "success." Moving countries around tiers "is meant to shame and name, a popular human rights advocacy tool" as well as being a political tool.
Independent Appeal: Modern face of slavery

Show all 2
Afghanistan, Malaysia, and Qatar moved up from the special Watch List to Tier 2, a list of nations making significant efforts to comply.
Many critics have said the "upgrade" of Qatar is inaccurate given allegations of forced labour while the country builds new facilities to host the 2022 World Cup.
Rachel Stohl, who directs the Conventional Defence program at Washington DC think tank Stimson Center told The Independent that one of the more controversial parts of the report was the revision of the list of countries known to use and recruit child soldiers.
The list does not include countries where the child soldier problem is not under the purview of the government. For instance in Rwanda, the problem has been identified with the M23 gang.
"The use of child soldiers is the worst form of child trafficking...but we see it happen when a conflict [continue] for a long time; there is a limited supply of adult soldiers".
In particular, Burma - who she said is an "egregious violator" - was upgraded from Tier 3 to the Tier 2 Watch List of nations that deserve special scrutiny.
Last year, Burma was granted a "symbolic waiver" in 2016 from the consequences of a Tier 3 designation, which can trigger sanctions on military and other foreign aid as well as weapons sales.
It was an attempt to foster democracy in the country and develop more open US relations, according to Ms Stohl, since the country did not receive any military assistance from the US anyway.
She said the de-listing of Burma and Iraq was surprising because the State Department itself has issued reports documenting the issue of child soldiers.
The "power is in the listing" she said. The "tool" of listing works to get countries to address the problem for their children, as the world has seen with Chad.
Ms Stohl said that Mr Tillerson reportedly overruling the decision by staff to include Burma and Iraq on the list is "inconsistent with the values of the US government".
In Iraq's case, she said national security and counter-terrorism interests are at play but it is an "unfortunate situation" since the country was on the list last year and the situation on the ground does not appear to have improved enough to justify a de-listing in those 12 months.
For Burma, it is likely US economic interests in opening that market in the region.
"It is distressing that this report may be more politicised, as [it] is meant to be a useful tool for countries to assess their own efforts," said Ms Burke.
Register for free to continue reading
Registration is a free and easy way to support our truly independent journalism
By registering, you will also enjoy limited access to Premium articles, exclusive newsletters, commenting, and virtual events with our leading journalists
Already have an account? sign in
Register for free to continue reading
Registration is a free and easy way to support our truly independent journalism
By registering, you will also enjoy limited access to Premium articles, exclusive newsletters, commenting, and virtual events with our leading journalists
Already have an account? sign in
Join our new commenting forum
Join thought-provoking conversations, follow other Independent readers and see their replies