US under Donald Trump is a 'parallel universe of disinformation', says Salma Hayek
The Desperado star says the US President is 'crooked' and accuses him of lying
Benjamin Kentish
Tuesday 21 March 2017 15:50 Comments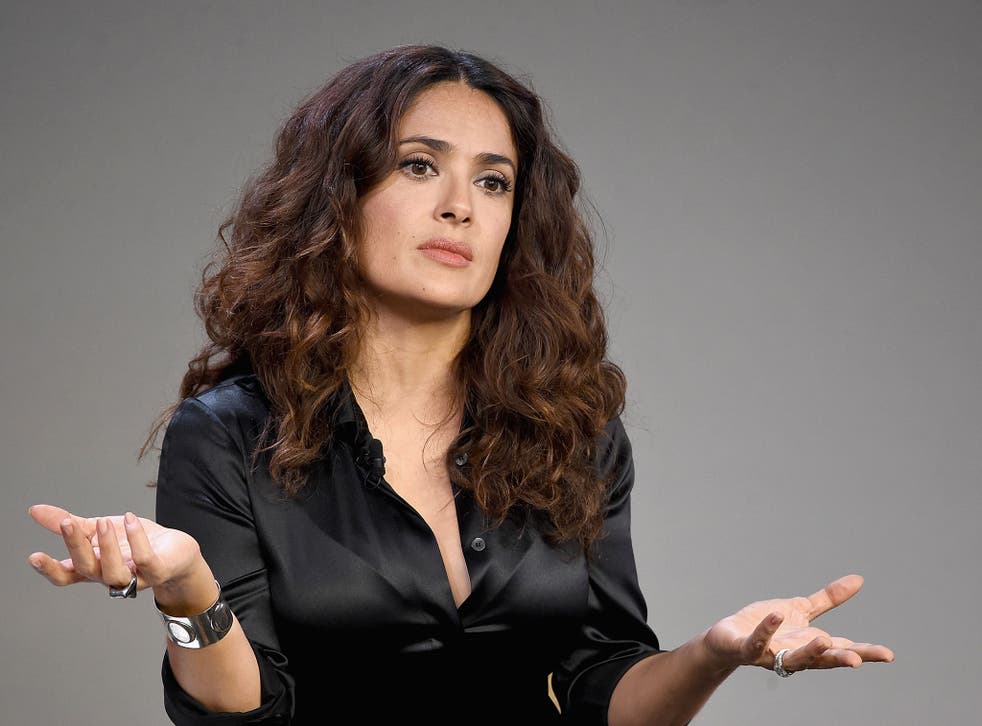 Donald Trump's America is a "parallel universe of disinformation", according to the actress Salma Hayek.
The Hollywood star has been an outspoken critic of the billionaire businessman, who she has previously accused of repeatedly asking her out even though he was aware she had a boyfriend.
Hayek was born in Mexico but became a US citizen before moving to live in London.
Speaking to DuJour magazine, she said: "What do the supporters see?"
She added: "Every day the lies are being explained with facts, and then he says the press lied, and it's like a parallel universe of disinformation."
She also accused the Republican of criticising others for the same traits he displays himself.
"I find it really interesting how he constantly accuses people of the things he does", she said. "Crooked Hillary — he's not crooked?
"Liar! He kept saying she was one, but then he was lying all the time. It's terrifying".
Despite her opposition to the current President, the actress said she was optimistic about the future.
"I stay hopeful because I believe the best teacher in the world is your mistakes," she said. "Maybe we will learn a lot from what is happening. I really do think things have to go a little bit south for people to come together and bounce back in a better way. This is how I see it."
The controversial orders Donald Trump has already issued

Show all 9
Hayek publicly backed Hillary Clinton in last year's presidential election and has previously called Mr Trump "pathetic".
Last October, she accused the businessman of having befriended her boyfriend in an attempt to get hold of her telephone number, then repeatedly calling her to ask for dates.
When she rejected him, she alleged that Mr Trump planted a story in a US newspaper saying he would never go out with her because she is too short.
"When I met that man, I had a boyfriend, and he tried to become his friend to get my home telephone number", she told Spanish radio station El Show del Mandril last year.
"When I told him I wouldn't go out with him even if I didn't have a boyfriend, he called — well, he wouldn't say he called, but someone told the National Enquirer...It said that he wouldn't go out with me because I was too short."
Register for free to continue reading
Registration is a free and easy way to support our truly independent journalism
By registering, you will also enjoy limited access to Premium articles, exclusive newsletters, commenting, and virtual events with our leading journalists
Already have an account? sign in
Join our new commenting forum
Join thought-provoking conversations, follow other Independent readers and see their replies