US Election 2016: Donald Trump promises new trade deals and a review of Nato in his first 100 days
A 'very massive recession' is looming for the US, but the self-styled 'Lone Ranger' has some answers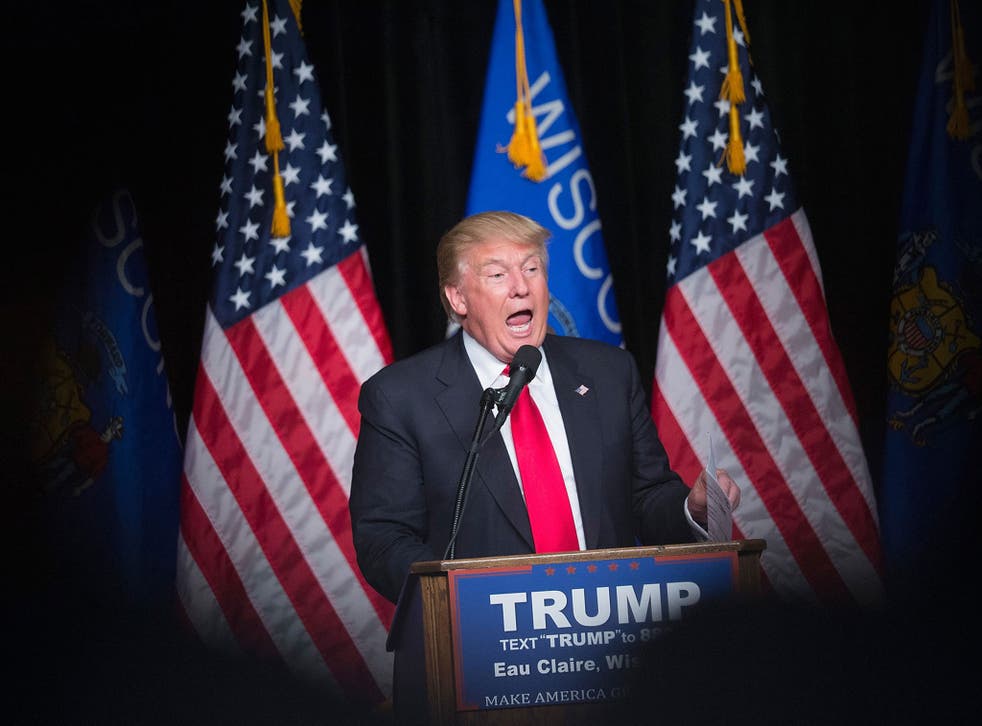 Economic conditions in the US are so perilous that the country is heading for a "very massive recession", making it "a terrible time right now" to invest in the stock market, according to Donald Trump.
His gloomy view of the economy contrasts with more buoyant mainstream forecasts. But the New York billionaire dismissed concern that his comments – unusual, if not unprecedented, for a major party front-runner – could potentially affect financial markets. "I know the Wall Street people probably better than anybody knows them," Mr Trump said. "I don't need them."
His go-it-alone instincts were a consistent refrain – "I'm the Lone Ranger," he said at one point – during a 96-minute interview flanked by senior aides and his son Donald Jr, in which he talked candidly about his aggressive style of campaigning and offered new details about what he would do as president.
He made clear that he would govern as non-traditionally as he has campaigned, tossing aside decades of American policy and custom in favour of a new, Trumpian approach to the world.
In his first 100 days, Mr Trump said, he would cut taxes, "renegotiate trade deals and renegotiate military deals", including altering the US role in Nato.
He claimed that he would be able to pay down the nation's more than $19 trillion (£13trn) national debt "over a period of eight years" – something that most economists consider impossible, since it would require using more than half of the US government's $4trn annual budget merely to pay off the debt.
People who will flee America if Donald Trump wins

Show all 8
Mr Trump said: "I'm renegotiating all of our deals, the big trade deals that we're doing so badly on. With China, $505bn this year in trade." He said the economic growth he would generate would enable the United States to pay down the debt.
America had lost its standing in the world, he said, and he would use his "aura of personality" to make people "respect our country. I want them to respect our leader".
After his campaign's most challenging week so far, Mr Trump said family, friends and Republican leaders were urging him to tone down his attacks and reach out to former rivals to begin reunifying the polarised party. But such overtures were "overrated", he said, adding: "The first thing I have to do is win. Winning solves a lot of problems." Of his remaining Republican rivals, Senator Ted Cruz of Texas and Ohio Governor John Kasich, he said: "I have two people left… Sometimes you have to break an egg."
Rather than pick another outsider as his vice-presidential running mate, he said he would choose "somebody that can walk into the Senate and who's been friendly with these guys for 25 years ... and can get things done".
Asked when he first began to consider seriously a White House run, he said his interest picked up in the summer of 2014, when he was still busy with his hit NBC television show The Apprentice. The decisive moment came in February last year when he was asked to extend his contract with NBC and told them he was going to run for president instead. "I just felt there were so many things going wrong with the country," he said.
Asked whether it was incumbent on him to tame the anger within his party, Mr Trump said: "I bring rage out. I do bring rage out. I always have… I also bring great unity out, ultimately. I've had many occasions like this, where people have hated me more than any human being they've ever met. And after it's all over, they end up being my friends. And I see that happening here."
Mr Trump acknowledged that he had been "rough" and "nasty" with rivals in debates – to the extent that some relationships with them were probably beyond repair. "When I hit people, I hit them harder maybe than is necessary," he said. "And it's almost impossible to reel them back."
He believes the US economy is sitting on an economic bubble because bullish forecasts were based on skewed employment numbers and an inflated stock market. Unemployment was more like 20 per cent than 5 per cent, otherwise "I wouldn't be getting the kind of massive crowds that I'm getting".
His solution would involve rethinking trade deals with countries including China, and a "very big tax cut" which he unveiled last September. That proposal increases taxes on the "very rich" but reduces taxes for most taxpayers and companies.
He said: "I don't want people to be afraid. I want them to respect our country. Right now, they don't respect our country."
The US should not retreat from the world but should re-evaluate its relationships and role in groups such as Nato. "First of all, it's obsolete," he said. "Our big threat today is terrorism… Nato is set up for the Soviet Union more than anything else. And now you don't have the Soviet Union."
But first he must finish the Republican fight. "My natural inclination is to win," he said. "And after I win, I will be so presidential that you won't even recognise me. You'll be falling asleep, you'll be so bored."
The Washington Post
Register for free to continue reading
Registration is a free and easy way to support our truly independent journalism
By registering, you will also enjoy limited access to Premium articles, exclusive newsletters, commenting, and virtual events with our leading journalists
Already have an account? sign in
Register for free to continue reading
Registration is a free and easy way to support our truly independent journalism
By registering, you will also enjoy limited access to Premium articles, exclusive newsletters, commenting, and virtual events with our leading journalists
Already have an account? sign in
Join our new commenting forum
Join thought-provoking conversations, follow other Independent readers and see their replies