US election 2016: Gloves come off at last as Bernie Sanders attacks Hillary Clinton's links to banks
The super PAC behind Ms Clinton, Priorities USA Action, drew $15m of the $25m it raised in the second half of last year from Wall Street sources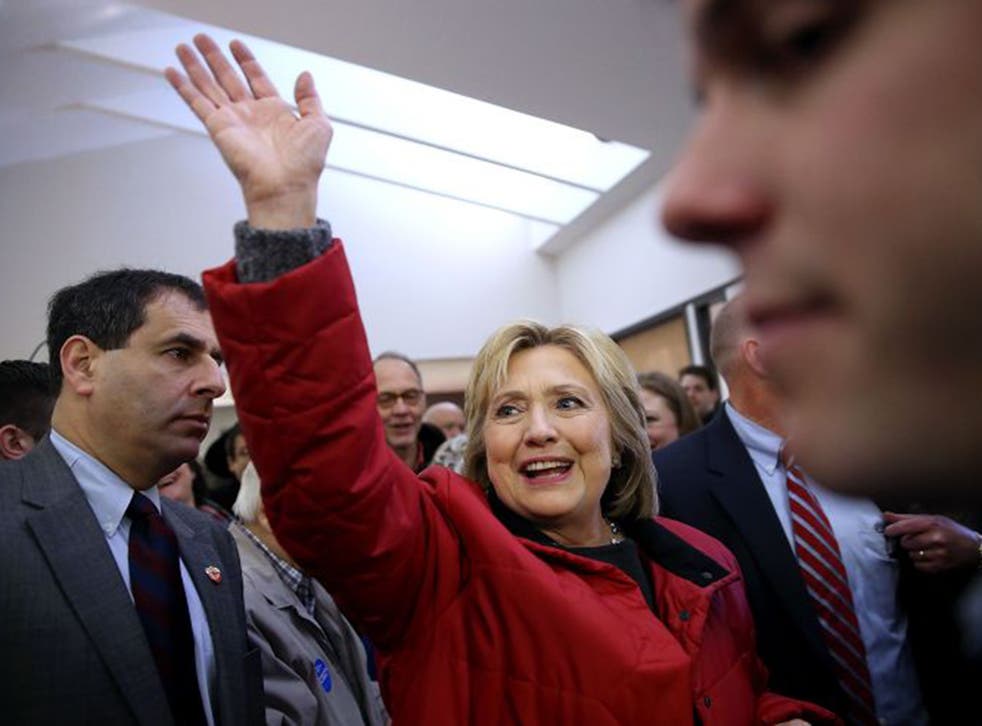 Bernie Sanders will highlight campaign finance filings that show a group affiliated with Hillary Clinton accepted $15m (£10.4m) from Wall Street as evidence of her ties to the big banks, as their increasingly bitter rivalry for the Democratic nod moves from Iowa to New Hampshire.
The super PAC behind Ms Clinton, Priorities USA Action, drew $15m of the $25m it raised in the second half of last year from Wall Street sources, the new filings show. Nearly half of it – $7m – came from the financier George Soros. Mr Sanders has eschewed all super-PAC support.
In the last days of the Iowa contest, the Sanders campaign aired a television spot deploring the part played by Goldman Sachs in the last economic meltdown, and the firm's ties to candidates. It did not mention her by name but the target was clearly Ms Clinton, who took over $600,000 in speaking fees from the firm. He now means to double down on the strategy, a top aide suggested.
Everything you need to know about the Iowa caucus
"Her super PAC, part of the corrupt campaign finance system in this country, has taken, we found out last night, altogether $15m from Wall Street," Michael Briggs, a spokesman, told The Independent. "You can't take special interest money and be expected to regulate the special interests in a credible way… it's something that people have the right to take into account."
Candidates from both the main parties were preparing to take stock of the results from the Iowa caucuses, which, barring any tie-breakers, were expected to be made official by the early hours of Tuesday morning. All were then set to hit the trail in New Hampshire, which holds its primary in one week.
Mr Sanders will also no longer hold back in responding to attacks from Ms Clinton, which became increasingly sharp in the last laps of the Iowa contest, Mr Briggs said. She has variously accused him of being soft on gun control and abortion rights and of recklessness in seeking to replace Obamacare with free, federally-funded health care for all.
"People in the Clinton campaign are panicking and lashing out and saying things that are incorrect," Mr Briggs noted. "We are trying to push back."
In pictures: US Elections 2016

Show all 15
There is, meanwhile, the rumbling question of the emails that were handled by Ms Clinton's private server when she was Secretary of State. Last week, the State Department said at least 22 of them had contained "top secret" information and on Sunday Mr Sanders, who has mostly declined to dwell on the matter, said that he did now consider it "a serious issue" moving forward.
While the most recent polls show Mr Sanders with a wide lead in New Hampshire, he will face a big test in Nevada and South Carolina in mid-February, where large numbers of Hispanics and blacks may favour Ms Clinton. But his campaign says it has internal polling showing him making inroads in both communities. It also reported raising a healthy $20m in January, all in small contributions.
"It has been really remarkable. It's really changing the history books in this country for how a presidential campaign can be done," Mr Briggs boasted. "We've gotten more than 2.5 million individual donations, more than any other campaign in American history."
For the Republican Party, this morning's Iowa results were to offer a first snapshot of the true depth of support for Donald Trump versus his closest rival in Iowa, Senator Ted Cruz, and also to see who among their favoured "establishment runners", notably Senator Marco Rubio, might be best placed to gain momentum going forward.
Register for free to continue reading
Registration is a free and easy way to support our truly independent journalism
By registering, you will also enjoy limited access to Premium articles, exclusive newsletters, commenting, and virtual events with our leading journalists
Already have an account? sign in
Register for free to continue reading
Registration is a free and easy way to support our truly independent journalism
By registering, you will also enjoy limited access to Premium articles, exclusive newsletters, commenting, and virtual events with our leading journalists
Already have an account? sign in
Join our new commenting forum
Join thought-provoking conversations, follow other Independent readers and see their replies