US Election Analysis: Polls on a knife edge – but Obama in front as zero hour approaches
The only numbers that really matter are from the campaign's own polls in the swing states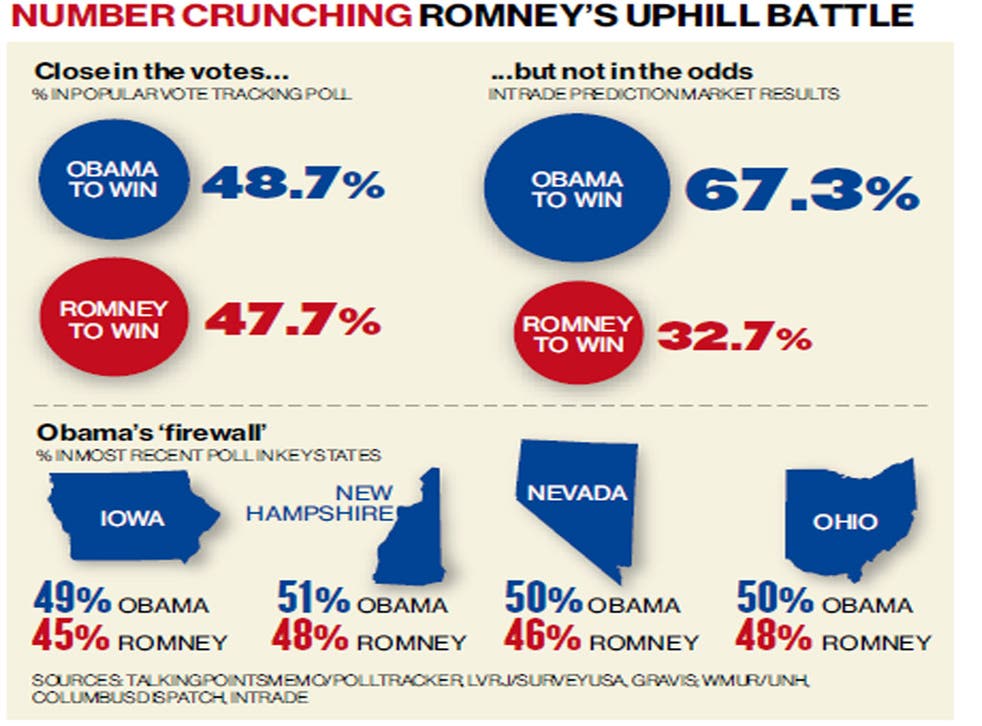 Make no mistake, the polls are close and never forget that night in New Hampshire in early 2008 when every indicator told us Barack Obama would bulldoze Hillary Clinton in the primary contest there. And then she won, making pundits and reporters cringe. Yet it is the sheer consistency of swing-state polling that gives Mr Obama an edge, though often very slim, over Mitt Romney, that suggests a surprise outcome would be just that, a surprise. Of 21 swing-state polls last weekend, one had Romney ahead, one had them tied. Obama was ahead in 19.
According to Andrew Kohut, of the Pew Research organisation, as many as 11 per cent of likely voters indicate they may not finally decide until they are in the polling booths. Who knows what psychic winds may suddenly capture a bulk of them. Pure fatigue with the economy. Sudden desire for anything new – ie, Mitt? Could something happen in the last hours and minutes of the campaign to trigger a final rush to the Republican? That is a lot of voters still in play, if that number is right.
While his surprisingly strong performance in the first debate in Denver finally gave Mr Romney some impetus in the final phase of the campaign, there is an argument that he may have peaked just too soon. Certainly, some Republican insiders are already surmising that the momentum was pinched, particularly by super-storm Sandy and Mr Obama's much-praised response to it.
We see the public polling only. The only numbers that really matter are from the campaigns' own polls in the various swing states; they are far more sophisticated and scientific. The Romney campaign continues to assert that it will win and some even say win big. Are they seeing something that we and Team Obama are not?
One unknown quantity: how much better this year is the Republican ground-game operation? Always we assume that the Democrats have the art of getting the core supporters out to the polls down to a fine science and the Republicans do not. But that may turn out to be a myth and the GOP may yet surprise us. An enthusiasm deficit among Democrats, especially among minorities, could be fatal for the President.
Recall that, as per Mr Kohut, a large slice of voters is still ready to switch allegiances even at the last moment. What, if by the time you are reading this, something shocking has happened to rock the Obama ship? These are generally called October Surprises – events that completely change the landscape of presidential race – and, as the name implies, they have usually happened by now, especially if they are forged by the opposing campaign.
Register for free to continue reading
Registration is a free and easy way to support our truly independent journalism
By registering, you will also enjoy limited access to Premium articles, exclusive newsletters, commenting, and virtual events with our leading journalists
Already have an account? sign in
Register for free to continue reading
Registration is a free and easy way to support our truly independent journalism
By registering, you will also enjoy limited access to Premium articles, exclusive newsletters, commenting, and virtual events with our leading journalists
Already have an account? sign in
Join our new commenting forum
Join thought-provoking conversations, follow other Independent readers and see their replies