FBI director James Comey ignored Justice Department advice in publicising new probe into Hillary Clinton emails
Legal officials say decision is 'unprecedented' and 'abberational' as Mr Comey comes under fire from all sides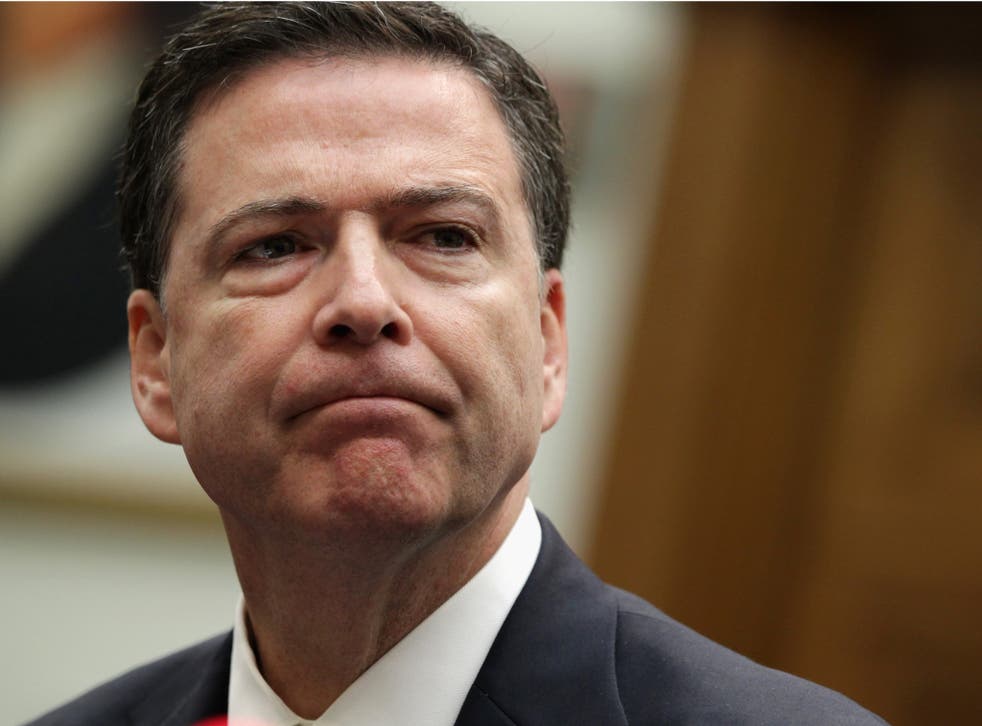 FBI Director James Comey has been accused of ignoring the advice of senior US Justice Department officials in making public the latest investigation into emails relating to Hillary Clinton.
Mr Comey announced on Friday – 11 days before polling day in the US presidential election - that the FBI was investigating emails sent by Huma Abedin, a senior aide to the Democratic presidential candidate.
The "unprecedented" move was strongly condemned by the Clinton campaign and shocked legal experts - and now it has emerged that the Justice Department had also warned that making public the new information was against long-standing FBI protocols relating to interference in elections.
An unnamed Justice Department official sold the Washington Post they had made clear to Mr Comey it was standard practice "that we don't comment on an ongoing investigation. And we don't take steps that will be viewed as influencing an election".
"Director Comey understood our position. He heard it from Justice leadership," the official said.
"It was conveyed to the FBI, and Comey made an independent decision to alert the Hill. He is operating independently of the Justice Department. And he knows it."
FBI officials responded that they were aware of Justice Department policy but considered it to be "guidance" rather than firm rules.
Mr Comey, who is a Republican appointee of President Obama, said he felt he had "an obligation" to make the new information publicly having previously sworn under oath that the investigation into Mrs Clinton's email usage was completed.
Sources close to the Director said he also feared the information would leak and spark accusations of a cover-up.
Hillary Clinton email probe: Donald Trump hails decision to investigate new emails
Legal experts joined Democrats in expressing their shock at Mr Comey's decision.
"You don't do this," one former senior Justice Department official told the New Yorker. "It's aberrational. It violates decades of practice."
The decision of the FBI director to overrule the wishes of his boss, Attorney General Loretta Lynch, in a matter relating to a US presidential candidate was "unprecedented", the official added.
George J. Terwilliger III, a deputy attorney general under President George Bush, told the New York Times: "There's a longstanding policy of not doing anything that could influence an election. Those guidelines exist for a reason….Bypassing them has consequences."
Matt Miller, a former Justice Department spokesman, said Mr Comey's "mistakenly thinks the rules don't apply to him".
"He has come to believe that his own ethics are so superior to anyone else's that his judgment can replace existing rules and regulations. That is a dangerous belief for an FBI director to have."

The FBI had previously completed an investigation into Mrs Clinton's use of a private email server during her time as US Secretary of State.
It closed the case in the summer after concluding that no criminal charges should be brought, but criticised what it called Mrs Clinton's "extreme carelessness".
The decision to make public the new inquiries came after what sources called a "vigorous discussion" between 10 senior FBI officials and lawyers.
The Clinton campaign reacted furiously to the announcement. John Podesta, her campaign chairman, said Mr Comey's email was "long on innuendo and short on facts".
Mrs Clinton later told a rally in Florida: "It is pretty strange to put something like that out, with such little information, right before an election."
"In fact, it's not just strange, it's unprecedented and it is deeply troubling".
Some Republicans have also expressed concern at the timing of the announcement. Texas Senator John Cornyn, tweeted: "Why is the FBI doing this just 11 days before the election?"
And Senator Ron Johnson, the Republican chair of the Senate's Homeland Security Committee wrote to Mr Comey demanding he release more information.
Mr Trump, however, immediately leapt on the new development, saying it was "bigger than Watergate" and accusing his rival of "wilful, deliberate, intentional and purposeful" illegal activity.
There are suggestions the announcement could narrow the poll lead that the Mrs Clinton has gained over her rival in recent weeks.
The newly discovered emails came to light as part of an investigation into whether former congressman Anthony Weiner sent explicit images to an underage girl.
Mr Weiner was previously married to Ms Abedin, who is believed to have been unaware that her personal emails were stored on her husband's computer.
Join our new commenting forum
Join thought-provoking conversations, follow other Independent readers and see their replies