'Not enough has been done': US election security still vulnerable to Russia heading into 2020 – even with new funding, experts warn
With just under five months until voting begins in the run-up to 2020, election security experts warn that last-minute election security funding in the Senate may not be enough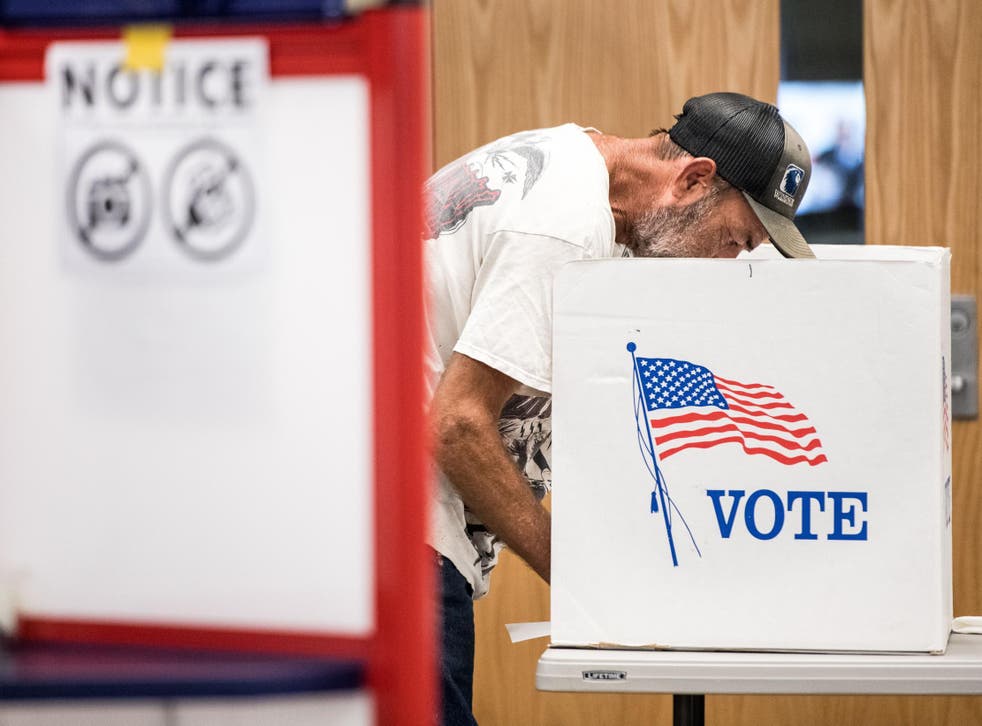 With less than five months until the first votes are officially cast in the run-up to the 2020 election, Congress this month finally made moves to try and shore up election security after a bitter fight that has played out in the long shadow cast by Russian attacks on the 2016 election – and, for some election security experts, the effort is quite literally the least that could be done.
Staring down a potential government shutdown at the end of the month should an agreement not be made on the federal budget, Democrats in the Senate had put pressure on their Republican counterparts to include a budget amendment that would provide $250m (£203m) to the Trump administration to help states with their election infrastructure woes.
Amid that criticism, Senate majority leader Mitch McConnell – whose reticence on the issue had led some to bestow upon him the nickname "Moscow Mitch" – signalled his support for the amendment.
"I am proud to have helped develop this amendment and to co-sponsor it in committee," McConnell said on the Senate floor, just as the Senate Appropriations Committee was gearing up for a vote.
But election security experts say that the measure amounts to a last-minute effort to put a Band-Aid on a wound that has been open for years, since at least the 2016 elections when Russian intelligence operations helped Donald Trump to secure the White House.
All the times that bigger crowds than Trump's showed up to DC

Show all 7
Even with US intelligence chiefs – not to mention special counsel Robert Mueller – warning that Russia would be back in 2020, likely alongside other efforts to undermine the election from other state actors, America has still fallen short of significant defences, experts say.
"Not enough has been done, that's for sure," Andrew Grotto, an expert on national security and the US election system at Stanford University's Centre for International Security and Cooperation, tells The Independent.
Grotto says that, among security experts, there's not a lot of disagreement – the US needs to invest in new infrastructure, and to make sure that results can be audited with things like paper trails. But something as basic as securing the country's democratic system has become a political wedge for national politicians.
"It's pretty frustrating," he says. "I think that there's a pretty obvious need for more investment. I think what's really unfortunate about this issue is it has gotten pretty intensely wrapped up in ideological conflict within the two parties."
Support free-thinking journalism and attend Independent events
The funding measure agreed to this month brings the total amount of election security funding to just over $600m since fiscal year 2018, and empowers the Trump administration to dole out funding to help states with their systems, which are decentralised and can vary from state to state and, in some cases, from county to county across the US.
While a decentralised election system protects against a massive hacking incident that impacts the entire network, the lack of a uniform approach has caused considerable concern. An election system used in the 2018 election in Williamsburg, Virginia, for instance, ran on a 15-year-old operating system with known vulnerabilities, for instance.
And in 14 states, some voters show up to the polls that do not create a paper ballot after they vote, leaving those polling machines open to digital manipulation without a clear way to recount that would be available with paper ballots.
All of those concerns – in addition to other concerns like general disinformation campaigns by foreign or domestic parties – have created a situation in which the 2020 elections remain vulnerable to the same kinds of attacks seen in 2016, experts say.
Karen Hobert Flynn, the president of the activist group Common Cause, says McConnell's decision to support funding is a "step in the right direction", but that the funding "still falls far short" of what is needed to solve the problem.
"Election systems across the country have been breached by Russian intelligence assets and those attacks continue to this day," she adds.
"These attacks and those of other hostile foreign powers will continue to ramp up as we approach the 2020 elections, and cash-strapped local elections officials desperately need significant federal assistance. The federal government must step in to provide the resources and the expertise to help states and local governments secure the integrity of their election systems against sophisticated foreign cyber attacks."
Although the election itself is on 3 November 2020, Americans will start voting on 2 February in the Iowa caucuses to choose a Democratic candidate.
Register for free to continue reading
Registration is a free and easy way to support our truly independent journalism
By registering, you will also enjoy limited access to Premium articles, exclusive newsletters, commenting, and virtual events with our leading journalists
Already have an account? sign in
Register for free to continue reading
Registration is a free and easy way to support our truly independent journalism
By registering, you will also enjoy limited access to Premium articles, exclusive newsletters, commenting, and virtual events with our leading journalists
Already have an account? sign in
Join our new commenting forum
Join thought-provoking conversations, follow other Independent readers and see their replies