US House passes bill to end federal marijuana prohibition
Historic bill reflects changing attitudes of nation but is unlikely to move forward in upper chamber
Oliver O'Connell
New York
Friday 04 December 2020 19:49 Comments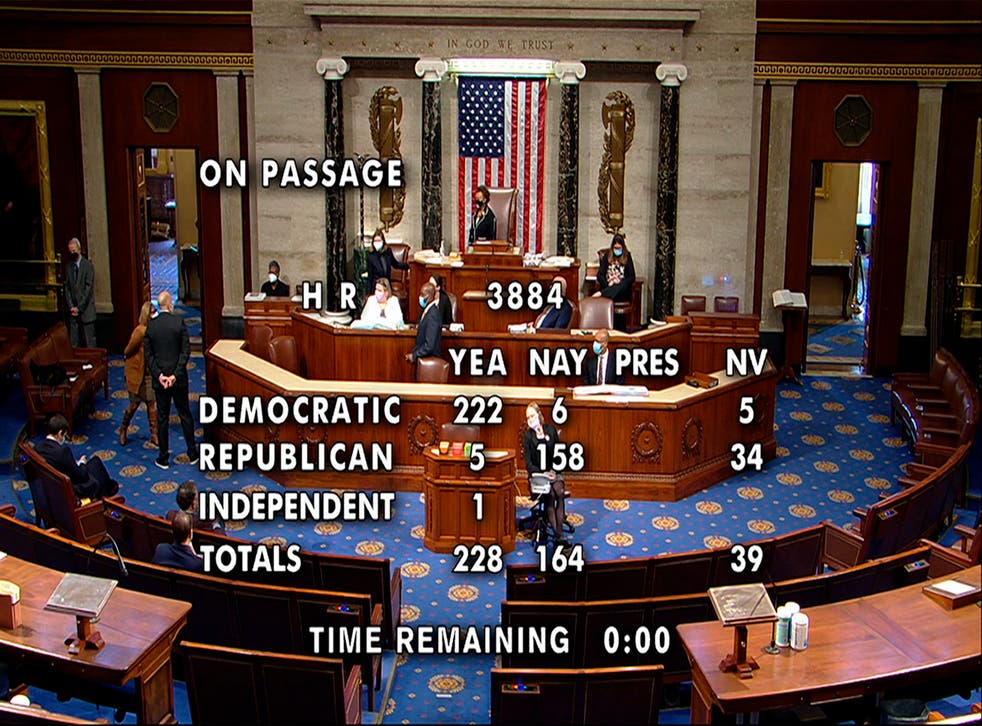 Leer en Español
The US House of Representatives has passed a landmark bill voting to remove marijuana from the federal list of controlled substances.
It is the first time either chamber of Congress has voted on the possibility of national decriminalisation of the drug.
The 228-164 vote in favour of the Marijuana Opportunity Reinvestment and Expungement Act (MORE Act) stands little chance of passing the Republican-led Senate, but reflects a national swing in opinion away from criminalising those that manufacture, distribute, or possess marijuana.
While the vote was mostly along party lines, changing attitudes saw four more states opt to liberalise their laws on marijuana in the November election, including three won by Donald Trump.
Fifteen states plus the District of Columbia have made marijuana fully legal, with a further 12 decriminalising it and allowing medical use. Only in six states is marijuana fully illegal.
Arizona, New Jersey, Montana, and South Dakota voted to legalise the drug on 3 November.
The MORE Act is therefore seen by some as an attempt by Congress to catch up with the American people. In October, Gallup polling put public approval for legalisation at 68 per cent — the highest level since the polling on the subject began in 1969.
Democratic and Independent voters are overwhelmingly in favour, with Republicans split almost equally on the topic.
The bill seeks to attempt to address some of the impact of the war on drugs by expunging federal marijuana convictions dating back to 1971, and establishing a five per cent tax on marijuana products to fund programs for those adverse effected by penalisation.
"It is the right thing to do," said bill co-sponsor Earl Blumenauer of Oregon, co-chair of the Congressional Cannabis Caucus, before the vote. "For too long, the war on drugs has targeted young people, especially Black people, and rejected the advice of experts."
A small minority of Republicans joined the yes votes, saying that the party must adapt.
"The federal government has lied to the people of this country about marijuana," said representative Matt Gaetz of Florida. "My Republican colleagues today will make a number of arguments against this bill, but those arguments are overwhelmingly losing with the American people."
Opposition to changing marijuana laws is not the only hurdle the bill faced. Senior Republicans also see the legislation as frivolous during the current session's attempts to pass a new round of coronavirus emergency relief to Americans.
However, others argue that aligning state and federal laws that currently contradict each other is worth addressing, and legalisation is in line with being pro-business and anti-regulation.
In the Senate, Majority Leader Mitch McConnell has voiced his form opposition to legalisation, and so there is little hope of the bill moving forward.
If January's Georgia runoff elections shift control of the Senate to the Democrats, there may be room for compromise on future legislation.
Register for free to continue reading
Registration is a free and easy way to support our truly independent journalism
By registering, you will also enjoy limited access to Premium articles, exclusive newsletters, commenting, and virtual events with our leading journalists
Already have an account? sign in
Join our new commenting forum
Join thought-provoking conversations, follow other Independent readers and see their replies