General says China's control of a port in Djibouti could have 'significant' repercussions for US
The US military's Africa Command is reworking its strategy to take into account China's growing strength on the continent 
Mythili Sampathkumar
New York
Wednesday 07 March 2018 22:11 Comments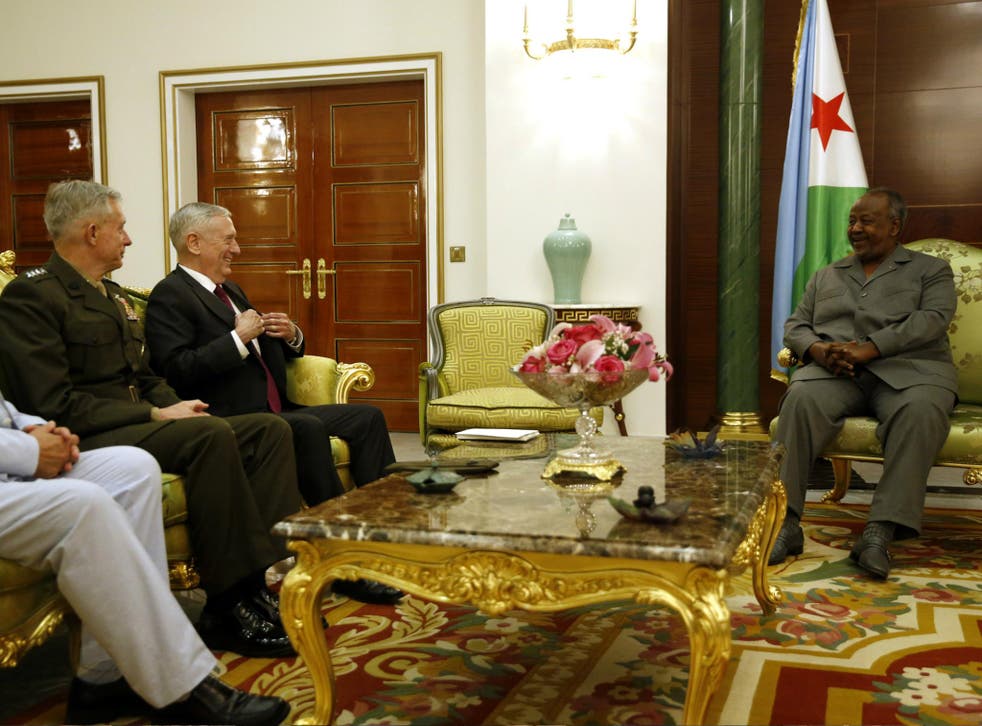 The top US general for Africa Command (Africom) said the military could face a "significant" ramifications if China takes control of a port in Djibouti.
Marine General Thomas Waldhauser explained during a House Armed Services Committee hearing that the port was important for re-supplying the US base in the country as well as a fuelling stop for Navy ships.
However, the Doraleh Container Terminal, along the Red Sea, may have been nationalised following a government dispute with the Dubai-based company which ran it in order to give control to China.
China has already built a military base in the small east African nation because of its geographic importance as a route to the Suez Canal.
Djibouti also hosts approximately 4,000 American personnel, including special operations forces. It also serves a launch pad for operations in Yemen and Somalia.
While "China has been on the African continent for quite some time...we as a combatant command have not dealt with it in terms of a strategic interest," Mr Waldhauser noted, adding that China could place limits or burdens on US supplies that come through the port.
"We are taking baby steps in that regard," he said, adding that he is in the process of re-writing US military strategy in order to take China's growing muscle on the continent into consideration.
Djibouti's strategic position draws world's armies
Part of the issue was brought up by Republican Representative Bradley Byrne in a letter to Defence Secretary James Mattis.
Mr Byrne wrote about how the government Djibouti may have conducted an "illegal seizure" of the port from the Dubai-based company DP World, which is pursuing the matter in the London Court of International Arbitration.
"What is to say that government wouldn't illegally terminate our lease before its term is up," Mr Byrne wrote.
Mr Waldhauser said China may be looking for more locations and ports to control in the near future.
China has made strides on the continent by providing aid in the form of infrastructure investment and, to a certain degree job creation, rather than traditional forms of food, medical, and economic aid many African nations have had to take from Western countries.
The government also pledged a $124bn investment to connect Africa, Asia, and other ports through its Silk Road initiative.
World news in pictures

Show all 50
As a result, it has "boosted African oil and mining sectors" and China "is a destination for 15 to 16 percent of sub-Saharan Africa's exports and the source of 14 to 21 percent of the region's imports," according to the Council on Foreign Relations.
They have also constructed shopping malls, stadiums, and host nation government buildings, prompting Mr Waldhauser to say that the US will "never outspend" China on the continent.
Secretary of State Rex Tillerson said the US will give more than $533m in humanitarian aid for victims of conflicts and drought in Ethiopia, Somalia, South Sudan, and countries bordering Lake Chad.
However, he said he thought China's investments on the continent "encouraged dependency" versus the US aid, which promotes "sustainable growth".
Chinese Foreign Ministry spokesman Geng Shuang said in Beijing he did not know anything about the port situation, but China's cooperation with Africa was neither aimed at any third party nor aimed at excluding anyone.
"We hope that the US side can objectively and fairly view China's development and China-Africa cooperation," he told a daily news briefing.
Register for free to continue reading
Registration is a free and easy way to support our truly independent journalism
By registering, you will also enjoy limited access to Premium articles, exclusive newsletters, commenting, and virtual events with our leading journalists
Already have an account? sign in
Join our new commenting forum
Join thought-provoking conversations, follow other Independent readers and see their replies