America's relationship with Russia at all-time low and deteriorating, says US Secretary of State
He also says he supports Mr Trump's plan to make massive cuts to the State Department's budget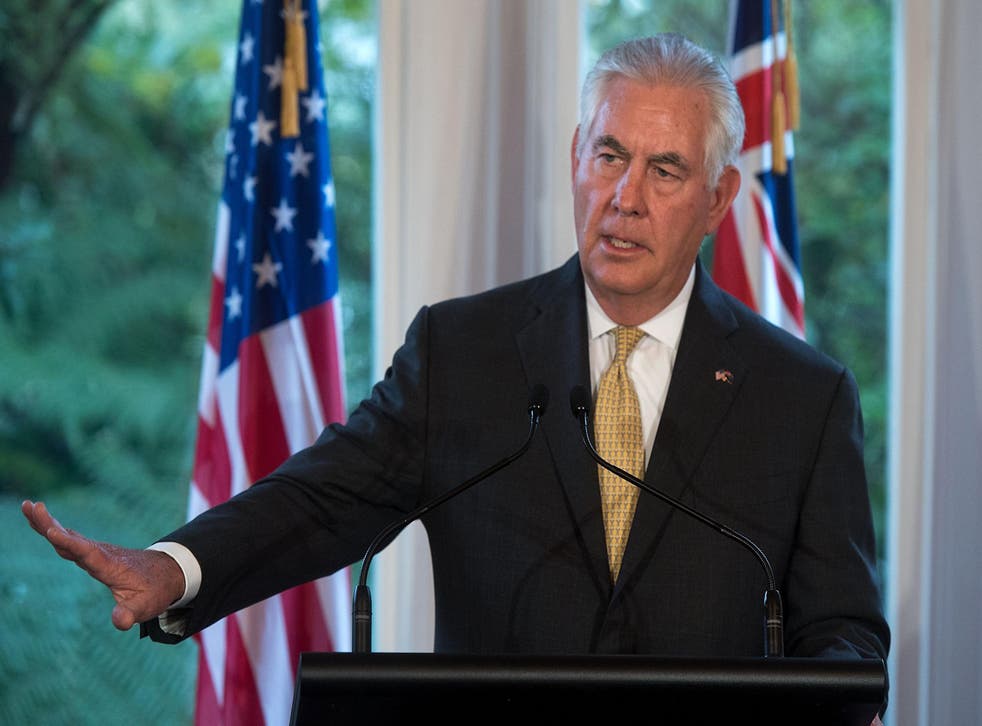 Secretary of State Rex Tillerson says that relations between the US and Russia are at an all-time low and getting worse. The goal right now, he says, is to stabilise the relationship.
But America's top diplomat also said that efforts to work with Moscow on the ongoing crisis in Syria are "progressing in a positive way". The two countries have frequently been at odds when it comes to the civil war there, and Russia suspended an agreement for military cooperation with the US in April after American forces launched missile strikes in the Middle Eastern country.
During testimony to the Senate Foreign Relations Committee, Mr Tillerson also said that he stands by the Trump administration's plan to make steep cuts to America's diplomatic and foreign aid budget.
"I'm convinced we can maximise the effectiveness of these programmes and continue to offer America's helping hand in the world", he said.
It isn't the first time that Mr Tillerson has mentioned a poor rapport between Washington and Moscow. Mr Tillerson and President Donald Trump both said that the relationship was strained in April, after the secretary of State returned from a trip to Russia. Mr Tillerson's Russian counterpart, Foreign Minister Sergey Lavrov, agreed with him at the time, and said that the relationship could be improved.
The two countries have repeatedly asserted, however, that they are unified in their vision to stabilise Syria, and to combat international terrorism.
The biggest names involved in the Trump-Russia investigation

Show all 17
Beyond Syria, the US has been critical of Russia's annexation of the Crimean peninsula. Former President Barack Obama's administration imposed sanctions on Russia following that annexation, which was seen by some as an aggressive response to Nato military build-up near Russia, and as a potential signal of President Vladimir Putin's imperialist ambitions by others.
Mr Tillerson has a long history of cooperation with Russia as a private citizen. As an ExxonMobil executive, Mr Tillerson was in charge of the company's Russian operations and took a lead role in helping to develop an oil project in partnership with the Russian government during his tenure.
Join our new commenting forum
Join thought-provoking conversations, follow other Independent readers and see their replies