USMCA: Democrats back Trump trade deal – minutes after unveiling impeachment charges
'It is infinitely better than what we initially proposed by the administration,' Ms Pelosi says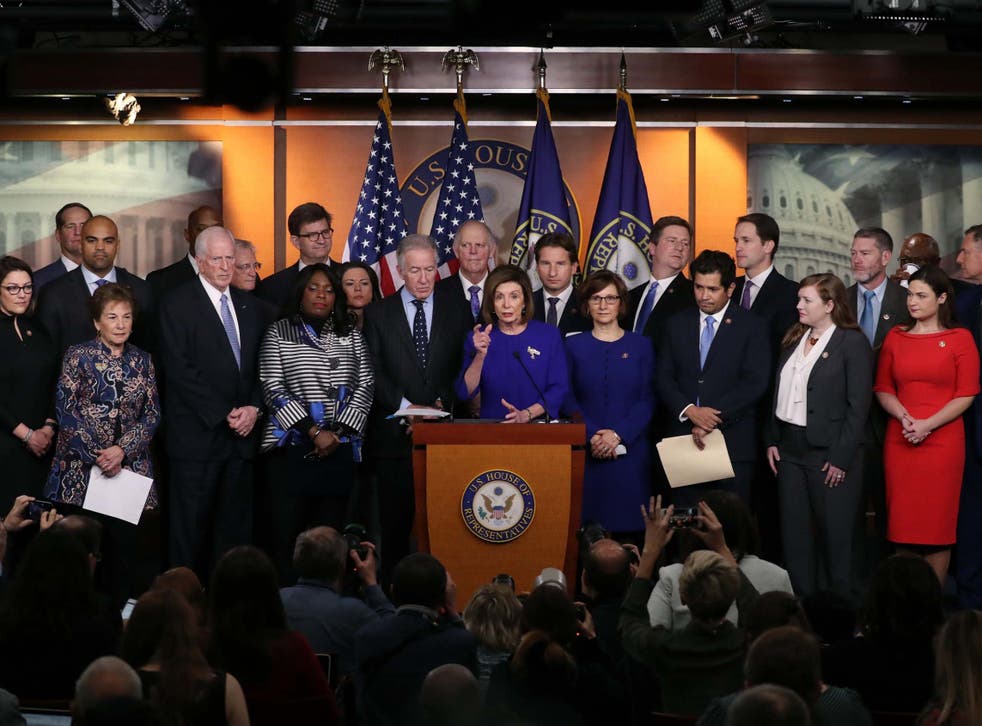 House speaker Nancy Pelosi has announced that Democrats have reached a deal on Donald Trump's revised version of Nafta, just after her caucus introduced two articles of impeachment against the president.
The deal would revise the 1990s free trade agreement between the countries, with slight tweaks that would especially impact the autos sector, copyright and the US dairy industry.
But the timing of the deal shows that Ms Pelosi is also playing a shrewd political game, knowing that some of her most vulnerable members may be sticking their necks out by backing impeachment against Mr Trump. At the same time, Democrats are risking handing Mr Trump a major trade victory with just under a year before the 2020 election.
"This is a day we've all been working to and working for on the path to 'Yes,'" Ms Pelosi said during a press conference in the Capitol, flanked by nearly three dozen of her colleagues.
Notably absent during the announcement was the man who will undoubtedly claim a victory in this matter. Instead, Mr Trump had, however, tweeted about the deal on Tuesday morning, shortly before launching a barrage on the impeachment inquiry that has ensnared his presidency.
Trump impeachment: Who's who in the Ukraine scandal

Show all 26
America's great USMCA Trade Bill is looking good," Mr Trump tweeted. "It will be the best and most important trade deal ever made by the USA. Good for everybody - Farmers, Manufacturers, Energy, Unions - tremendous support. Importantly, we will finally end our Country's worst Trade Deal, NAFTA!"
In making her announcement, Ms Pelosi claimed that she and her colleagues had made meaningful changes to the deal negotiated by the Trump administration.
"There is no question of course that this trade agreement is much better than Nafta, but in terms of our work here, it is infinitely better than what we initially proposed by the administration," Ms Pelosi said.
Shortly after the announcement of the apparently revised USMCA, Richard Trumka, the president of the AFL-CIO, one of America's largest unions, tweeted out his support for the measure. Mr Trumka, who had not supported the measure previously, praised Ms Pelosi and Democrats for their work.
"Make no mistake, we demanded a trade deal that benefits workers and fought every single day to negotiate that deal; and now we have secured an agreement that working people can proudly support," Mr Trumka wrote.
The public's understanding of the competing claims of victory between Mr Trump and Ms Pelosi could ultimately have a major impact on the 2020 election. The revised deal was a key campaign promise made by Mr Trump during his 2016 run, but Ms Pelosi and Democrats appear likely to try to claim victory for themselves instead. That could have a big impact in states like Wisconsin and Pennsylvania, where large union populations exist and which helped lead Mr Trump to his very slim victory against Hillary Clinton.
The announcement also shows that Democrats are keenly aware of the politics surrounding their efforts to impeach Mr Trump, which has led some Republicans to claim the party is ignoring official duties in order to pursue a political attack on the president. That's in spite of Republican Senate majority leader Mitch McConnell having received hundreds of bills from House Democrats, and having explicitly promised not to consider any of them.
By supporting impeachment, Democrats in swing districts can potentially claim a victory in the coming year, and ward off attacks for supporting impeachment.
Join our new commenting forum
Join thought-provoking conversations, follow other Independent readers and see their replies