'Sad and pitiful': Senate Judiciary Committee chair slams Republicans who criticised Biden's associate AG pick
Vanita Gupta is the latest Biden nominee taken to task for her past comments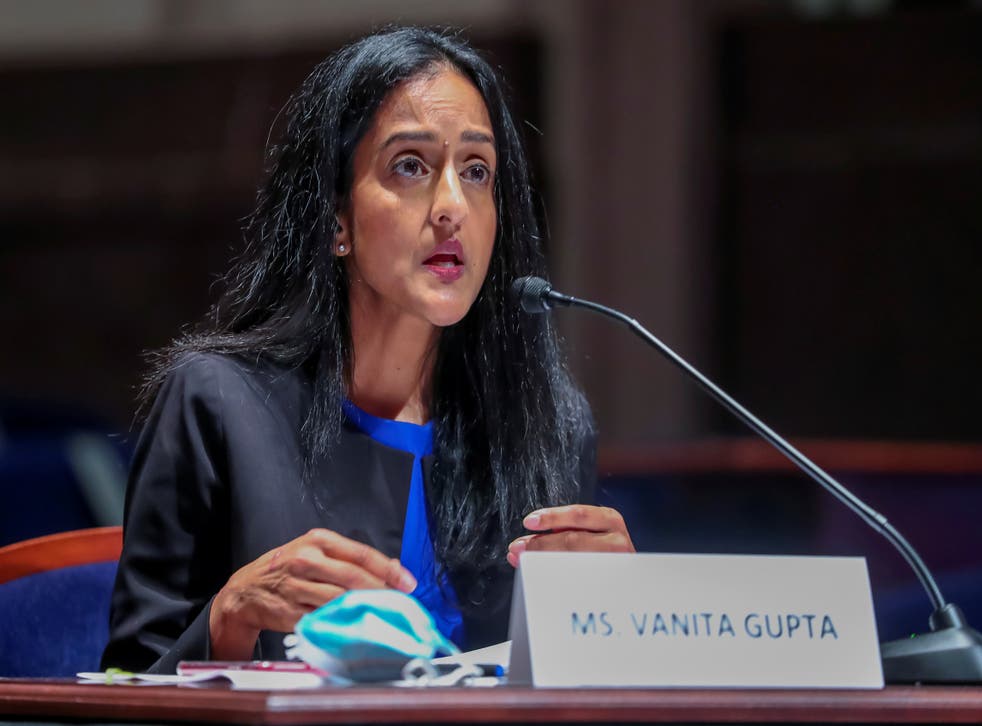 Senate Judiciary Committee chairman Dick Durbin slammed Republicans on Tuesday for their opposition to Vanita Gupta, President Joe Biden's nominee to be associate attorney general, the number three position at the Justice Department.
Ms Gupta has been the target of an ad from the conservative Judicial Crisis Network which incorrectly stated she supports defunding the police, and Republicans in the Senate who accused her of over-heated partisan rhetoric online.
"It is sad and pitiful that this exceptional nominee has been targeted by a right-wing dark-money organisation which is running an ad on television that makes patently false claims," Mr Durbin said during confirmation hearings on Tuesday.
He also blasted his colleagues in the Senate, who he said "sat by silently while there was no Senate-confirmed associate attorney general for nearly three years" during the Trump administration.
Ms Gupta, a prominent civil rights attorney and former head of the Obama Department of Justice's civil rights division at the time of high-profile investigations into Baltimore and Ferguson, Missouri police, said during the hearings she apologised for some of her past "harsh rhetoric" and affirmed that she didn't support defunding the police.
"I regret the harsh rhetoric that I have used in the past at times in the last several years," she said. "I wish I could take it back."
Still, many GOP members on the committee were skeptical of what Senator Chuck Grassley called Ms Gupta's "strident liberal advocacy".
"Her Twitter feed has painted Republicans with a broad brush, describing the Republican National Convention as three nights of 'racism, xenophobia and outrageous lies,'" Mr Grassley said.
Senator Mike Lee implied she was a hypocrite for apologising, after she previously urge the Senate to refuse an apology from a Trump administration nominee who wrote racism comments as a college student.
"You told him that his apology was too late and too self-interested," the Utah Republican said. "Is that something that we ought to apply to you?"
"I am a believer in second chances, and redemption," Ms Gupta replied. "And I would ask for that."
The scrutiny over her record is something of a replay of the nomination of Neera Tanden to lead the Office of Management and Budget, which was withdrawn following criticisms of her previous comments online.
"If confirmed, I will aggressively ensure that the Justice Department is independent from partisan influence," Ms Gupta said in her prepared opening remarks.
Though partisanship has already played a role in the confirmation process, with the committee voting 15-7 on party lines to confirm Merrick Garland as attorney general, which could go to a full Senate vote as early as Wednesday. Republicans in the Senate previously stonewalled Mr Garland's nomination to the Supreme Court under the Obama administration for the better part of a year ahead of the 2016 election.
The Senate is also considering confirming Lisa Monaco, a former prosecutor who served as a homeland security and counterterrorism adviser under the Obama administration for the number two post in the DOJ.
Join our new commenting forum
Join thought-provoking conversations, follow other Independent readers and see their replies