Democrats take first big electoral win since Trump in Virginia governor race
Big wins for Democrats in Virginia and New Jersey
Jeremy B. White
San Francisco
Wednesday 08 November 2017 02:13 Comments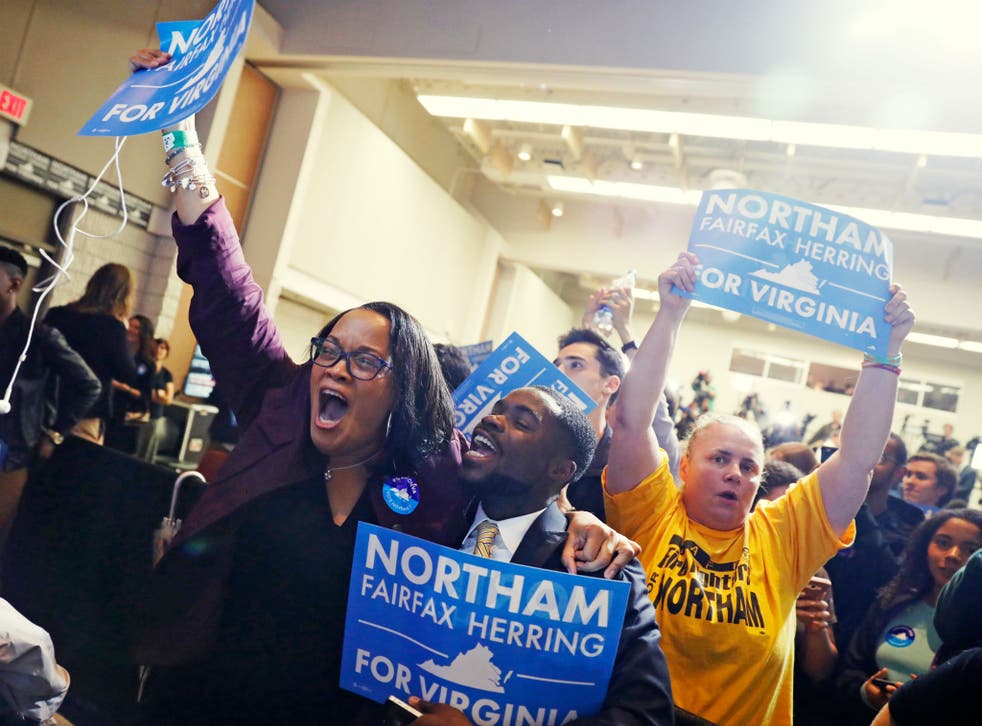 Democrat Ralph Northam has defeated Republican Ed Gillespie to become Virginia's next governor, a potential bellwether win for Democrats ahead of midterm elections.
Since Donald Trump won the presidency, multiple elections have attracted national attention as possible referendums on the unpopular President's performance. Democratic candidates had so far lost a pair of special elections for Congress.
The party broke through with Mr Northam's win, and it was a significant one: Virginia has become more competitive as its changing demographics have shifted its politics to the left, and the gubernatorial race came to embody larger trends coursing through American politics. Former President Barack Obama won Virginia in 2008, the first time a Democrat had carried the state in decades - but it has remained in the Democratic column in each subsequent election.
The race pitted Mr Murphy, the state's lieutenant governor who has served under Democrat and party insider Gov Terry McAuliffe, against the former Republican National Committee chair in Mr Gillespie. Mr Gillespie aligned himself with Mr Trump and the President's immigration hardline, releasing ads that denounced Mr Northam's immigration record by seeking to tie him to the MS-13 gang, which Mr Trump frequently invokes to justify tougher immigration rules.
The President has regularly mentioned the race to his millions of Twitter followers, lauding Mr Gillespie and excoriating Mr Northam as weak on crime and immigration. After Mr Gillespie's loss came into focus Mr Trump swiftly moved to distance himself, writing on Twitter that the Republican "did not embrace me or what I stand for" and boasting that "we will continue to win, even bigger than before"!
For his part, Mr Northam made a concerted effort to link Mr Gillespie to Mr Trump, hoping to channel frustration with Mr Trump into electoral momentum.
That mirrored an overarching strategy for Democrats who are looking ahead to midterm elections in which they hope to claim the majority in one or both houses of Congress - a crucial means to blunt Mr Trump's agenda and a potential route to pursuing his impeachment, a stated goal of some Democratic members of Congress.
Violence on the streets of Charlottesville

Show all 9
In a reflection of those stakes, tens of millions of dollars poured into the high-profile race, including millions from the Republican Governors Association and the Democratic Governors Association. MrObama ended his hiatus from the campaign trail to stump for Mr Northam.
A Democrat also notched a gubernatorial win in New Jersey, where Democrat Phil Murphy defeated Republican Kim Guadagno. The win wrested back control of the governor's mansion after two terms of Gov Chris Christie, a Republican and Trump campaign surrogate.
While the contest between Mr Murphy and Ms Guadagno did not rouse the same level interest as the fight for Virginia, with Mr Murphy regularly holding a comfortable lead in polls, his victory nevertheless sent a hopeful signal to the national party. Echoes of national politics also reverberated through the race, with Ms Guadagno criticising Mr Murphy for supporting so-called "sanctuary cities" that resist cooperating with federal immigration enforcement - a favourite target for Mr Trump.
It also handed a win to New Jersey Democrats who have chafed under Mr Christie's tenure. A former presidential contender, Mr Christie built his reputation as a tough-talking negotiator who regularly clashed with the state's public employee unions.
Register for free to continue reading
Registration is a free and easy way to support our truly independent journalism
By registering, you will also enjoy limited access to Premium articles, exclusive newsletters, commenting, and virtual events with our leading journalists
Already have an account? sign in
Join our new commenting forum
Join thought-provoking conversations, follow other Independent readers and see their replies