Virginia House race: Democrat Shelly Simonds to sue over disputed ballot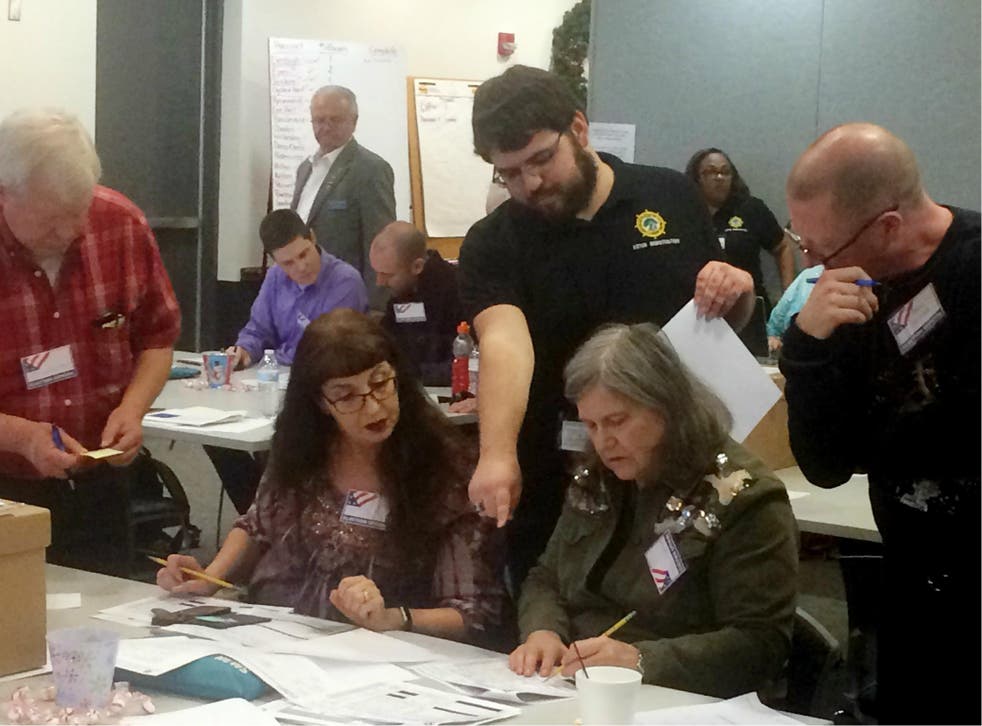 A Virginia Democrat announced she will be suing over the single ballot keeping her from a victory for a state house seat over the Republican opposition.
Shelly Simonds has asked the Virginia Board of Elections to delay the 27 December drawing - a literal picking of names from a hat - to determine if she or Republican incumbent David Yancey will win.
If Ms Simonds wins the 94th district seat covering Newport News, Virginia she will give Democrats an even 50-50 seat count in the House of Delegates.
It would be the first time in 20 years that Democrats would not be in the minority.
Last week, the dramatic, razor-close recount of the original election ballots Ms Simonds edging out Mr Yancey.
Mr Yancey had gone into the recount - supervised by local elected officials - leading by just ten votes.
After five hours of meticulously re-counting the Newport News, Virginia ballots, the final tally: Ms Simonds had 11,608 to Mr Yancey's 11,607 votes.
Democratic win in Virginia rebukes Trump's politics
However, just before the Christmas holiday Republicans brought up the issue of a single ballot among the approximately 23,000 and three judge panel decided that it was a sufficient enough mistake in the recount to award Mr Yancey with that vote, resulting in the tie.
The voter had marked all Republican candidates save for Ms Shelly and the panel decided the vote for her was an error as it was crossed out on the ballot.
Ms Simonds now wants the Newport News Circuit Court to weigh in on the disputed ballot.
Her lawyers have argued in the latest court filing that counting the previously-tossed ballot on the grounds that it was illegible "was not only contrary to the plain language of Virginia law, but was also contrary to the language that counsel for Mr. Yancey insisted be included in the Recount Consent Order."
World news in pictures

Show all 50
Since the court is closed today due to the Christmas holiday, the appeal hearing is set to take place mere hours before the drawing.
If Ms Simonds wins and Democrats and Republicans are tied for the number of seats it could prove problematic for legislation in the commonwealth since there are no tie-breaking procedures in the legislative body.
Any bill that results in a strictly party-line vote, dies at that point. The process is meant to encourage more bipartisan legislation.
It ties the hands of Republicans who, despite a 21-19 majority in the state Senate, also face Democratic Governor-elect Ralph Northam, who will have veto power
Join our new commenting forum
Join thought-provoking conversations, follow other Independent readers and see their replies