At least 1,688 polling places closed across southern US, raising fear of impact on 2020 election
Since 2013, states with large Latino and African American populations have shuttered polling locations
Clark Mindock
New York
Tuesday 10 September 2019 22:13 Comments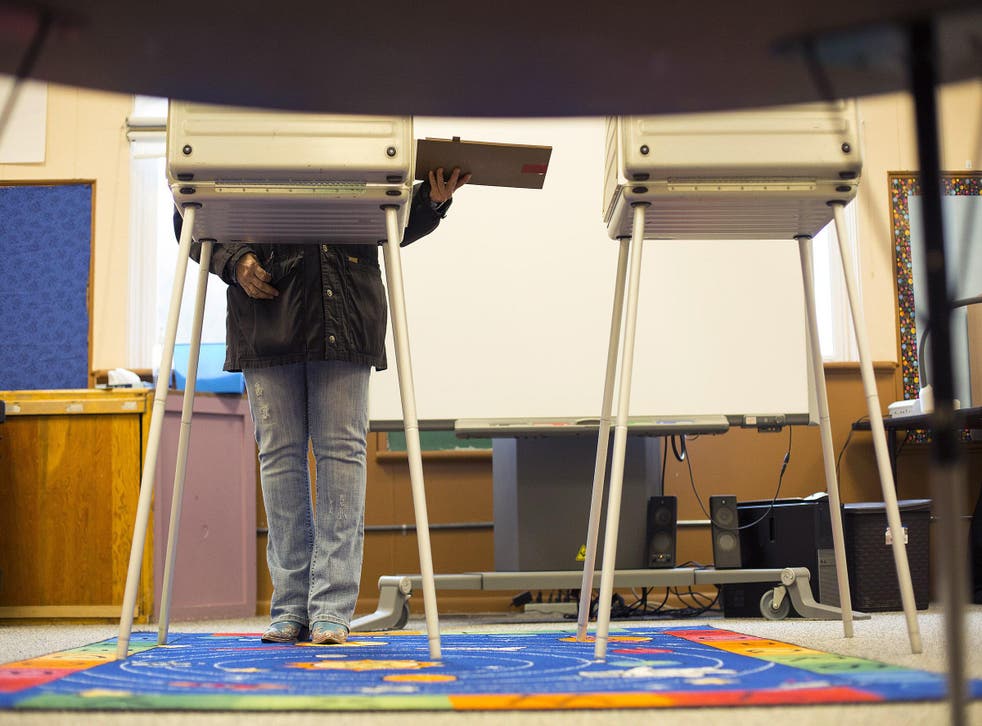 At least 1,688 polling places in the United States have been closed in the last six years, especially impacting minority communities across the American south.
That's according to a new report from the Leadership Conference on Civil and Human Rights, which analysed the closures that have occurred since the landmark Supreme Court Decision Shelby County v Holder in 2013, which slashed major protections in the Voting Rights Act.
The new report, released on Tuesday, found closures concentrated across the south and elsewhere including Arizona, including in states that could play an important role in the 2020 election to determine whether Donald Trump retains the presidency or loses out to a Democratic challenger.
"What we need to be doing is creating a system that makes it easier to vote, and not harder. Whenever you close down polling places it makes it that much more difficult to vote," LaShawn Warren, the vice president of campaigns for the Leadership Conference on Civil and Human Rights, told The Independent.
Ms Warren said that the increase in closed polling stations shows the impact of the 2013 Supreme Court decision, which essentially struck down elements of the Voting Rights Act that required areas of the United States with a history of discrimination to attain "pre-clearance" for changes to voting access including, for example, the closure of polls.
The Democrat challengers to Trump in 2020

Show all 25
"The beauty of ["pre-clearance"] is it gets ahead of potential discrimination," Ms Warren said.
But, without those protections, she described a mad scramble to protect voting access as states are able to go ahead with changes without consulting the Department of Justice: "It's like a whack-a-mole situation."
The closures are approved at various levels in government depending on the state, and justification for closing polling stations can vary as well. In Georgia, for instance, local election officials have claimed the closure of schools and fire houses across the state in predominantly rural areas is a result of an interest in reducing the burden on taxpayers to foot the bill for elections. In Texas, meanwhile, elected officials have conducted a statewide effort to centralise voting into so-called "countywide polling places", reducing the number of polling places but allowing voters to cast ballots at any location on election day.
Among the 13 states that saw major polling closures are at least three states of particular interest, including Arizona, Texas, and Georgia.
Texas — which boasts a 39 per cent Latino population alongside 12 per cent African American population — leads the way among all states analysed, with at least 750 polling places closed since 2013, most in counties with heavy Latino populations. Over the past several years, the state has voted reliably in favour of Republicans, but demographic changes including a rise in the Hispanic population has led to some speculation that the state could become a competitive swing state within the next several elections.
Support free-thinking journalism and attend Independent events
Arizona, another state with a burgeoning Latino population at 30 per cent, has meanwhile been identified as having the most widespread polling closures, with 320 closures divided up across nearly every county. The county with the most closures, Maricopa County, saw 171 closures in a densely populated area with a 31 per cent Latino population. The state has also been considered reliably Republican, but saw a Democrat win statewide office for the first time in decades in 2018.
In Georgia, where Latinos make up 31 per cent of the population and African Americans make up 9 per cent, 214 polling places have been closed, and stands out with the highest percentage of closures among all states analysed in the study.
The state saw some counties close as many as 89 per cent of its polling places, including counties with large African American populations. In a February 2015 memo from Brian Kemp — the former secretary of state for the state, and current governor — counties were explicitly told in bold font that their polling decisions no longer needed to be cleared by the Department of Justice.
Register for free to continue reading
Registration is a free and easy way to support our truly independent journalism
By registering, you will also enjoy limited access to Premium articles, exclusive newsletters, commenting, and virtual events with our leading journalists
Already have an account? sign in
Join our new commenting forum
Join thought-provoking conversations, follow other Independent readers and see their replies