Washington's elite brand Ivanka Trump and Jared Kushner 'irrelevant' and say their days in White House are numbered
'What is off-putting about them is they do not grasp their essential irrelevance... They think they are special'
Will Worley
Monday 28 August 2017 13:17 Comments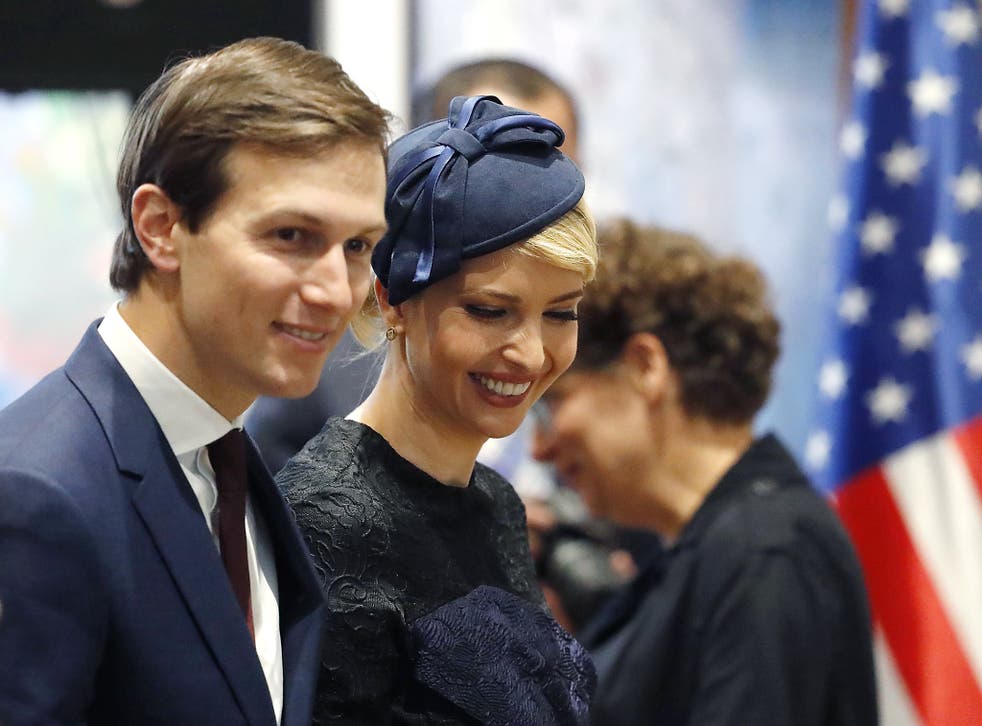 Sentiment in Washington is turning against Ivanka Trump and Jared Kushner, with political veterans deeming them "irrelevant", according to a report.
Some insiders believe Donald Trump's daughter and son-in-law - currently the most favoured members of his chaotic administration – could be out within a year.
The couple, formerly working in real estate and retail, joined the Trump administration after his inauguration last year. While neither receives a salary, Ms Trump works as an adviser to her father and Mr Kushner as a senior aide.
Their appointments were criticised as an unprecedented display of nepotism, but the couple were seen by some liberals as a potentially moderating force in a strongly conservative White House.
Donald Trump challenges, and cherry-picks, coverage of his Charlottesville statements at rally
However, their failure to influence key areas of policy, and rein in the President's most bullish instincts, has lowered them in the eyes of influential staff and political operators, according to Vanity Fair.
"What is off-putting about them is they do not grasp their essential irrelevance," an unnamed long-time Washington insider said to the magazine. "They think they are special."
Another added: "There's nothing more obstructive and distracting and unhelpful than to have a bunch of stupid apolitical family members calling all the shots."
The couple are reportedly seen as untouchable within the White House because of their closeness to the President, who relies on them for emotional support.
But despite having campaigned hard for the Paris climate deal, Ms Trump was unable to stop her father with withdrawing the US from the landmark agreement.
She also failed to protect Planned Parenthood from being targeted for defunding by conservative politicians in the failed replacement bill for the Affordable Healthcare Act, also known as Obamacare.
While the pair have gained prominence for their access to the President, it has disappointed former allies.
A political consultant told the magazine: "You can't prevent him from trying to de-fund Planned Parenthood or getting out of the Paris agreement? What are you good for?"
Some of the couple's former friends in New York's Democratic leaning elite have also reportedly rejected them because of their political career and relationship to the President, particularly after he failed to condemn far right protesters in Charlottesville.
"I haven't had anything to do with them since they moved," a former friend told the magazine.
"And it is because the day that man [Mr Trump] gave an inaugural speech, what am I going to say? 'What the f*** is wrong with you?'"
Donald Trump's international Presidential trips

Show all 22
The report also revealed that the consensus opinion in Washington is that Ms Trump and Mr Kushner's days in the White House are numbered.
There is reportedly speculation they are already preparing an exit plan, to be enacted in summer 2018.
This is likely to be dressed up as family concerns but would likely come amid further problems in the White House, it is predicted.
A Republican donor said: "When they decide it's more important to protect their own and their children's reputations than it is to defend their indefensible father's, that's a sign the end is near."
Register for free to continue reading
Registration is a free and easy way to support our truly independent journalism
By registering, you will also enjoy limited access to Premium articles, exclusive newsletters, commenting, and virtual events with our leading journalists
Already have an account? sign in
Join our new commenting forum
Join thought-provoking conversations, follow other Independent readers and see their replies