Trump judicial nominee refuses to express support for landmark desegregation ruling
'I would not comment on what could be my boss' ruling,' Wendy Vitter says
Emily Shugerman
New York
Thursday 12 April 2018 22:08 Comments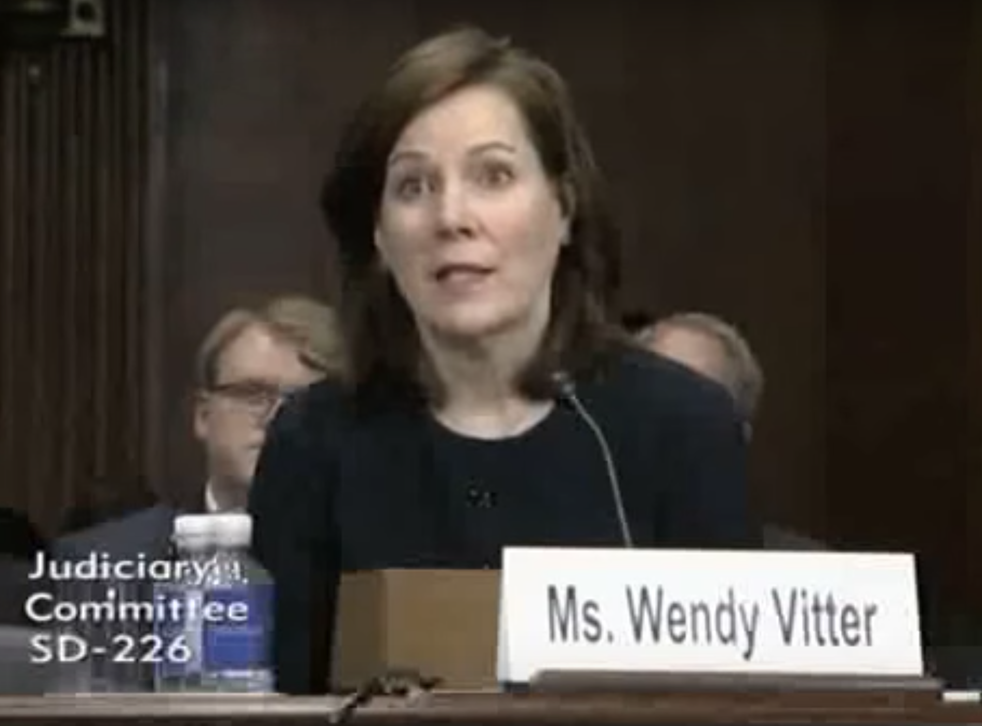 One of Donald Trump's federal judicial nominees has failed to say she supports the landmark US Supreme Court ruling that outlawed racial segregation in schools.
Wendy Vitter, Mr Trump's nominee for the US District Court for Eastern District of Louisiana, dodged questions about the historic Brown v Board ruling during her confirmation hearing.
"I don't mean to be coy, but I think I get into a difficult area when I start commenting on Supreme Court decisions, which are correctly decided and which I may disagree with," she said, when asked whether she thought the ruling had been decided correctly.
She added that she would set aside her personal, political or religious views if confirmed, and would "of course" uphold the ruling. The decision has been the law of the land since 1954, when the Supreme Court ruled that establishing "separate but equal" schools for black and white students was unconstitutional.
Senator Richard Blumenthal, seemingly dumbfounded, asked Ms Vitter again if she thought the ruling had been correctly decided.
"I would respectfully not comment on what could be my boss' ruling, the Supreme Court," she said. "I would be bound by it. And if I start commenting on, 'I agree with this case, or don't agree with this case,' I think we get into a slippery slope."
Ms Vitter is a New Orleans-based attorney who serves as the general counsel of the Roman Catholic Archdiocese of New Orleans. She is married to former Louisiana Senator David Vitter, who was involved in a 2007 scandal concerning a Washington prostitution ring.
Ms Vitter was also questioned on Wednesday about some of her past comments on abortion. In a May 2013 speech protesting a new Planned Parenthood clinic in New Orleans, Ms Vitter claimed the women's health clinic "kill[s] over 150,000 females a year".
In her hearing, Ms Vitter confirmed she was referring to foetuses at the time, but declined to say that she stood by the claim.
"My pro-life stance has been very clear," she told Mr Blumenthal. "I have been very upfront with this committee about my views and about how serious I take it, and that I would set aside any personal or religious views if I were to be confirmed."
Donald Trump's first year: in pictures

Show all 29
Her comments were a source of particular interest, as Vice News revealed she had failed to disclose this speech – and many other pro-life speeches – to the Senate Judiciary Committee before her hearing.
Asked if she had purposefully omitted these speeches in order to avoid tough questions, Ms Vitter responded: "My life has been an open book. It was always my intent to provide this committee with a full background and explanation of both my personal and professional life."
Ms Vitter's confirmation requires only 51 votes in the Senate, meaning Republicans could easily approve her if none deviate from the party line.
Register for free to continue reading
Registration is a free and easy way to support our truly independent journalism
By registering, you will also enjoy limited access to Premium articles, exclusive newsletters, commenting, and virtual events with our leading journalists
Already have an account? sign in
Join our new commenting forum
Join thought-provoking conversations, follow other Independent readers and see their replies