US election 2016: What is an exit poll and how does it work?
Exit poll results will start emerging as soon as voting ends on Election Day
Lizzie Dearden
Tuesday 08 November 2016 12:39 Comments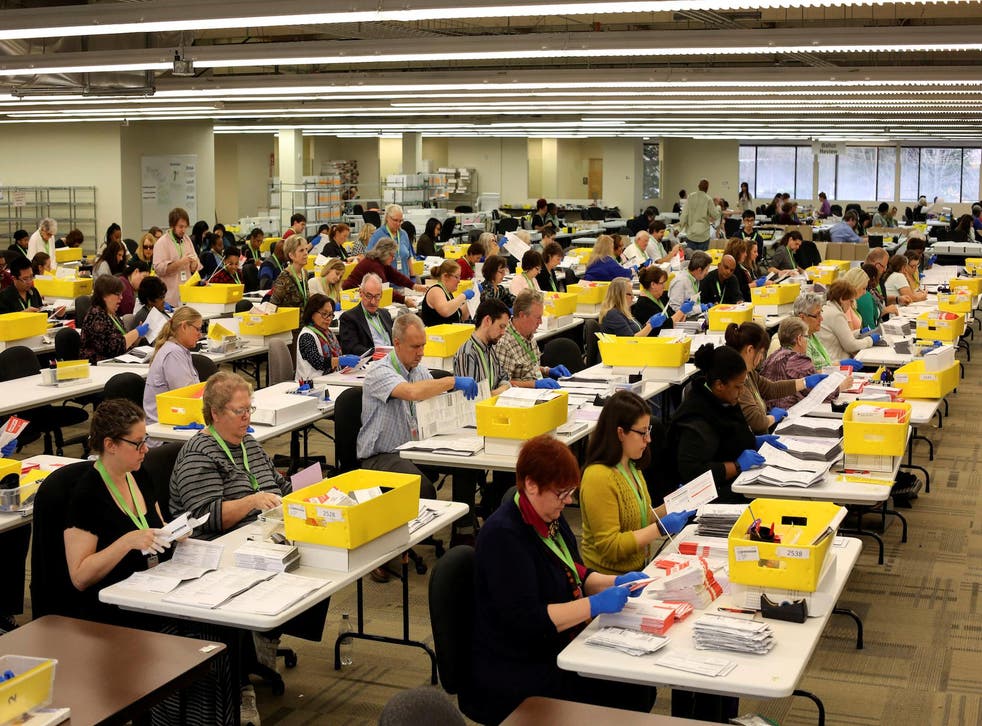 Before the official result of the US Presidential election is released, exit polls will be released giving the first indication of whether Hillary Clinton or Donald Trump will emerge victorious.
What is an exit poll?
The polls are surveys of a small proportion of voters leaving polling stations across the US.
They are asked how they voted as well as information on their age, race, gender and income, and for their opinions on key election issues such as the economy and immigration.
Follow the latest updates from Election Day
Voters are either interviewed according to targets set for each polling station, depending on its size, with detailed questionnaire forms being filled out while interviewers record their age, race and gender.
The form is completed anonymously and filed in a special ballot box.
Edison Research, which produces the exit polls, has 933 interviewers spread across the US at targeted polling places for Election Day.
US election: Hillary Clinton and Donald Trump hold their final rallies
Who accesses the data?
Six news organisations can directly access the data - the Associated Press, ABC News, CBS News, CNN, Fox News and NBC News – known as the National Election Pool.
Journalists are quarantined for the process, with their employers signing a pledge to Congress not to release anything pointing to a result until voting has closed to avoid affecting the outcome.
Are they accurate?
Because only a small sample of voters fill out the questionnaires, and those choosing to do so are likely to be younger, the results may be skewed towards particular groups.
They can also change throughout the day, with several waves of surveys being analysed as voting goes on.
The polls are also not weighted by voter turnout and demographics until late in the evening.
Writing in the New York Times, Nate Cohn said the method "was not perfect".
"The biggest thing to remember is that they're just polls!" he said.
"They're usually based on a sample of a few dozen precincts or so in a state, sometimes not even including many more than 1,000 respondents."
"Like every other type of survey, they're subject to a margin of error because of sampling and additional error resulting from various forms of response bias."
US Presidential election: key moments in pictures

Show all 12
When will the exit polls be published?
Results will be announced for each state immediately after voting ends between midnight and 6am GMT.
Exit polls from Georgia, Indiana, Kentucky, South Carolina, Vermont and Virginia will come in, with the first "bellweather" states of North Carolina and Ohio will come half an hour later, along with West Virginia.
Each state is allocated a number of Electoral College votes according to its population, which decide the election result. Half of college votes – 270 – are needed to become President.
Exit polls come in every half an hour until 6am GMT, with Alaska the last of 50 states to be announced.
Register for free to continue reading
Registration is a free and easy way to support our truly independent journalism
By registering, you will also enjoy limited access to Premium articles, exclusive newsletters, commenting, and virtual events with our leading journalists
Already have an account? sign in
Join our new commenting forum
Join thought-provoking conversations, follow other Independent readers and see their replies