White House Comms Director Anthony Scaramucci appears unaware of basic rules about speaking to journalists
Senior Trump aide accuses reporter of breaking his 'trust' - despite speaking on the record
Benjamin Kentish
Friday 28 July 2017 17:33 Comments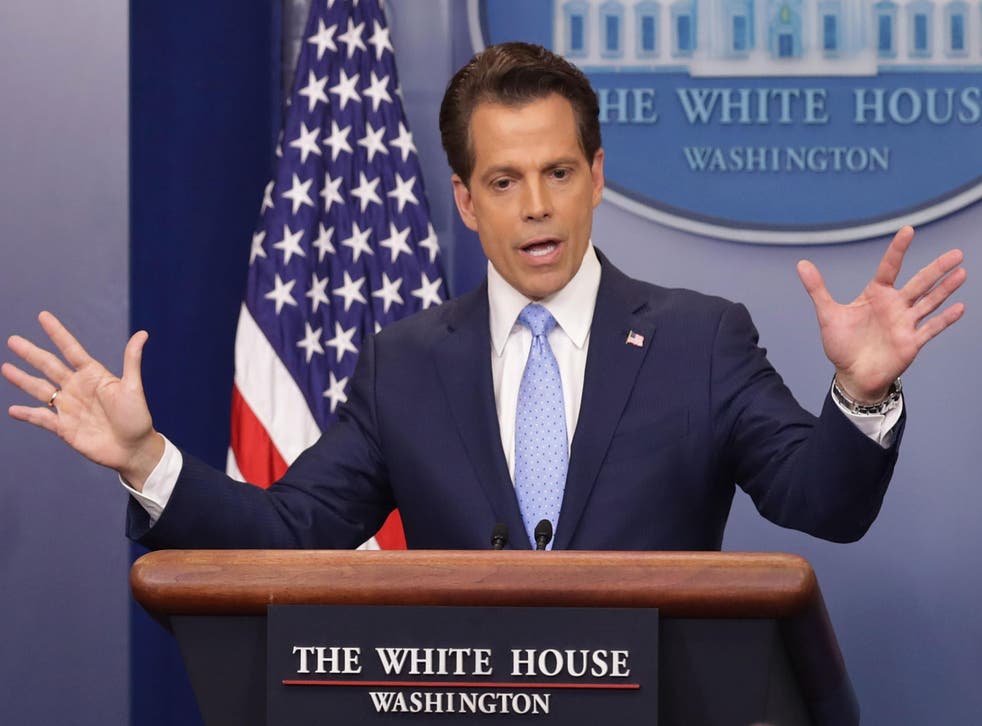 Anthony Scaramucci says he made a "mistake" in "trusting" a journalist who then published details of their conversation - despite the fact the US President's new Communications Director appeared to know he was speaking on the record.
Mr Scaramucci, who joined Mr Trump's top team last week, sparked uproar after phoning the New Yorker's Ryan Lizza to rant about senior White House colleagues.
Under well-established and well-known conventions, anything a political source says to a reporter is considered to be on the record and publishable unless both the contact and the journalist agree otherwise. There is no suggestion that this happened during the conversation between Mr Scaramucci and Mr Lizza.
The New Yorker later said that Mr Scaramucci had requested a later part of the conversation be off the record, which it agreed to - suggesting the Trump aide was aware that the rest of the conversation was likely to be published.
A New Yorker spokeperson said: "Late in the conversation, Scaramucci requested that one part be off the record, and we respected that. The rest was on the record. Today [Thursday], Ryan and Scaramucci had another conversation and Scaramucci was clear and agreed that the conversation was on the record."
Publicly, Mr Scaramucci seemed to suggest he was unaware of the fact that comments are on the record unless stated otherwise and suggested Mr Lizza had betrayed his trust in publishing details of their conversation.
He wrote on Twitter: "I made a mistake in trusting in a reporter. It won't happen again."
It comes after Mr Scaramucci called the New Yorker journalist to complain about leaks coming from within the White House.
In an extraordinary conversation, the new Trump aide lambasted colleagues including Reince Priebus, Mr Trump's Chief of Staff, and Steve Bannon, his Chief Strategist.
Mr Scaramucci reportedly called Mr Priebus a "f*****g paranoid schizophrenic, a paranoiac" and accused him of leaking details of a dinner between Mr Trump, Melania Trump, Fox News executive Bill Shine and right-wing commentator Sean Hannity.
Doing an impression of Mr Priebus, Mr Scaramucci reportedly said: "Oh, Bill Shine is coming in. Let me leak the f******g thing and see if I can c***-block these people the way I c***-blocked Scaramucci for six months.' "
The Chief of Staff is said to have been strongly opposed to Mr Scaramucci's appointment.
Donald Trump's international Presidential trips

Show all 22
During the call, the new appointee also accused Mr Priebus of leaking details of the Communications Director's financial disclosure form and said he had asked the FBI and Department of Justice to look into the matter.
Mr Scaramucci also claimed Mr Bannon is trying to benefit personally from Mr Trump.
"I'm not Steve Bannon, I'm not trying to suck my own c***," he said. "I'm not trying to build my own brand off the f******g strength of the President. I'm here to serve the country."
He threatened to "eliminate everyone in the comms team" and "start over" after a series of damaging leaks.
"They'll all be fired by me," he said. "I fired one guy the other day. I have three to four people I'll fire tomorrow."
Mr Priebus could be asked to resign "very shortly", he added.
Register for free to continue reading
Registration is a free and easy way to support our truly independent journalism
By registering, you will also enjoy limited access to Premium articles, exclusive newsletters, commenting, and virtual events with our leading journalists
Already have an account? sign in
Join our new commenting forum
Join thought-provoking conversations, follow other Independent readers and see their replies