White House lawyer Don McGahn to resign, Donald Trump says
Mr McGahn had previously been interviewed by special counsel Robert Mueller's team
Clark Mindock
New York
Wednesday 29 August 2018 16:40 Comments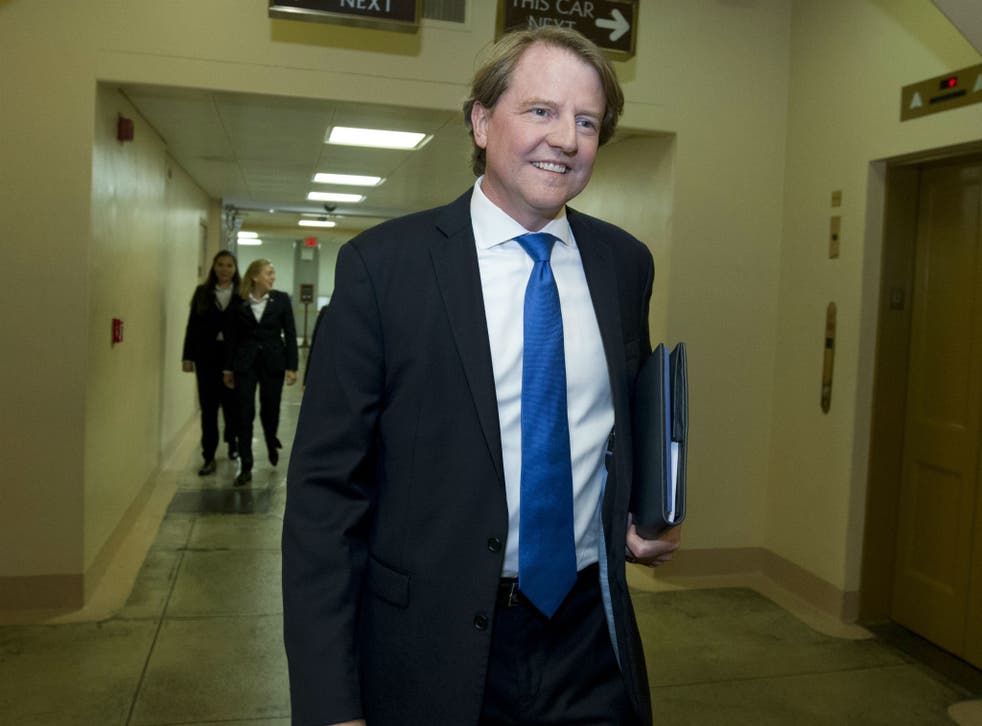 White House Counsel Don McGahn will be leaving his position, President Donald Trump has announced, in the wake of revelations that he had sat for dozens of hours worth of interviews as part of Special Counsel Robert Mueller's Russia investigation.
Mr Trump did not indicate who would succeed Mr McGahn, who had extraordinary access to the president during some of the most controversial moments of his tenure so far. He is expected to leave his post this fall.
In his announcement, Mr Trump thanked the outgoing White House lawyer, and said that Mr McGahn would leave after the president's Supreme Court nominee, Bret Kavanaugh, is confirmed.
"White House Counsel Don McGahn will be leaving his position in the fall, shortly after the confirmation (hopefully) of Judge Brett Kavanaugh to the United States Supreme Court," Mr Trump wrote on Twitter. "I have worked with Don for a long time and truly appreciate his service!"
The departure had been reported earlier in the day by Axios, which claimed that Mr McGahn wants lawyer Emmet Flood to replace him once he is gone. Mr Flood was hired by the White House to deal with the special counsel's investigation, and previously represented former President Bill Clinton during his impeachment in the 1990s. Mr Flood had also worked for former President George W Bush.
The announcement comes less than two weeks after it was disclosed that Mr McGahn had cooperated extensively with Mr Mueller's Russia probe, sitting down for interviews with the counsel for roughly 30 hours in total.
President Trump's most shocking attacks on the media

Show all 16
After it was disclosed that Mr McGahn had been cooperating with the Russia probe, the president then criticised the news media, and said that he wanted the White House counsel to cooperate with the Mr Mueller's team with the hope that transparency from the White House would allow the investigation to conclude quicker.
A report from the New York Times indicates that Mr McGahn's cooperation with Mr Mueller's probe included telling investigators how Mr Trump had acted and spoken during some of the most controversial moments of his presidency so far.
That includes a description of Mr Trump's role in the firing of former FBI Director James Comey, and the president's frequent criticism of Attorney General Jeff Sessions for recusing himself from matters related to the Russia probe.
Mr McGahn's relationship with the president has been at time contentious, according to reports.
When told to cooperate with the Russia investigation, Mr McGahn reportedly though that he was being set up to take the fall for issues related to the probe — an echo of circumstances during Richard Nixon's presidency when former White House Counsel John Dean ended up cooperating with Watergate investigators fearing that he was being set up as well. Mr Dean wound up becoming a star witness for investigators.
Mr McGahn had also reportedly threatened to quit when the president floated the idea of firing Mr Mueller last year. At the time, Mr McGahn was reportedly a part of a group that convinced Mr Trump that firing the special counsel was not a good idea, and that cooperation with the probe was a better tact.
Mr McGahn had also reportedly attempted to convince Mr Sessions to stay in command of the Russia probe, even as the attorney general faced a growing pressure to recuse himself. Mr Sessions ultimately recused himself, citing longstanding Justice Department rules requiring individuals to step back from an investigation into campaigns in which they themselves participated.
Register for free to continue reading
Registration is a free and easy way to support our truly independent journalism
By registering, you will also enjoy limited access to Premium articles, exclusive newsletters, commenting, and virtual events with our leading journalists
Already have an account? sign in
Join our new commenting forum
Join thought-provoking conversations, follow other Independent readers and see their replies