White House tells UK Government 'it was simply pointing to reports' about British spies wiretapping Donald Trump
The Trump administration has already committed not to repeat the baseless claims again, according to Number 10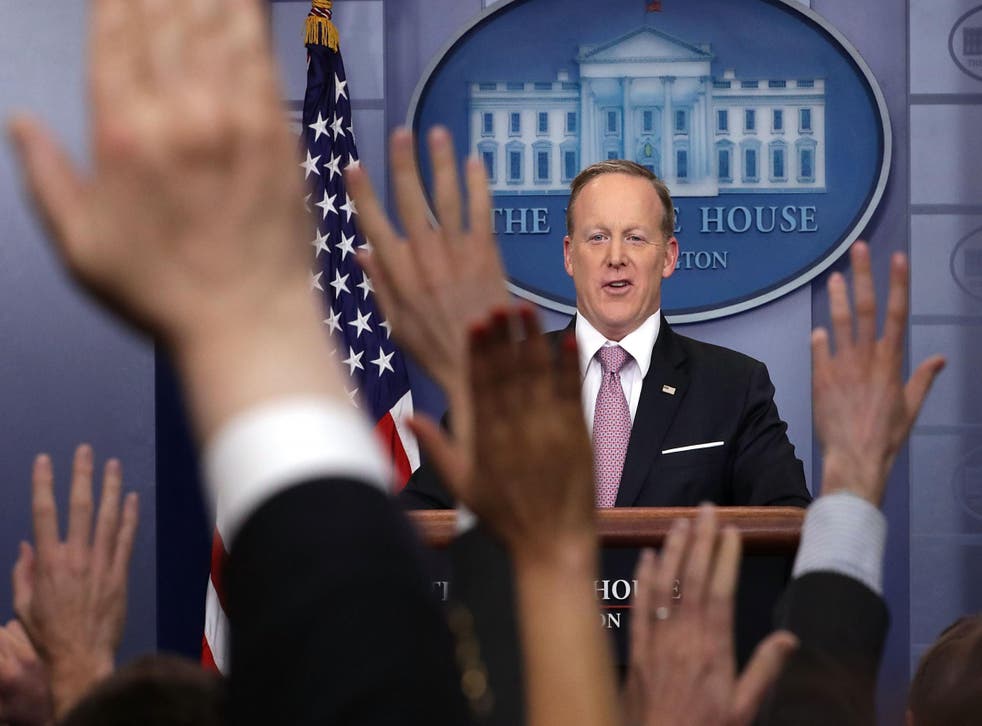 The White House says it has contacted the British Government to explain it was "simply pointing to reports" about GCHQ wiretapping Donald Trump.
The Trump administration, which had already told Number 10 that it would not repeat the comments, suggested that it didn't have to take responsibility for the reports cited by Sean Spicer.
Mr Spicer was referring to claims by a Fox News guest that the British security services had helped Barack Obama spy on Mr Trump when he was President-elect. The White House has said that Mr Spicer wasn't pointing to any story in particular but in fact a range of them.
The controversial orders Donald Trump has already issued

Show all 9
In fact, Mr Spicer specifically repeated claims made on Fox News by former judge Andrew Napolitano, who said that he had spoken to three sources had told him that GCHQ spied on Mr Trump.
The British ambassador Sir Kim Darroch and Sir Mark Lyall "expressed their concerns to Sean Spicer and General McMaster", a White House spokesperson told NBC Nightly News. "Mr Spicer and General McMaster explained that Mr Spicer was simply pointing public reports, not endorsing any specific story", the statement read.
Those reports were quickly denied by GCHQ itself, in an unprecedented move. Both Sir Kim and Sir Mark had backed GCHQ's statement, which described the allegations as "utterly ridiculous".
Representatives of the Trump administration have not publicly apologised for the claims, despite the new statement and its commitment not to repeat them. Asked at a briefing, Theresa May's spokesman refused to say whether there had been a private apology.
Number 10 also said that the fact the White House promised not to repeat the claims showed that the administration does not take them seriously.
He said: "We have made clear to the (US) administration that these claims are ridiculous and that they should be ignored and we have received assurances that these allegations won't be repeated."
Asked if the allegations posed problems for the special UK-US relationship, he replied: "We have a close, special relationship with the White House and that allows us to raise concerns as and when they arise as was true in this case."
He added: "We have received assurances that these allegations won't be repeated and this shows the administration doesn't give the allegations any credence."
Sean Spicer says Donald Trump did not mean Barack Obama personally wire-tapped him during campaign
The PM's spokesman said it would not be possible for GCHQ to spy on Mr Trump as both countries are members of the Five Eyes alliance, a joint intelligence co-operation agreement which also includes Australia, Canada and New Zealand.
"I would add, just as a matter of fact, with the Five Eyes pact, we cannot use each other's capabilities to circumvent laws," he said.
"It's a situation that simply wouldn't arise."
Register for free to continue reading
Registration is a free and easy way to support our truly independent journalism
By registering, you will also enjoy limited access to Premium articles, exclusive newsletters, commenting, and virtual events with our leading journalists
Already have an account? sign in
Register for free to continue reading
Registration is a free and easy way to support our truly independent journalism
By registering, you will also enjoy limited access to Premium articles, exclusive newsletters, commenting, and virtual events with our leading journalists
Already have an account? sign in
Join our new commenting forum
Join thought-provoking conversations, follow other Independent readers and see their replies