Why is Donald Trump so popular? Analysing how he answers a simple question
While the reading level of speeches by Hillary Clinton or Jeb Bush at around approximately an 8th grade standard, Mr Trump speaks at just a 4th Grade level
Adam Withnall
Thursday 28 January 2016 17:23 Comments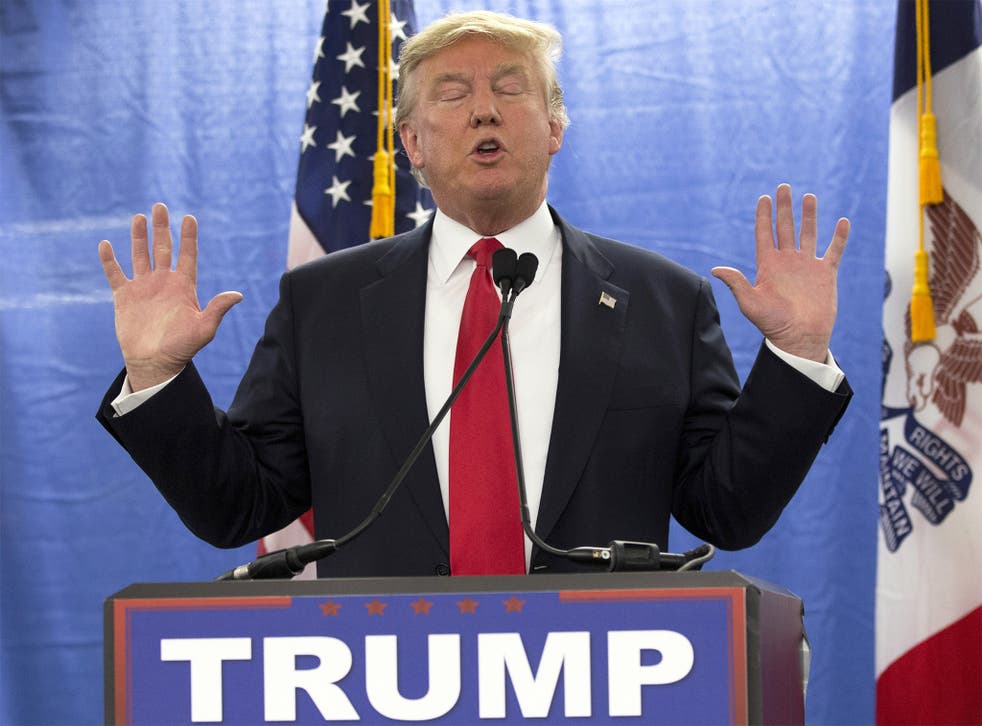 The enduring popularity of Donald Trump continues to confuse and alarm political observers in the US presidential race, as he takes a strong lead into the Iowa nominating contest next Monday.
Instead of simply marvelling at how the billionaire's popularity can keep going up as the tone of his comments about minorities and migrants gets lower and lower, one essayist decided to analyse how Mr Trump answers a question.
Evan Puschak broke down a one-minute answer given by Trump to Jimmy Kimmel on the topic: "Is it un-American and wrong to discriminate against people based on their religion?"
What follows is an illuminating take on Mr Trump's complete disregard for making his public statements insightful, informed or even coherent.
Instead, Mr Puschak points out that the presidential candidate actually wilfully breaks down the structure of his sentences in order to put key buzzwords at the end.
While the reading level of speeches by Hillary Clinton or Jeb Bush at around approximately an 8th grade standard, Mr Trump speaks at just a 4th Grade level.
Of the 220 words in the answer, 172 have just one syllable. Only 39 words have two syllables – one of which is Mr Trump's own first name.
"Like the best salesman, Trump keeps it simple and repeats himself a lot," Mr Puschak says. "Donald Trump knows when to sound incredulous or forceful, you could even call him witty. But you can't call him smart or well-informed.
"The best salesman could sell you a TV without knowing anything about it, because the TV isn't what matters. What matters is you."
Watch the full video above or click here.
Register for free to continue reading
Registration is a free and easy way to support our truly independent journalism
By registering, you will also enjoy limited access to Premium articles, exclusive newsletters, commenting, and virtual events with our leading journalists
Already have an account? sign in
Join our new commenting forum
Join thought-provoking conversations, follow other Independent readers and see their replies