2015 Paris attacks survivor sues Google, Twitter, Facebook for 'helping Isis'
The complaint alleges the social media platforms assisted the terror group to grow and plan the Paris attacks
Mythili Sampathkumar
New York
Wednesday 21 February 2018 20:49 Comments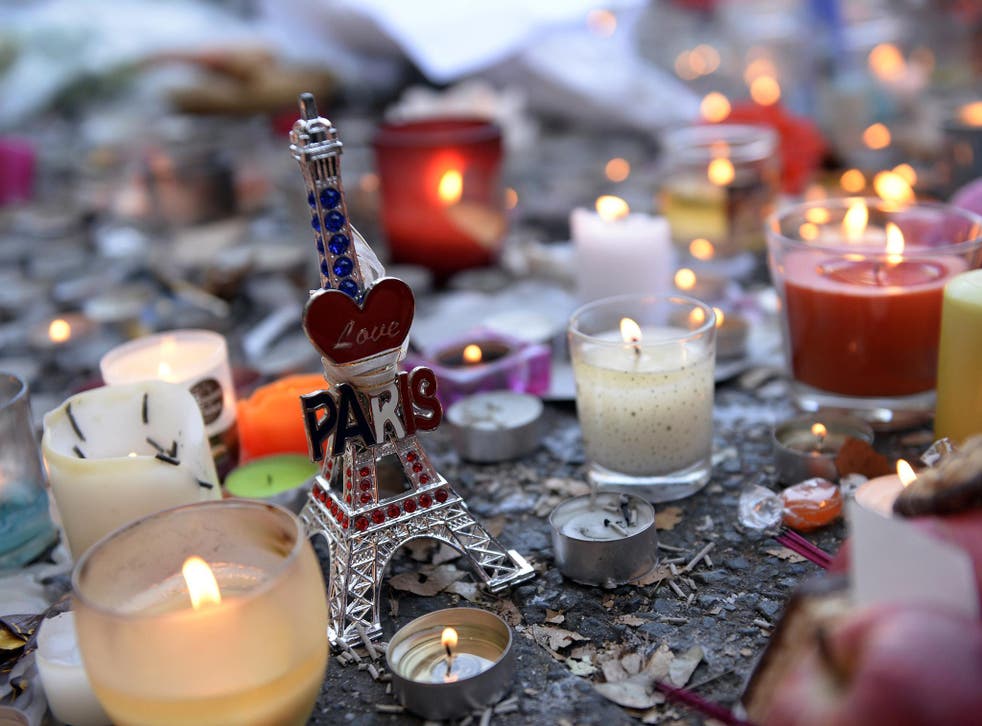 A Chicago woman has filed a lawsuit against Google, Twitter, and Facebook for "aiding, abetting, and knowingly providing support and resources to [terror group] Isis".
Mandy Palmucci of Chicago, Illinois, said she is suffering from trauma after being involved in the November 2015 Paris attacks for which Isis claimed credit.
According to the Chicago Sun-Times, her 128-page complaint filed in a US federal court, she is seeking damages for her "emotional distress".
She was visiting Paris and sitting with friends in La Belle Equipe cafe where 19 people were gunned down in one of three attack sites that day. At the Bataclan theatre alone, 89 people perished. In total, more than 400 people were injured.
Ms Palmucci recounted the incident in the complaint and, according to her lawyer Keith Altman, has been suffering "nightmares" as a result of the attack.
"Defendants knowingly provided material support and resources to Isis in the form of Twitter, Facebook, and Google's YouTube platforms and other services, as well as by making personnel available to Isis," the complaint stated.
The complaint also alleged that the companies have given Isis "a sense of authenticity and legitimacy" and fostered a method for fundraising.
Mr Altman told The Independent that without the social media giants "these terrorist organisations would be 50 guys standing around a fire in the middle of the desert...chanting" and Ms Palmucci hopes the companies will change their practices in light of the lawsuit.
The complaint also cited the Anti-terrorism Act (ATA) and the Justice Against Sponsors of Terrorism Act (Jasta).
Both essentially allow any US citizen injured in an act of terrorism to bring a lawsuit in a US court to seek damages for their injuries.
Paris attacks anniversary: Bataclan survivors remember the terror
But money is "not the motivating factor," Mr Altman told The Independent.
He said the real purpose of the lawsuit is "no more funerals."
"No one should lose a loved one to terrorist attacks...nobody should provide support for terrorists and not be held accountable," Mr Altman said.
The companies had been previously accused by the Home Office in the UK for similar actions - "grooming" and "radicalisation" of people through their algorithms.
"Whether that is racist extremism or Islamist extremism, your technology is doing that job and you're not stopping it from doing so," the Home Affairs Committee said in December 2017.
Mr Altman's reasoning for going after Google, Twitter, and Facebook is that they are companies large enough to "support a judgement," meaning they could pay out damages to Ms Palmucci should the case be ruled in her favour.
In the complaint, she also alleged that "Isis accounts on Twitter have grown "at an astonishing rate" and that, as of December 2014, the [terror] group had roughly 70,000 Twitter accounts — 79 officially — posting 90 tweets a minute," the newspaper reported.
Mr Altman wrote that Isis used the platforms, including Google's YouTube, to "transform the operational leaders of the Paris attacks into 'celebrity' among jihadi terrorists."
However, the companies are not necessarily the entry point for Isis' media arm, the Amaq Agency.
In pictures: Paris attacks

Show all 25
The Telegram messaging platform is what is used more extensively - Isis' "app of choice," as Vox reported.
It was Telegram that was used to spread propaganda ahead of the Paris attacks on the Belle Equipe cafe where Ms Palmucci and her friends were visiting and the Bataclan concert venue.
The terror group also used the app to recruit attackers for the 2016 Christmas market attack in Berlin and the 2017 New Year's attack on the Reina nightclub in Istanbul, Turkey.
Telegram's founder, Pavel Durov, is a Russian national and provided information to the government after Russia threatened to shut the company down after saying it had information the app was used by Isis.
The company is also registered in the US as a limited liability corporation and its app is listed in the iTunes app store for download.
Mr Altman, however, said a suit was not being brought on the company because it is not a US entity. He also said he was "not sure [of] Telegram's financial status;" that it may not be able to "support a judgement" and the financial damages Ms Palmucci is seeking.
Similar lawsuits elsewhere have been dismissed on grounds that laws shield online providers from responsibility for content posted by users.
Mr Altman said though, he believed multiple federal courts should look into the issue based on ATA.
He noted that a case in the same regional federal court in which Ms Palmucci has filed heard a case that ruled even assisting a "humanitarian arm of a terrorist organisation" was breaking the law.
Ms Palmucci and her legal team hope that case will serve as a precedent for hers.
Her lawyer also said that with the slew of cases involving ATA, many handled by his firm, are "moving towards" the highest court in the country, the US Supreme Court.
Register for free to continue reading
Registration is a free and easy way to support our truly independent journalism
By registering, you will also enjoy limited access to Premium articles, exclusive newsletters, commenting, and virtual events with our leading journalists
Already have an account? sign in
Join our new commenting forum
Join thought-provoking conversations, follow other Independent readers and see their replies