US Presidential aide John Podesta says biggest regret is not securing release of government records about UFOs
Former aide is set to work for Hilary Clinton's campaign
Andrew Buncombe
Monday 16 February 2015 15:53 Comments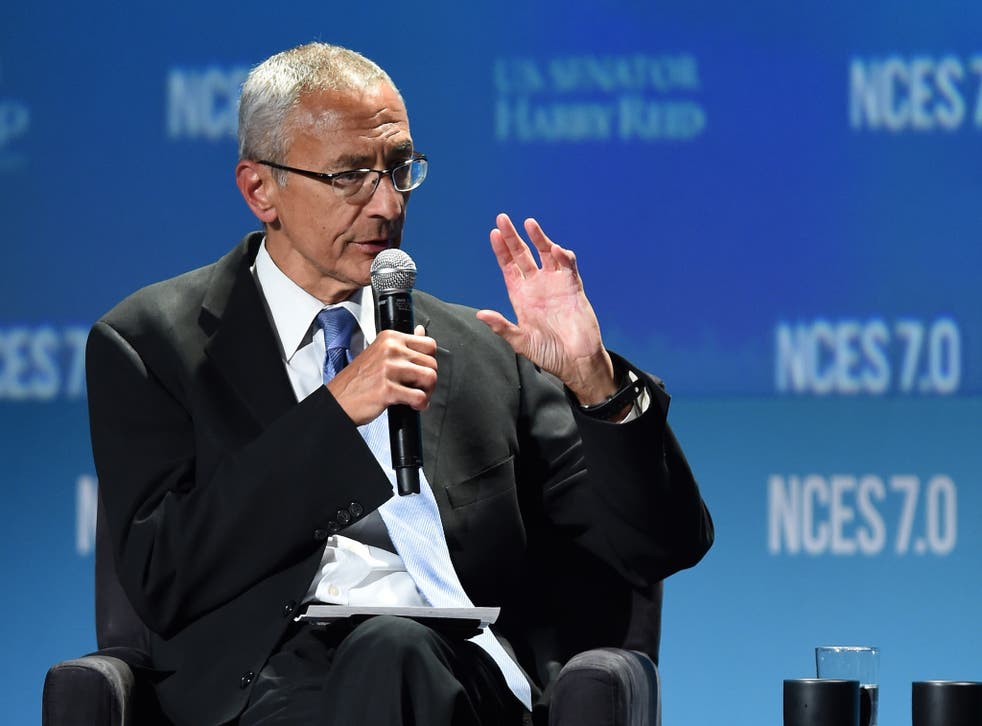 It's well known in Washington that John Podesta, a one-time chief of staff to Bill Clinton and an outgoing advisor to Barack Obama, is something of a nut when it comes to the topic of UFOs.
For many years, the senior official has urged that the US government should declassify any records it has that could help scientists determine "the real nature of this phenomenon".
So it was perhaps not surprising that when Mr Podesta, 66, reflected on his spell as advisor to Mr Obama that the issue came up as he listed what he considered his achievements – and his regrets.
"Finally, my biggest failure of 2014: Once again not securing the #disclosure of the UFO files," Mr Podesta wrote on social media, presumably with a smile on his face, using the hashtag #thetruthisstilloutthere.
Mr Podesta's interest in the existence or otherwise of extra-terrestrials is long-documented.
Yahoo News pointed out that at a 2002 press conference organised by the Coalition for Freedom of Information, Mr Podesta spoke on the importance of disclosing government UFO investigations to the public.
"It's time to find out what the truth really is that's out there," he said. "We ought to do it, really, because it's right. We ought to do it, quite frankly, because the American people can handle the truth. And we ought to do it because it's the law."
In 2007, Mr Podesta, known as a fan of The X-Files television show, was asked about freedom of information requests backlogs at presidential library. He responded using the show's tag-line: "The truth is out there."
In 2013, when he returned to the White House to serve as an advisor to Mr Obama, he wrote that he would be inundated with requests for information "containing the words either, X-Files or Area 51"."
Mr Podesta is standing down as advisor to Mr Obama to take up a position with an organisation planning in anticipation of a presidential run by Hilary Clinton.
Among last week's tweets about his achievements at the White House, Mr Podesta listed as a key breakthrough a deal that saw the Pacific Remote Islands Marine National Monument, a national park, expanded in size. Mr Podesta, said: "That's a lot of happy sea turtles."
Follow Andrew Buncombe on Twitter: @AndrewBuncombe
Register for free to continue reading
Registration is a free and easy way to support our truly independent journalism
By registering, you will also enjoy limited access to Premium articles, exclusive newsletters, commenting, and virtual events with our leading journalists
Already have an account? sign in
Join our new commenting forum
Join thought-provoking conversations, follow other Independent readers and see their replies