George Floyd protests: Salt Lake City police push elderly man with cane to ground
Police appear to injure unarmed man as protestors demand an end to excessive force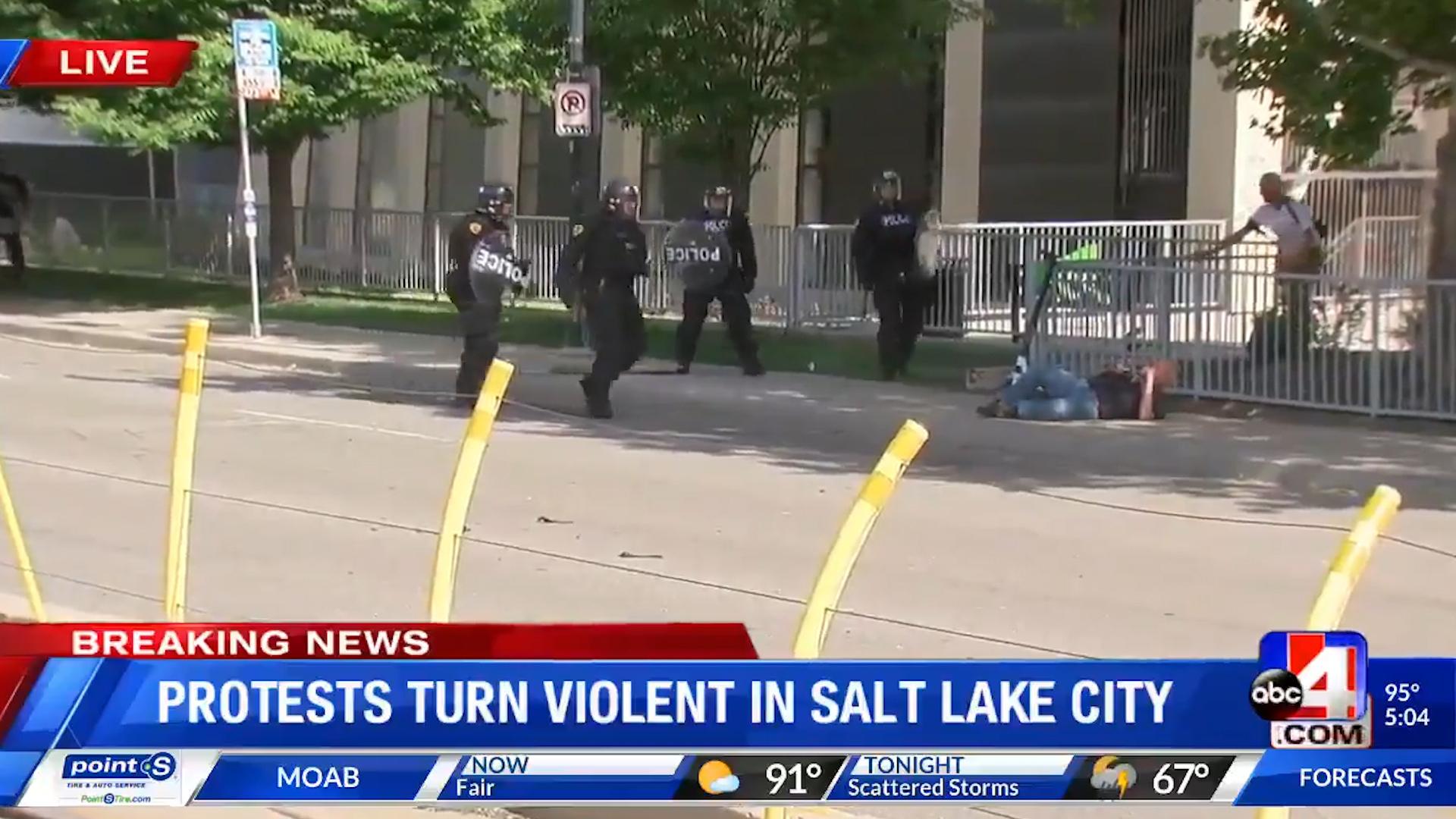 Police officers in Salt Lake City, Utah shoved an elderly man using a cane to the ground while clearing out demonstrators participating in nationwide protests against excessive police force and the killing of George Floyd.
A local news outlet caught the moment on camera as two officers from the Salt Lake City police department's rescue unit approached the unarmed man.
Both dressed in riot gear, one officer pushed the man before the second officer began repeatedly shoving him until he fell to the ground.
Two other police officers then approach the man as he laid on the ground, unable to stand, to help him get back up.It was not immediately clear whether the man was participating in the demonstrations.
"Sadly a man was just knocked off his feet", a reporter for Salt Lake City's ABC 4 News said.
Demonstrations in at least 30 US cities were sparked over the weekend after cellphone footage that went viral showed a Minneapolis police officer kneeling on Mr Floyd's neck for several minutes as he pleaded for air and later died.
George Floyd death: Minneapolis protests erupt in the streets
Show all 30
Many of the protests turned into violent riots, as participants said they were demonstrating against the use of fatal force on unarmed black men by police departments across the country.
In Salt Lake City, riots caused significant destruction in the downtown city area as the US National Guard was deployed to the scene.
A man with a bow and arrow reportedly attempted to attack protestors with the weapon before he was brought down by demonstrators and had his vehicle set on fire.
The city has issued a curfew until Monday in an attempt to quell the riots, with Salt Lake City Police Chief Mike Brown saying on Saturday night: "It is time to go home. This is not helping. Please, parents: call her your kids and get them back home. Nothing good can come from this now."
Read The Independent's special report from Minneapolis on the George Floyd demonstrations.
Join our commenting forum
Join thought-provoking conversations, follow other Independent readers and see their replies