US sends world's most advanced warplanes to Romania and UK to deter Russia
The official training exercise was part of a plan to bolster NATO's presence in Eastern Europe
Rachael Revesz
New York
Tuesday 26 April 2016 19:54 Comments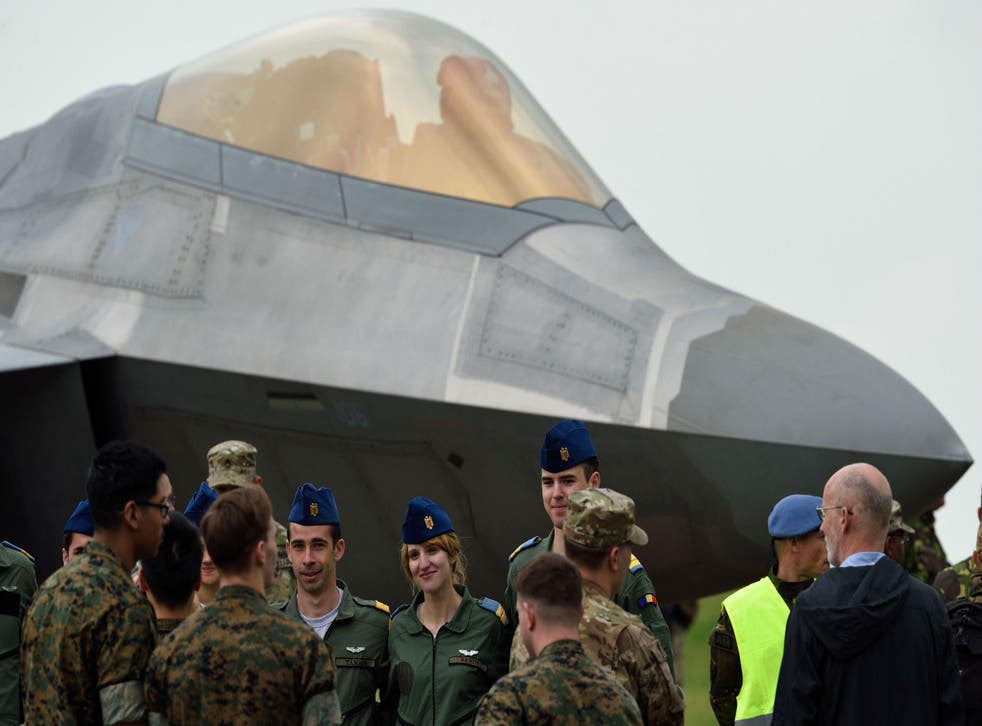 The US sent two of the world's most advanced airplanes to Romania to show it is beefing up support for its European NATO allies in the face of threats from Russia.
The F-22 Raptors, which travel at twice the speed of sound, touched down in Romania, close to the Black Sea and Ukraine, the Crimean Peninsula and Russia.
The US sent the planes to the country for the first time, just two weeks after Russian fighter jets flew within 30 feet of a US warship in the Baltic Sea.
Secretary of State John Kerry warned that the Russian action could have resulted in the jets being shot down, according to CNN.
President Obama promised in 2014 to bolster defense of NATO's eastern members.
The F-22 Raptor planes, which are flown by a single pilot and are armed with missiles and radar-guided bombs, flew to the airbase on the Black Sea on Monday, as part of an official NATO training exercise to show how quickly and effectively the US fighter jets could show up for its allies.
"We're here today to demonstrate our capability to take the F-22 anywhere needed in NATO or across Europe," said Squadron commander Daniel Lehoski, as reported by Reuters.
But it was also an act of defiance as Russia builds up its military capacity.
Russia pledged to spend $2.4 billion building up its navy. After annexing Crimea from Ukraine in 2014, it has continued to carry out military exercises in the region.
Romania Air Force chief of staff Laurian Anastasof said: "They're increasing the air activities, they're increasing the missions, they're increasing the training. This is the thing that we are seeing every single day."
Independent version- Should Obama intervene in the EU referendum?
Turkey, Bulgaria and Romania are considering expanding their NATO navy presence to deter Russia.
US Ambassador to Romania Hans Klemm, who welcomed the planes and crews, said the US and Romania were committed to working together in NATO and improving security following "the aggression by Russia that has brought so much instability to this part of the world over the past two to three years."
President Obama has sanctioned more US training, military exercises and more military and naval deployments near the Russian border.
The F-22 Raptors touched down briefly at Mihail Kogalniceanu Airport near Constanta, Romania, on Monday before flying to England to offer a reassuring presence.
12 of these US planes have also been deployed in eastern England. They cannot be detected by radar and have been banned from being sold abroad.
Russia has blamed NATO for escalating tensions by pushing up against its borders, saying this NATO military build-up is "completely unjustified".
Register for free to continue reading
Registration is a free and easy way to support our truly independent journalism
By registering, you will also enjoy limited access to Premium articles, exclusive newsletters, commenting, and virtual events with our leading journalists
Already have an account? sign in
Join our new commenting forum
Join thought-provoking conversations, follow other Independent readers and see their replies