US soldier Bowe Bergdahl's father attacked by release deal critics over 'suspicious' beard and 'attempt to claim White House for Islam'
Right-wing commentators turn on Robert Bergdahl's appearance and use of 'a Muslim prayer' in Rose Garden address
Adam Withnall
Wednesday 04 June 2014 09:39 Comments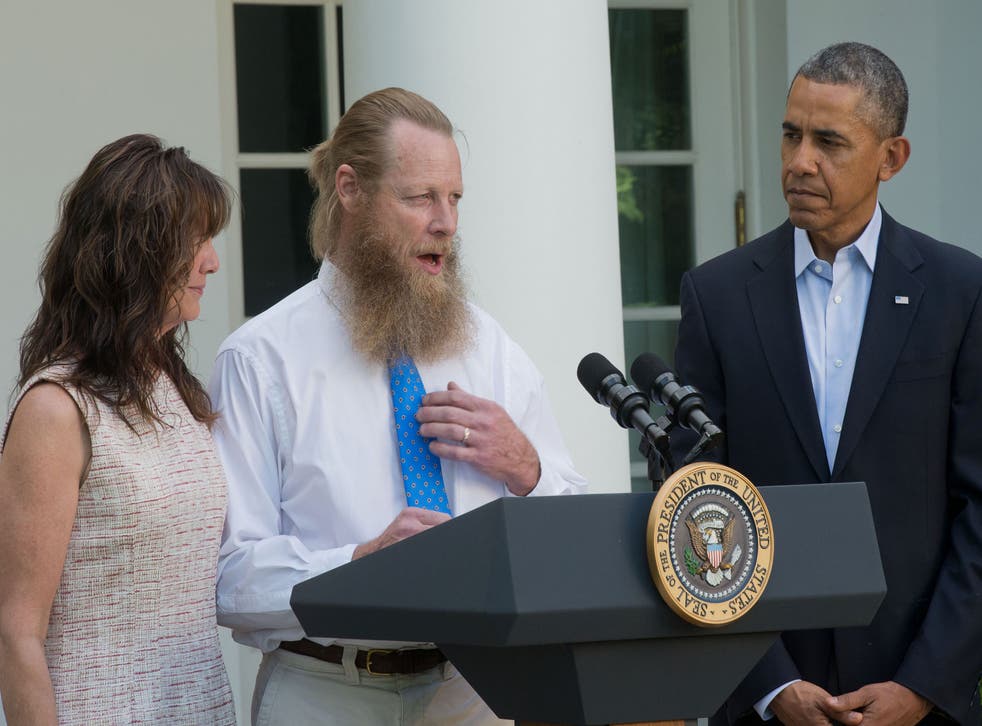 Critics of the controversial deal to secure the release of the US Sergeant Bowe Bergdahl in exchange for five Taliban prisoners have now accused the soldier's father of trying to "claim the White House for Islam".
Right-wing political commentators have drawn attention to Robert Bergdahl's long beard "in accordance with traditional Islamic customs" and his "suspicious" use of snippets of Pashto and Arabic when speaking to the media alongside President Barack Obama.
Mr Bergdahl has previously spoken openly about his efforts to engross himself in Afghan culture out of "solidarity" with his son, and has actively campaigned for the closure of the Cuba-based US detention facility Guantanamo Bay.
But the Republican party politician Allen West asked if there was "something far more nefarious" going on, and reproduced a tweet in which Mr Bergdahl wrote "I am still working to free all Guantanamo prisoners. God will repay for the death of every Afghan child, ameen!"
Speaking in the Rose Garden alongside Mr Obama after his son's release was secured, Mr Bergdahl said: "I'd like to say to Bowe right now, who is having trouble speaking English, bismallah al-rahman al-rahim."
Mr West seized upon the use of the greeting, and quoted a "former intelligence expert with a focus on the Middle East" as saying: "By uttering these words in the grounds… Bergdahl sanctified the White House and claimed it for Islam".
He claimed that a link between Mr Bergdahl and extremism was "not conspiracy theory, it is truth based upon Arabic and Islamic dogma and tradition".
And linking Mr Bergdahl's "connections" to the allegations of desertion against his son, one right-wing website asked: "Did the Obama White House trade five terrorists for a Taliban sympathiser?"
In 2010 a report from the Pentagon concluded that Bergdahl walked away from his unit unarmed before he was captured by the Taliban. But it has never described him as a "deserter", as he has reportedly been branded by some of his former comrades.
In a video produced by the Guardian's Sean Smith, Mr Bergdahl described how he was "trying to learn a little Pashto so I can speak to people, I'm trying to write and read the language".
"I probably spend four hours a day reading on the region, on the history," he said. "I'm working to get Bowe home… I do research and it all comes together somehow, domestic policy, foreign policy, Afghanistan. This has been an education."
Speaking to the Washington Post, Mr Bergdahl's former pastor Bob Henley said that the father had been "very cognisant of the possibility" that he might be accused of succumbing to some form of captive-bonding Stockholm syndrome.
But he said Mr Bergdahl had assured friends he just wanted to understand his son's captors and do everything he could to secure his release, adding: "I guess you really had to be in his shoes."
Meanwhile, the former Secretary of State Hillary Clinton defended the administration's decision to make the prisoner swap, saying many of the US's allies made similar deals.
"This young man, whatever the circumstances, was an American citizen - is an American citizen – and was serving in our military," Ms Clinton said. "The idea that you really care for your own citizens and particularly those in uniform, I think is a very noble one."
Sgt Bergdahl was handed over to US special forces by the Taliban, in an area of eastern Afghanistan near the Pakistan border, on Saturday and is recovering at a medical centre in south-western Germany. He is yet to be reunited with his parents.
Register for free to continue reading
Registration is a free and easy way to support our truly independent journalism
By registering, you will also enjoy limited access to Premium articles, exclusive newsletters, commenting, and virtual events with our leading journalists
Already have an account? sign in
Join our new commenting forum
Join thought-provoking conversations, follow other Independent readers and see their replies