The strange tale of the US soldier who wanted to teach mixed martial arts to Isis
Possibly suffering from PTSD, the Iraq and Afghanistan veteran native was caught in an FBI entrapment operation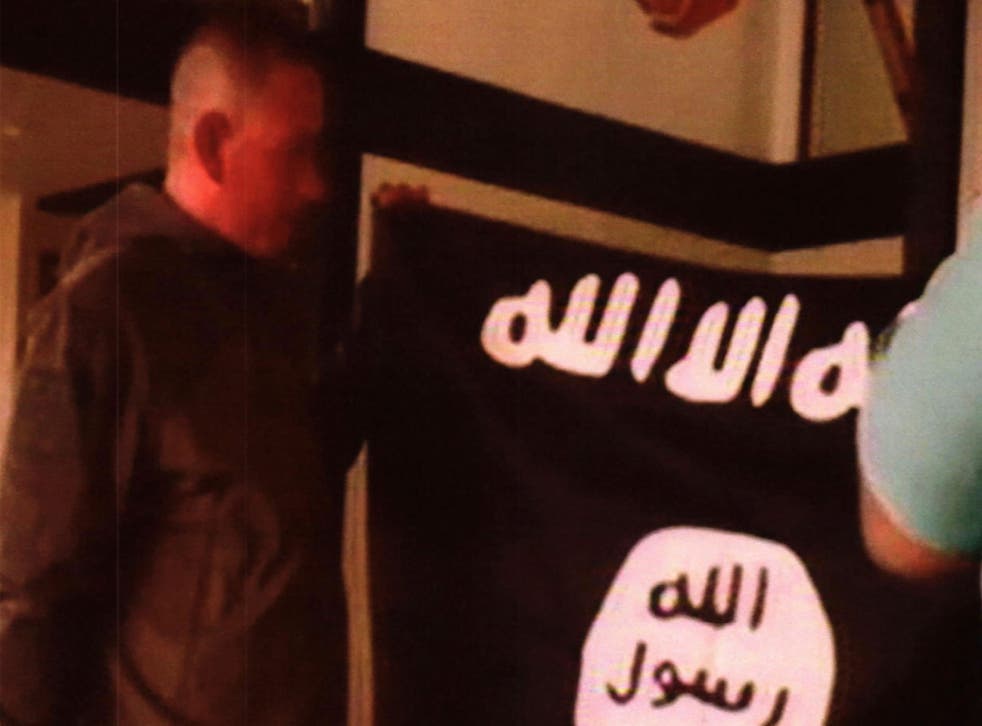 Ikaika Erik Kang stood in front of a Go-Pro camera alongside his Isis assistant, donned a mask, and pressed record. Then, he started grappling.
The US citizen and mixed martial artist hoped his combat training video would be useful to Isis members fighting in the battlefields of Iraq and Syria. What he didn't know that the man he was rolling around on the ground with was an FBI agent.
Kang, a 35-year-old native of Hawaii, was sentenced to 25 years in jail this week for attempting to provide material support to Isis. He was caught following a year-long undercover operation.
But what concerned authorities so much about Kang was not his hand-to-hand combat experience, rather that he was an active service member in the US military – the first such case, of a serving US soldier being linked to Isis.
"He had access to classified information, he had military training, and with his military ID can walk onto military bases relatively easily. You put all those things together and you've got something to be really concerned about," said Seamus Hughes, deputy director of the programme on extremism at George Washington University.
Kang, a sergeant first class in the US army, tried to hand over classified information to Isis and use his military experience to train its fighters, according to a 26-page affidavit filed by the FBI. He then helped purchase a drone for people he thought were Isis members, and said he wanted to "kill a bunch of people."
Over several months, FBI agents posing as Isis members met numerous times with Kang and heard about his plans to carry out attacks on a Honolulu Christmas Parade, and a parade at Schofield Barracks in Hawaii.
"Kang swore to defend the United States as a member of our military, but betrayed his country by swearing allegiance to Isis and attempting to provide it material support," said John Demers, assistant attorney general of the national security division. "With the sentence imposed today, he is being held accountable for his betrayal and his crimes."
Kang's journey from an air-traffic-control operator with the US army to willing Isis volunteer is one that defies explanation, and led to an elaborate undercover operation that involved six agents. He enlisted in the army shortly after the 9/11 attacks, and went on to become a highly decorated soldier, serving two tours in Iraq and Afghanistan.
His last posting was to Afghanistan, from July 2013 to April 2014. Less than two years later, in early 2016, authorities said he started to become radicalised. He was referred to the FBI by the Army in August 2016, and an investigation was launched.
Throughout this time, Kang watched up to five hours of Isis propaganda videos a day online, and made repeated statements in support of the group. A search of his hard drive found 146 Isis videos and more than a dozen copies of the group's magazine, Inspire.
In November 2016, Kang had his first meeting with an undercover FBI agent, who posed as a guest lecturer at a six-week training course for senior enlisted officers he was attending at Fort Rucker, in Alabama.
Over the course of the next few months, the undercover agents asked Kang how he could be of use to Isis. The soldier began providing classified documents that he had saved on to a memory card, such as military manuals.
Kang, who had trained in mixed martial arts and had one amateur fight while he was stationed in Kansas City, then offered to train Isis members how to fight.
According to the FBI affidavit, "Kang told an undercover agent that Isis fighters were 'extremely effective' at martial arts, but that they don't have any 'jazz' with their technique." He said that from watching Isis propaganda videos "he could see there wasn't much grappling, and that they weren't showing any jiujitsu arm bars or anything like that."
On 8 July 2017, Kang recorded a number of training videos in which he demonstrated his mixed martial arts skills and shared some of his military and weapons training. Then in a ceremony carried out by an agent posing as an Isis sheikh, he swore a pledge of loyalty to Isis leader Abu Bakr al-Baghdadi, and was handed an Isis flag.
Following the ceremony, "Kang said that he wanted to get his rifle and go to downtown Honolulu and Waikiki strip and start shooting," according to the FBI.
He was arrested the next day.
World news in pictures

Show all 50
During questioning, Kang told agents he had become interested in Isis in 2015, when he began researching religion. He said he wanted to help them "because he saw how ill-equipped they were for the fight."
Kang's father, Clifford Kang, said he was "stunned" to learn of his son's arrest. He said he had converted to Islam during one of his deployments but had never shown any signs of being an Isis supporter. As a veteran of the Vietnam war, Mr Kang told local media that he was proud when his son joined the army.
"I'm just in shock. He's a great kid. He's not real outgoing, he's never been, but neither was I," he told Hawaii News Now.
He also suggested that his son was suffering from PTSD as the result of his deployments overseas. That does not appear to be taken into account during sentencing.
Kang was sentenced on Tuesday after a judge accepted a plea agreement. Passing sentence, US district judge Susan Oki Mollway said Kang's behaviour "had the potential to be disastrous." He will serve 25 years of imprisonment and a period of at least 20 years of supervised release.
Since March 2014, some 168 individuals have been charged in the US with offences related to Isis, according to research carried out by the programme on extremism at George Washington University. Among that number were six military veterans.
British pharmacist Anwar Miah denies being a member of ISIS
As Isis has suffered battlefield losses, and the territory it controls has shrunk from the size of Britain to less than 90 sq miles, fewer Americans are seeking to join the terrorist organisation.
"2015 was the banner year. There were 61 arrests, this year we only have nine," said Seamus Hughes, who conducted the research at George Washington.
"That has to do with a lot of American Isis supporters were interested in travelling to the self-proclaimed caliphate. The idea of a physical space was a big deal for the American Isis supporters. Once that option was off the table you did see the numbers decline."
Mr Hughes, a former senior counterterrorism adviser for the US Senate Homeland Security and Governmental Affairs Committee, said there was very little to tie US supporters of Isis together.
"What bound them together was that there was very little to bind them together, other than the ideology and belief in Isis," he said.
"So you have individuals in their sixties, and individuals that were 15. You have rich, poor, black, white, converts, not converts. There is no rhyme and reason to the profile."
Join our new commenting forum
Join thought-provoking conversations, follow other Independent readers and see their replies