More than 20 US states have cracked down on protests since Donald Trump's election
Proposals 'severely infringe upon freedom of expression' warns United Nations
Harriet Agerholm
Tuesday 09 May 2017 14:23 Comments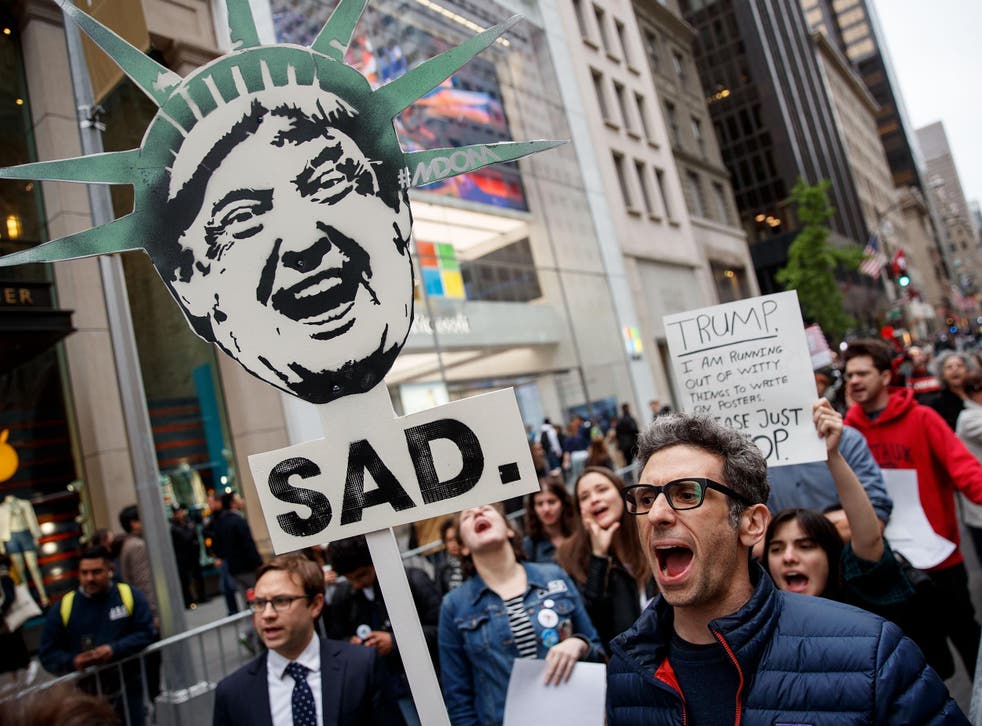 More than 20 US states have proposed bills placing new restrictions on protests in the months since Donald Trump became President.
The potential laws included legislation creating stricter penalties for protesters who are arrested, and in some states, removing liability from drivers who accidentally injure protesters on the roads.
The United Nations (UN) said some of the proposals "would severely infringe upon the exercise of the rights to freedom of expression and freedom of peaceful assembly". The legislation was incompatible with international human rights law, it warned.
It also said the legislation was part of a "worrying pattern", adding that the proposals could have a "domino effect" on other states and lead to a general crackdown on demonstrations across America.
Under legislation in Missouri, wearing a mask or disguise while protesting would be a crime. In Arkansas, Georgia, Iowa, Tennessee and Florida there are proposed bills to toughen penalties for blocking roads or trespassing.
"Some of these bills are so egregious that you don't need a law degree to conclude they're unconstitutional," Lee Rowland, an attorney for the American Civil Liberties Union, told CNN.
The election of Mr Trump in January triggered a spate of mass protests. Hundreds of thousands of Americans joined the women's marches and a number of anti-Trump marches have taken place since.
Donald Trump's first 100 days: in cartoons

Show all 33
Some of the laws the UN flagged as cause for concern had already been signed into law in North Dakota, in an apparent attempt to increase powers against protesters against the North Dakota Access pipeline.
Register for free to continue reading
Registration is a free and easy way to support our truly independent journalism
By registering, you will also enjoy limited access to Premium articles, exclusive newsletters, commenting, and virtual events with our leading journalists
Already have an account? sign in
Join our new commenting forum
Join thought-provoking conversations, follow other Independent readers and see their replies