US Surgeon General who upset gun lobby and supports Obamacare dismissed by Donald Trump
British Indian Vivek-Murthy is replaced by his deputy, who is a nurse
Rachel Roberts
Saturday 22 April 2017 18:30 Comments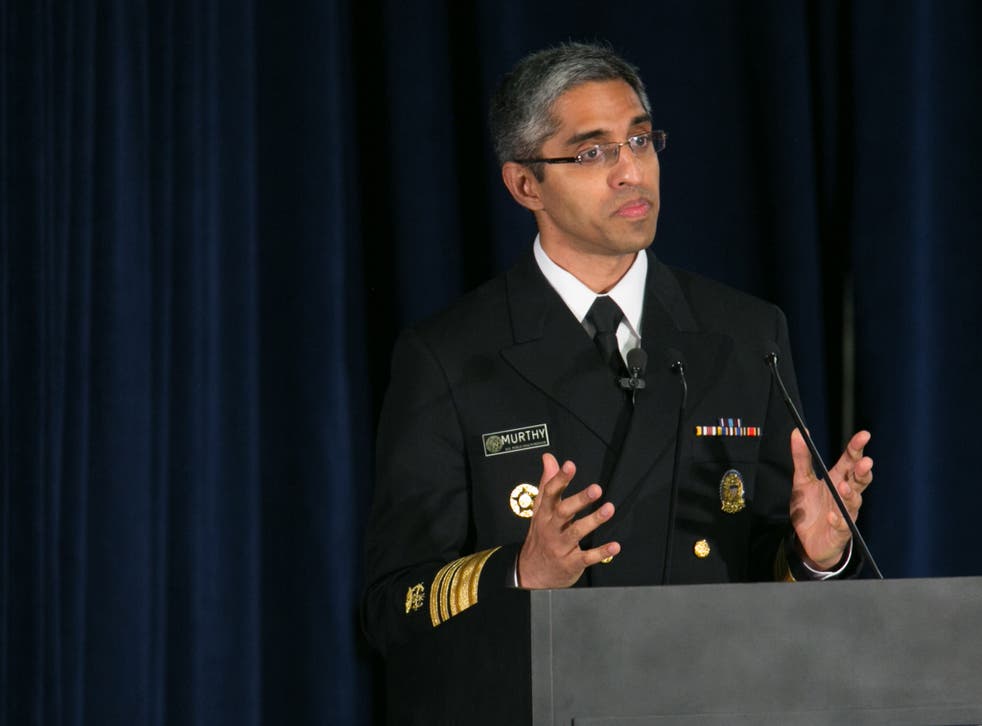 The US Surgeon General who upset America's powerful gun lobby and who supports Obamacare has been dismissed by the Trump administration.
UK-born Vivek Murthy, appointed by former President Barack Obama as the operational head of the US Public Health for the uniformed services, was effectively made to resign and been temporarily replaced by his deputy, Rear Admiral Sylvia Trent-Adams, who is a nurse by profession.
In a statement, the Department of Health and Human Services said: "Today, Dr Murthy, the leader of the US Public Health Service Commissioned Corps, was asked to resign from his duties as Surgeon General after assisting in a smooth transition into the new Trump Administration."
"Dr Murthy has been relieved of his duties as Surgeon General and will continue to serve as a member of the Commissioned Corps," the statement continued, adding that Health and Human Services Secretary Tom Price "thanks him for his dedicated service to the nation."
No explanation was offered as to why he was asked to step down.
Dr Murthy, a graduate of both Harvard and Yale Universities, had been Surgeon General since 2014 and his sudden departure has reportedly surprised colleagues in the department.
He upset the powerful gun lobby when he called gun violence "a health threat to the United States. As a result of intense opposition from the National Rifle Association, the White House delayed his appointment in 2014.
And he has made clear his support for the Affordable Care Act, known as Obamacare, which currently provides health insurance for millions of poorer Americans and which President Donald Trump is currently working to repeal and replace.
Kellyanne Conway completely baffled that Democrats won't help to destroy Obamacare
Dr Murthy is co-founder and president of Doctors for America, formerly known as Doctors for Obama, an organisation of 16,000 doctors and medical students whose goal is improving health-care access.
He said in a statement, which he shared on Facebook: "For the grandson of a poor farmer from India to be asked by the President to look out for the health of an entire nation was a humbling and uniquely American story. I will always be grateful to our country for welcoming my immigrant family nearly 40 years ago and giving me this opportunity to serve.
"Thank you, America, for the privilege of a lifetime. I have been truly humbled and honoured to serve as your Surgeon General. I look forward to working alongside you in new ways in the years to come. Our journey for a stronger, healthier America continues."
Adding that he had hoped to "do more to help our nation with its biggest health challenges", he issued a warning on the dangers of demonising drug users.
"We will only be successful in addressing addiction – and other illnesses – when we recognise the humanity within each of us. People are more than their disease. All of us are more than our worst mistakes. We must ensure our nation always reflects a fundamental value: every life matters."
Trumped! The best cartoons on 'The Donald'

Show all 28
His replacement, Ms Trent Adams, holds a PhD as well as her two nursing degree and will now take charge of communicating healthcare research and policy decisions with the American public. She is believed to be the first Surgeon General who isn't a doctor by profession.
There is a history in the US of surgeons general creating unwanted controversy for their former bosses after they leave office.
Dr Richard Carmona blasted George W Bush's administration after he was not asked to serve a second four-year term, accusing White House officials of repeatedly trying to weaken or suppress important public health reports for political reasons..
Register for free to continue reading
Registration is a free and easy way to support our truly independent journalism
By registering, you will also enjoy limited access to Premium articles, exclusive newsletters, commenting, and virtual events with our leading journalists
Already have an account? sign in
Join our new commenting forum
Join thought-provoking conversations, follow other Independent readers and see their replies