H-1B visa spouse changes: Trump administration may scrap Obama-era rule allowing spouses of visa-holders to work
The decision would disproportionately effect Indian workers and women 
Emily Shugerman
New York
Friday 15 December 2017 22:34 Comments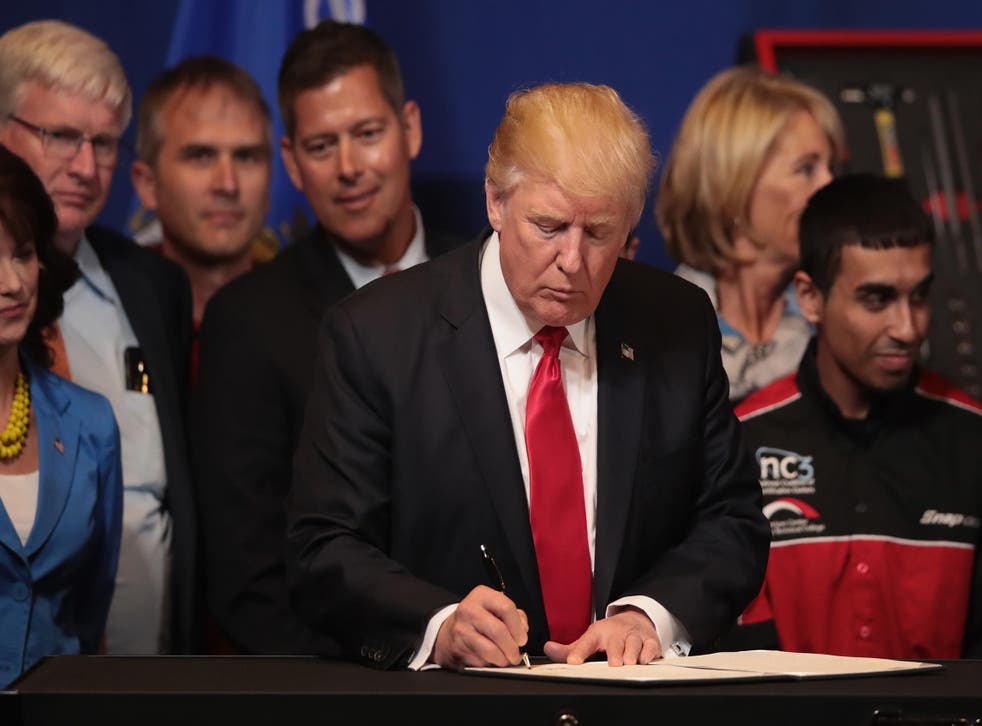 The Trump administration is considering rolling back a rule that allows thousands of visa-holders to work in the US along with their spouses.
The Department of Homeland Security has announced it is reviewing the Obama-era rule, which allowed spouses of certain H-1B visa holders to work in the US. H1-B visas are granted to foreign workers with a graduate-level education or above, who come to the US to work in speciality occupations like finance or engineering.
The 2015 rule allows the spouses of H-1B visa holders who are seeking Green Card status to work in the country as well, under special H-4 visas.
At the time, the Obama administration said the rule would help US businesses keep their highly skilled foreign workers, and provide better quality of life for the workers and their families.
The United States Citizenship and Immigration Service (USCIS) estimated in 2015 that as many as 179,600 people could apply for the H-4 visa under the rule that year, with 55,000 a year after that.
The controversial orders Donald Trump has already issued

Show all 9
As part of a broader crackdown on legal and illegal immigration, however, the Trump administration is considering revoking that rule in 2018. The Department of Homeland Security, which announced the review of the rule, did not specify why. A brief memo from the agency said simply that it is was reviewing the rule in light of Mr Trump's "Buy American and Hire American" executive order.
The Obama-era rule is also the subject of a lawsuit by Save Jobs USA, a group of IT workers who claim they lost their jobs to H-1B visa holders. The lawsuit contends that H-4 visas holders are taking even more jobs away from American workers.
Donald Trump's immigration crackdown encapsulated in poignant footage of father being deported
If the Trump administration does repeal the rule, it will disproportionately affect Indian workers, who made up nearly 80% of all H-4 visas issued in 2015. It will also disproportionately affect women, who make up 90 percent of all H-4 visa holders.
One such woman, Meghna Damani, told Quartz she left her advertising job in Mumbai to marry her husband and move to the US. Before the Obama administration passed the rule allowing her to work, she said she felt worthless in her new country.
"I could not work and I realised I did not have a sense of purpose," she told Quartz last year. "I wanted to just die. To no longer feel this guilt, this wastefulness. To no longer feel like a burden."
The Trump administration has also gone after H-1B via holders themselves. The Department of Homeland Security and Department of Justice have started scrutinising H-1B applicants more intensely. Mr Trump signed an executive order asking federal agencies to suggest reforms of the programme, to ensure visas are being given to "the most-skilled or highest-paid petition beneficiaries".
Announcing his executive order in April, Mr Trump declared: "With this action, we are sending a powerful signal to the world: We're going to defend our workers, protect our jobs, and finally put America first."
Register for free to continue reading
Registration is a free and easy way to support our truly independent journalism
By registering, you will also enjoy limited access to Premium articles, exclusive newsletters, commenting, and virtual events with our leading journalists
Already have an account? sign in
Register for free to continue reading
Registration is a free and easy way to support our truly independent journalism
By registering, you will also enjoy limited access to Premium articles, exclusive newsletters, commenting, and virtual events with our leading journalists
Already have an account? sign in
Join our new commenting forum
Join thought-provoking conversations, follow other Independent readers and see their replies