US weather latest: Mount Washington vies for coldest place on Earth as northeast faces deep freeze
Winds of more than 90 mph swirl Mount Washington, the northeast's highest peak
Saturday 06 January 2018 22:57 Comments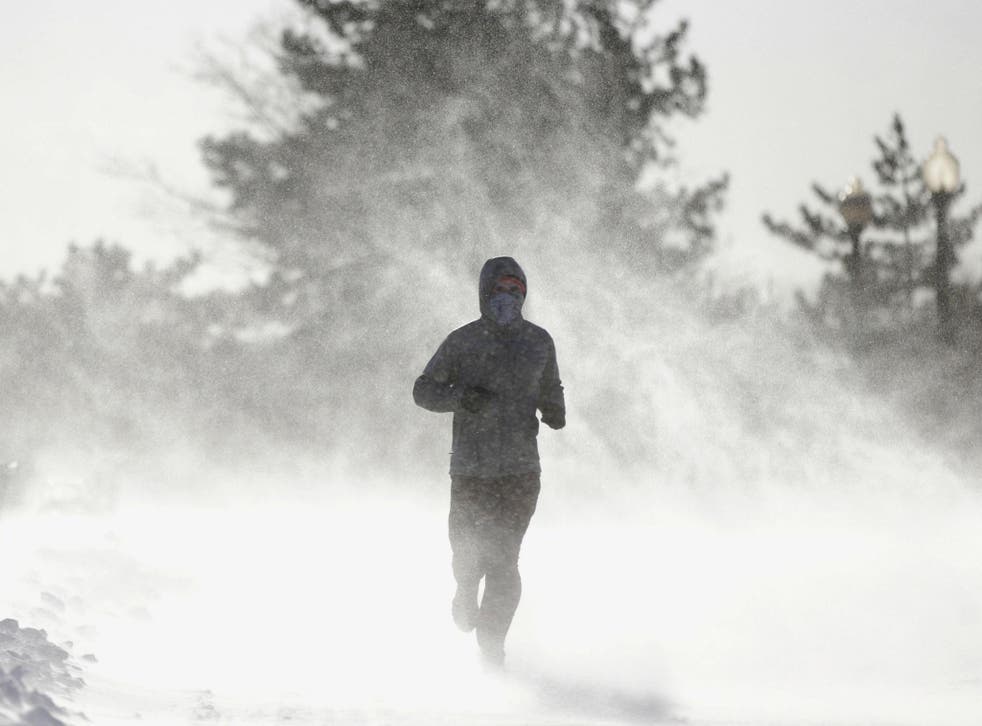 Millions of people across the US northeast have faced a deep freeze in the wake of the snow brought by winter storm Grayson - with the wind chill around Mount Washington in New Hampshire making it feel like -93 degrees Farenheit (-69 degrees Celsius)
Winds of more than 90 mph swirled Mount Washington, the northeast's highest peak, at a temperature of -37F (-38C) degrees, with the wind chill bringing it to -93F. The peak tied for second place with Armstrong, Ontario, as the coldest spot in the world on Saturday.
Elsewhere, Burlington, Vermont, stood at -1F (-18C) and a wind chill of -30F (-34C), with the Killington ski resort in the state closing for Saturday with wind chill making it feel like -50F (-46C).
Philadelphia, New York and New Jersey faced temperatures of around 8F (-13C) during parts of the day. That temperature was said to be a record low measurement at a weather station at New York's John F Kennedy airport for this day of the year.
"Right now, the only thing I put on was just some gloves, a couple sweaters of course, like five or six of them," New York resident Zelani Miah told the Associated Press, extolling the virtues of wearing layers in some temperatures.
Temperatures could fall again in areas across the region on Sunday leading to more records potentially being broken, before beginning to rise on Monday.
A number of areas across the region were facing clean-up efforts. A three-foot tidal surge, the highest recorded in nearly a century, meant residents of Boston and its suburbs were clearing flooded streets where the water had also started to freeze. Boston, which was around 11F (-11C) on Saturday was facing a shortage of plumbers to deal with pipes frozen and cracked by the weather, according to Mayor Marty Walsh.
World news in pictures

Show all 50
In areas further south, which had been first hit by Grayson, some areas still remained affected. After shutting down on Tuesday, Charleston International Airport in South Carolina remained closed on Saturday, with runaways still inactive after 5 inches (12.7 cm) of snow.
The East Coast's first snowstorm of 2018 featured gusts of more than 70 miles per hour (113 km per hour), dumping 22 inches (56 cm) of snow in parts of Maine and 17 inches (43 cm) in parts of Massachusetts before ending on Friday, the National Weather Service (NWS) said. The storm was powered by a rapid drop in barometric pressure that was called a bombogenesis, or a "bomb cyclone."
"It's definitely cold and the type of bone-chilling cold that happens every few years," said Dan Hofmann, a meteorologist with the NWS in Baltimore. He added that the last time such extreme cold occurred was in February 2015.
The cold spell was responsible for at least 18 deaths by Friday. At least four people were killed in car accidents in North Carolina due to the treacherous conditions. In Richmond, Virginia, a girl was struck and killed by a pickup truck while sledding down a driveway.
In Rhode Island, hospitals were treating dozens of storm-related injuries. In Providence - where 14 inches (35cm) of snow fell and Newport, at least 40 people were treated for various weather-related conditions, from heart attacks, snowblower or shoveling injuries, frostbite and more, according to The Providence Journal.
Associated Press and Reuters contributed to this report
Register for free to continue reading
Registration is a free and easy way to support our truly independent journalism
By registering, you will also enjoy limited access to Premium articles, exclusive newsletters, commenting, and virtual events with our leading journalists
Already have an account? sign in
Join our new commenting forum
Join thought-provoking conversations, follow other Independent readers and see their replies