US weather latest: Winter Storm Grayson blasts America with historic cold as 'bomb cyclone' sees temperatures plunge to -35C
Wind chill in New Hampshire's White Mountains will make it feel like -75C, National Weather Service warns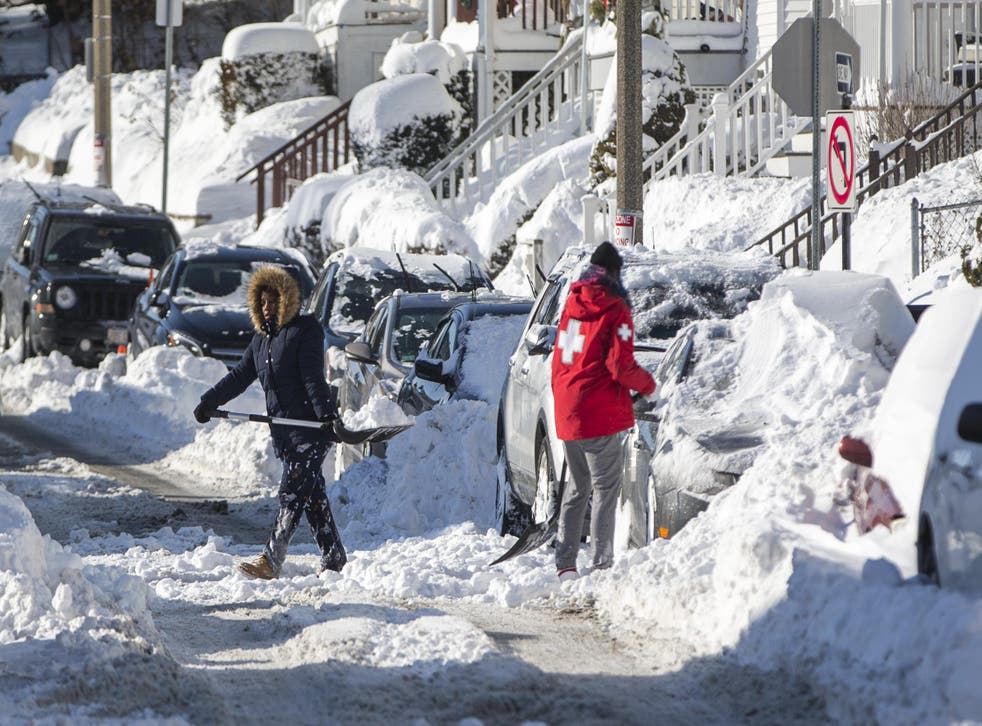 Temperatures in the US plummeted to historic lows overnight as parts of the country were subjected to -35C conditions.
The East Coast has seen little respite from the Arctic conditions since Winter Storm Grayson strengthened at an astonishing rate to become a "bomb cyclone", dumping 18 inches of snow on parts of the US.
The weather service has issued wind chill warnings for parts of Vermont, New York, Virginia, West Virginia, Maryland, Maine and New Hampshire, with the wind chill factor making it feel like -75C in the White Mountains in New Hampshire.
Meterologists say temperatures in the Berkshire mountains in western Massachusetts could feel like a frosty -37C, other parts of New Hampshire and Maine could experience -42C, and Vermont's mountain regions could feel like -45C.
"It's definitely cold and the type of bone-chilling cold that happens every few years," said Dan Hofmann, a meteorologist with the National Weather Service in Baltimore. He added that the last time such extreme cold occurred was in February 2015.
Temperatures will reach close to zero from Philadelphia to Boston on Saturday night, with wind chills making it feel like -10C to -20C. Milder climes will not escape the cold either, with the mercury dipping into the single digits in Baltimore and Washington DC over the weekend.
In pictures: Winter weather hits the UK

Show all 17
"Arctic air mass and dangerously cold wind chills expected across much of the eastern two-thirds of the country through this weekend. Many daily temperature records may be broken," the National Weather Service said in a tweet.
The cold spell was responsible for at least 18 deaths by Friday.
At least four people were killed in car accidents in North Carolina due to the treacherous conditions. In Richmond, Virginia, a girl was struck and killed by a pickup truck while sledding down a driveway. Authorities were still looking for a 35-year-old who disappeared during the blizzard in Maine.
A driver slid off an icy road, killing a pedestrian, on Friday in North Charleston, South Carolina, city officials said. "THE DANGERS ARE REAL," the officials warned in a Twitter message. "Huge patches of ice all over the city. Stay at home."
Police say an employee of the Massachusetts Water Resources Authority died while cleaning up after the winter storm that dumped more than a foot of snow on parts of the state.
Arlington police told WFXT-TV that the employee, who has not been publicly identified, went into cardiac arrest and was found in a snowbank at a facility for the water authority early on Friday.
Additional reporting by AP
Join our new commenting forum
Join thought-provoking conversations, follow other Independent readers and see their replies