US WWII veteran Don Miyada returns to school for graduation 72 years after missing his own
Japanese-American Don Miyada couldn't graduate because he and his family were, like 100,000 others, detained due to 'racial prejudice' after Pearl Harbour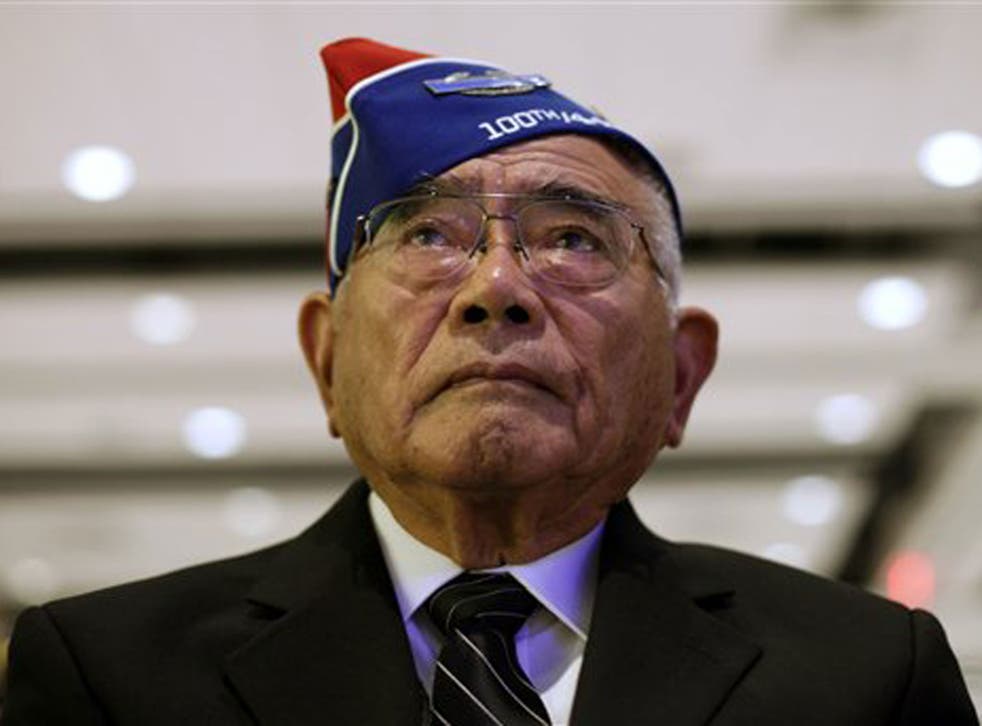 An 89-year-old Japanese-American war veteran who missed his high school graduation because he was locked up in a US internment camp has finally returned to take part in an emotional ceremony 72 years later.
California-born Don Miyada was just a month away from graduating in 1942 when the US was bombed by Japan at Pearl Harbour.
The attack sparked the US into the highly controversial policy of rounding up those on the Pacific coast with Japanese heritage and "relocating" them to inland detention facilities.
Then 17 years old, Mr Miyada and his family were among more than 17,000 people taken away to a remote desert prison near Poston, Arizona and held for a significant portion of the Second World War.
After two years at the camp, Mr Miyada was moved to Michigan and then drafted to the US Army. He served his country in Europe before earning a doctorate in chemistry from Michigan State University, eventually becoming a professor at the University of California, Irvine – all having never properly graduated.
At the time he was interned, a teacher at Newport Harbor High School sent Mr Miyada a letter including his diploma expressing shock that he would not be allowed to finish high school.
In May, Mr Miyada attended a Memorial Day service at the school and met the current principal, Sean Boulton, who heard his story and invited him to attend this year's ceremony instead.
Mr Boulton was even able to track down a copy of the programme from what would have been Mr Miyada's graduation day in 1942.
"My name was on there," Mr Miyada said. "I wasn't able to attend, of course, but my name was there anyway. It was very emotional."
During the graduation ceremony, Mr Miyada returned the letter he had received from his teacher and thanked the teenagers who were crossing the stage with him.
"It's their time to graduate and their time of honour," he said. "I'm happy they invited me to be one of them."
Mr Miyada and his family were among more than 110,000 US citizens and permanent immigrants with Japanese connections to be put in detention facilities as a result of the climate of fear produced by the Pearl Harbour bombings.
In the late 1980s, the US set up the Commission on Wartime Relocation and Internment of Civilians which found that "the internment of individuals of Japanese ancestry was carried out without any documented acts of espionage or sabotage".
The commission said that the episode was caused by "racial prejudice, war hysteria and a failure of political leadership", and its findings led the government to apologise and pay compensation to those affected.
In 2011, Mr Miyada himself appeared during a ceremony at the Washington Hilton in honour of the US's Japanese-American servicemen, who "helped the United States win WWII on two fronts despite the hardships endured by their families back home".
Register for free to continue reading
Registration is a free and easy way to support our truly independent journalism
By registering, you will also enjoy limited access to Premium articles, exclusive newsletters, commenting, and virtual events with our leading journalists
Already have an account? sign in
Register for free to continue reading
Registration is a free and easy way to support our truly independent journalism
By registering, you will also enjoy limited access to Premium articles, exclusive newsletters, commenting, and virtual events with our leading journalists
Already have an account? sign in
Join our new commenting forum
Join thought-provoking conversations, follow other Independent readers and see their replies