US federal agents ask domestic flight passengers to show IDs in search for undocumented immigrant
Customs and Border Protection says it was searching for man with criminal history under deportation order
Wesley Lowery
Friday 24 February 2017 13:39 Comments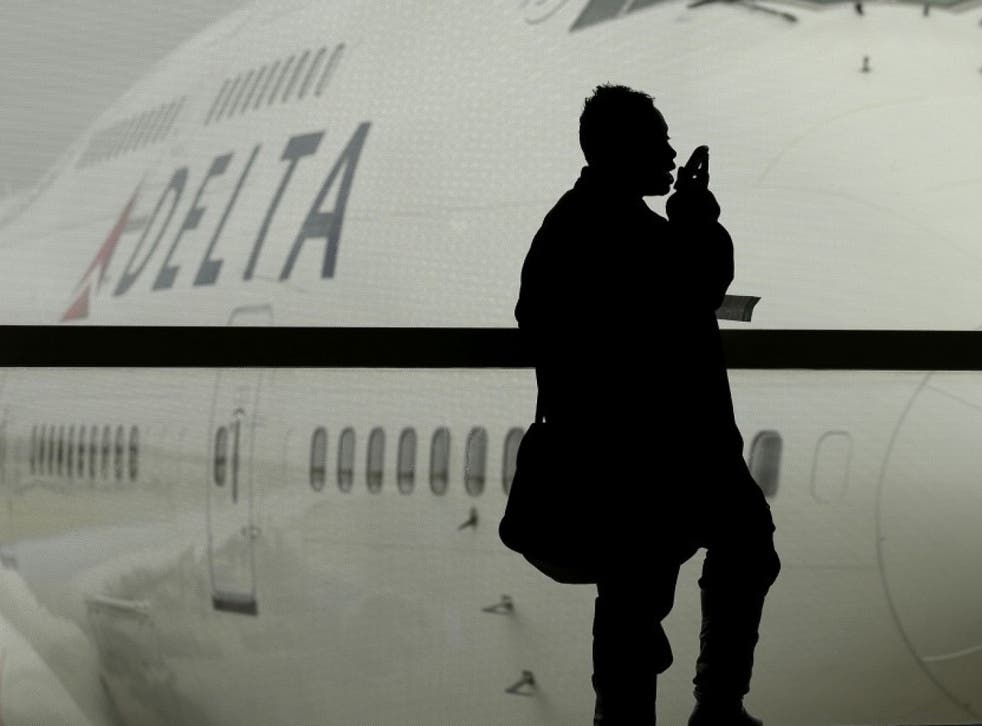 US Customs and Border Protection (CBP) have confirmed that their agents requested to see the identification of domestic flight passengers landing at a New York airport Wednesday night as they searched for an undocumented immigrant who had received a deportation order to leave the United States.
According to the agency, two CBP agents asked passengers who had been on Delta Flight 1583 from San Francisco to show their identification while deplaning after landing at John F. Kennedy Airport at about 8pm Wednesday. The search was conducted at the request of Immigration and Customs Enforcement, CBP said in a statement, but the person they were seeking was not on the flight.
A CBP spokesperson said that the undocumented individual, who they did not publicly identify, received a deportation order after multiple criminal convictions for domestic assault, driving while impaired, and violating a protective order.
The search prompted several passengers to post photos online, and it raised questions about whether it was connected to current federal law enforcement efforts to locate, detain and deport undocumented immigrants - a push that has intensified at the direction of President Trump.
A spokesperson for Delta did not respond to a request for comment.
Jordan Wells, a staff attorney with the New York Civil Liberties Union, said that law enforcement officials sometimes board airplanes to apprehend a suspect or a fugitive, he said it would be unusual for authorities to wait outside an arriving airplane and to ask for identification for each passenger.
"They'll occasionally pull someone off of a flight, or officers will come on and make an arrest," Wells said. "It's a much more surgical thing than setting up a dragnet. That's what is so alarming about the way that this played out."
It is unclear what would have happened had officials found other undocumented immigrants getting off the airplane and whether they would have faced deportation if identified. It is also unclear what would have happened to any passenger who refused to produce his or her identification for the agents.
"Is this a mere request to see identification?" Wells said. "Would they have been detained but for them showing ID? Because then it's no longer a consensual encounter and the Constitution enters the equation."
Under the Obama administration, ICE had been instructed to prioritise finding and deporting undocumented immigrants with prior criminal convictions - as it appears the effort with the Delta flight Wednesday night was trying to do.
Under President Trump, the Department of Homeland Security has issued new guidelines to ICE and CBP that further empower federal agents to target, detain and deport any of the millions of immigrants currently in the United States without documentation, including those without past criminal convictions. Those policy changes have sparked fear in immigrant communities nationwide.
A DHS official who spoke on the condition of anonymity to discuss an active law enforcement investigation said that such searches and collaboration between CBP and ICE such as the one on Wednesday evening are routine and are not new measures due to increased immigration enforcement.
"When we're asked by our law enforcement partners to assist in searching for a person of interest, we are able to, and will, help," the official said. "This isn't a new policy or related to any new executive order."
The Washington Post
Register for free to continue reading
Registration is a free and easy way to support our truly independent journalism
By registering, you will also enjoy limited access to Premium articles, exclusive newsletters, commenting, and virtual events with our leading journalists
Already have an account? sign in
Join our new commenting forum
Join thought-provoking conversations, follow other Independent readers and see their replies